"Mercenaries Blaze" is the 5th fantasy tactical simulation RPG. Turn-based battles are carried out on an isometric map. Attack and defense results vary depending on the direction you face, distance and elevation, making gameplay challenging enough to satisfy the even pickiest strategy lovers.
And here we are with a continuously updated list of games like Final Fantasy tactics. It was back in 1997 that Final Fantasy Tactics was released in Japan. The first Final Fantasy game in the series o...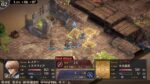 Note: Screenshots were taken while playing in Japanese. Screenshots will be described or translated. Settings can be changed by adjusting the language option to English as well. History: This is the f...