Welcome back to the weekly recap, where we bring you the most noteworthy highlights from the past week. Get ready for an exciting dose of announcements, news, updates, and more from the captivating world of RPGs and turn-based strategies. Let's dive into the thrilling events that unfolded between May 15th and May 21st, 2023.
Best RPG & Strategy Game News of the Week
Broken Roads, the highly anticipated post-apocalyptic RPG set in Australia, has released its May 2023 update. The update introduces pacifist playthroughs, allowing players to complete the game without engaging in combat or killing anyone. This innovative feature emphasizes decision-making and quest resolutions.
The game will also be localized into multiple languages, including Brazilian Portuguese, French, German, Polish, Russian, Simplified Chinese, and Spanish (Latin America), with the possibility of adding more languages based on player demand. Stay tuned for more updates and announcements from the developer, Drop Bear Bytes, in June.
Project Witchstone, an ambitious tactical turn-based RPG inspired by Divinity, is back on track after a period of silence. Spearhead Games, the developer behind the game, has announced significant progress and a promising future for the project. Project Witchstone aims to break away from traditional RPG conventions by prioritizing freedom of choice and meaningful impact on the game world. The game's non-linear narrative evolves with each decision made by the player, with no mandatory quests or strictly good or bad choices.
Spearhead Games is dedicated to creating a game that offers limitless possibilities and unique experiences for each player. Stay updated on the progress and innovations of Project Witchstone through their monthly blog posts. The release date and platforms for the game are yet to be announced.
WrestleQuest, the anticipated turn-based wrestling RPG, is set to launch in summer 2023. After four years of development and incorporating player feedback, Mega Cat Studios is in the final stages of production. The game will feature a revamped UI, enhanced visuals, accessibility options, an updated world map, and improved game balancing.
Mega Cat Studios has partnered with Skybound Games, and while a slight delay is necessary due to unforeseen circumstances, the new official launch date will be announced soon. The dev believes the delay will ensure that WrestleQuest delivers a remarkable gaming experience. Stay tuned for the official release date for PC and consoles, and prepare for an epic wrestling adventure.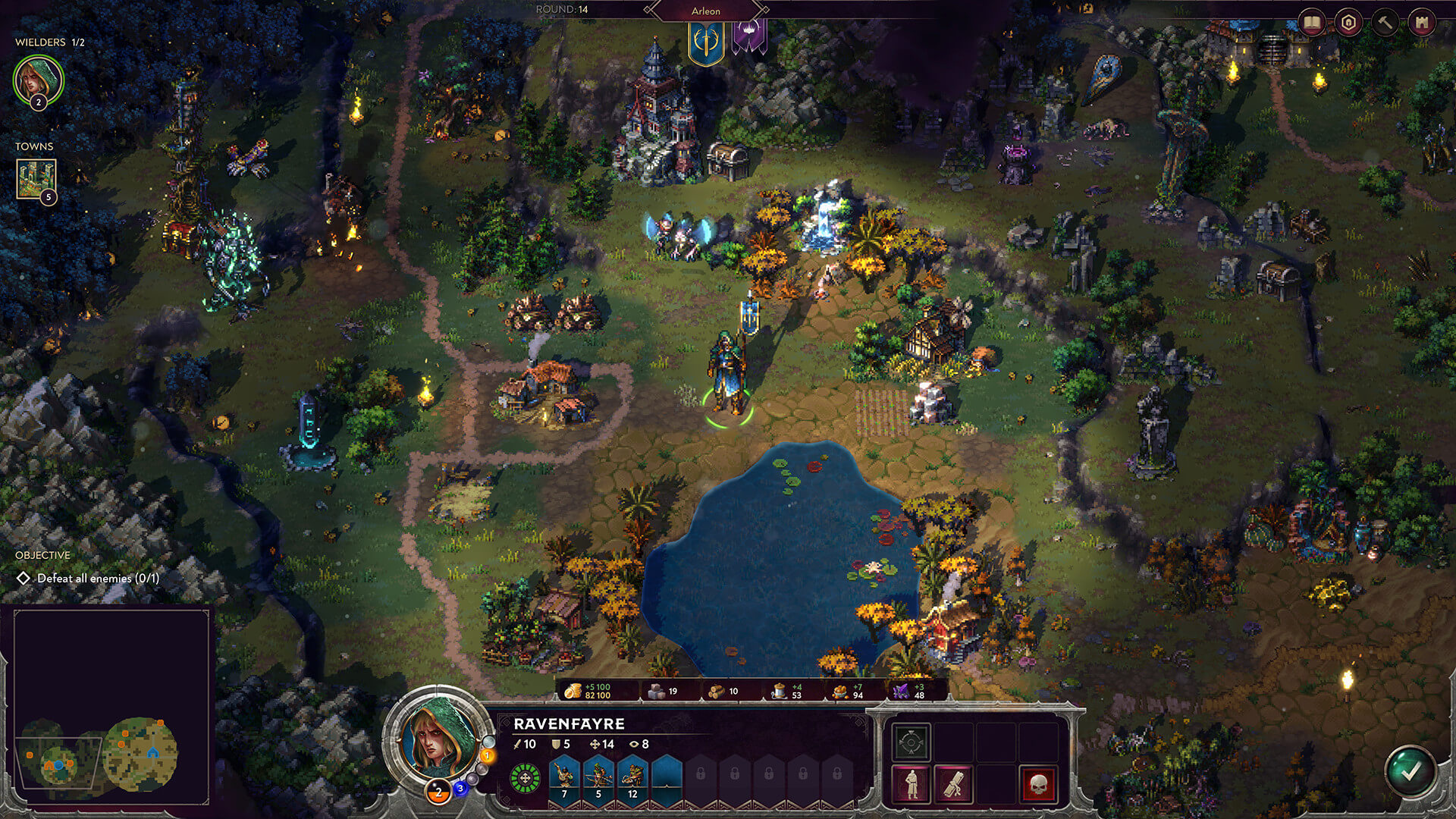 Songs of Conquest, developed by Lavapotion, has released its highly anticipated Barony of Loth campaign, offering players an exciting and challenging journey through the treacherous graveyard of Loth. The campaign features four missions with varying difficulties, delving deep into the game's lore and revealing the history of the Barony of Loth and the Aurelian empire.
Lavapotion has crafted an immersive experience, complemented by cinematic cutscenes presented as a song composed and performed by game designer Carl. The team is proud of their achievements and plans to introduce future updates, including new unit abilities, enhanced siege battles, and improved AI intelligence. Exciting surprises are also on the horizon, with more details to be revealed. Celebrate the resurrection of the dead and experience the captivating gameplay of Songs of Conquest, currently in Early Access on PC via Steam and Humble Bundle.
Tactical Adventures, the award-winning French game development studio, has announced the release date for the highly anticipated Solasta: Palace of Ice expansion. Launching on May 25th for PC and Xbox platforms, this content-rich tactical fantasy cRPG offers over 25 hours of new gameplay. Set after the original Crown of the Magister campaign events, Palace of Ice introduces new locations, weather effects, enemy types, and high-level character development options.
The DLC also brings two new ancestries, Gnomes and Tieflings, as well as 'Palace of Ice'-themed environments for the Dungeon Maker. Solasta: Palace of Ice is a premium DLC that requires the Crown of the Magister base game and will be available for purchase at $14.99 USD / €14.99 EUR / £14.99 GBP. The Solasta: Lightbringers Edition, including the base game and all previous DLC packs, will also be released on May 25th. Get ready for an epic adventure in the world of Solasta.
Jagged Alliance, the legendary strategy game genre pioneer, is returning with Jagged Alliance 3. Developed by Haemimont Games and published by THQ Nordic, this highly anticipated installment will be released exclusively for PC on July 14th, 2023. Jagged Alliance 3 aims to deliver an exceptional strategy experience while staying true to the franchise's legacy.
Jagged Alliance 3 will be available for purchase at a suggested retail price of $44.99 / €44.99 on Steam. A limited Collector's Edition, the Jagged Alliance 3 Tactical Edition, is also available for pre-order, priced at €129.99 / £114.99. To stay updated on the game's development and gain insights, THQ Nordic hosts biweekly Twitch streams on their channel every Thursday at 11 AM EST / 17:00 CEST. Missed streams can be accessed through developer diaries and recorded live streams on the official Jagged Alliance 3 website.
Strange Scaffold has announced Teenage Demon Slayer Society, a genre-bending game that combines turn-based tactics, style ranks, customizable movesets, and endearing characters. Set in the demon-infested city of Fall Rapids, players control meddling teens who battle supernatural threats caused by shadowy government dealings.
The game offers flashy turn-based battles and a comedic slice-of-life storyline. Each playable teen has a unique moveset, allowing for a fresh experience. Teenage Demon Slayer Society aims to be an accessible tactics game that immediately immerses players in destructive gameplay. The game is set to release on PC in 2024.
HeroCraft PC has announced an exciting crossover between the action game Atomic Heart and the post-apocalyptic strategy game Revival: Recolonization. The collaboration brings Atomic Heart characters into the world of Revival, adding a unique and immersive element to the gameplay.
The teaser released by HeroCraft PC showcases the appearances of popular Atomic Heart characters, the Twins and RAF-9, in Revival: Recolonization. The Twins appear as holograms in the Holo Theater, offering strategic bonuses to players, while RAF-9 becomes a formidable NPC with acid-based attacks. Revival: Recolonization is a 4X strategy game set in a post-apocalyptic Earth where players guide survivors in rebuilding civilization and overcoming a frenzied AI. The game will be available on Steam Early Access from June 28th, 2023.
Tamarak Trail, a deck-building roguelike game developed by Yarrow Games in collaboration with Versus Evil, is set to release on Switch, PlayStation, Xbox, and Steam platforms this summer. Players will explore a haunting forest as a member of the Sturgeon Lodge, uncovering the secrets of decaying earth and battling corruption.
The game features three unique characters with their own abilities and offers procedurally generated paths with encounters, monsters, and treasures. The strategic dice-based combat system allows for customization of dice faces. Inspired by artistic styles like the Group of Seven and Ivan Bilibin, Tamarak Trail combines elements from popular deck-building games such as Slay the Spire and Dicey Dungeons. With its challenging gameplay and captivating atmosphere, Tamarak Trail promises an intriguing adventure.