Resolution Games, the Stockholm-based gaming studio, has debuted the trailer for its forthcoming game Demeo Battles. This new addition to the Demeo Role Playing System will extend its strategy-focused gaming to player versus player (PvP) combat, inviting players on PC and VR to test their skills in a high fantasy setting. Following the success of the franchise's first installment, Demeo, the new game will be available on Steam and Meta Quest later in the year, priced at $19.99.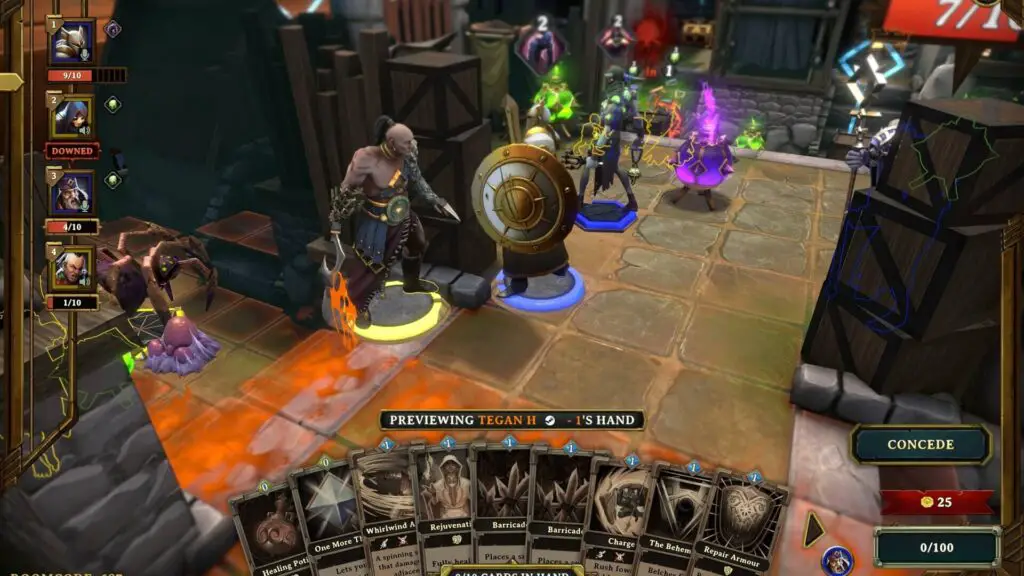 About Demeo Battles
The gameplay involves a combination of competitive and cooperative elements, with players choosing a champion, action cards, and monsters to form their battle team. Monsters will act autonomously to pursue enemies, while players utilize a variety of cards to damage, heal, and cast spells. Positioning plays a critical role, and the battlefield is threatened by "The Burn" – a fire that grows with each turn. The game will feature familiar Demeo environments with new map layouts tailored for PvP play, supporting 1v1 or 2v2 matches.
Producer Gustav Stenmark shared further insights into the game's mechanics in a developer diary. Stenmark emphasized the role of cooperation in the game, highlighting the importance of balancing the unique strengths of chosen champions. Whether playing as a pair or alone, players will control two champions, ensuring support is always available on the battlefield. Demeo Battles will support cross-play across PC and VR; potential players can add it to their wishlist on Steam and the Meta Quest Store.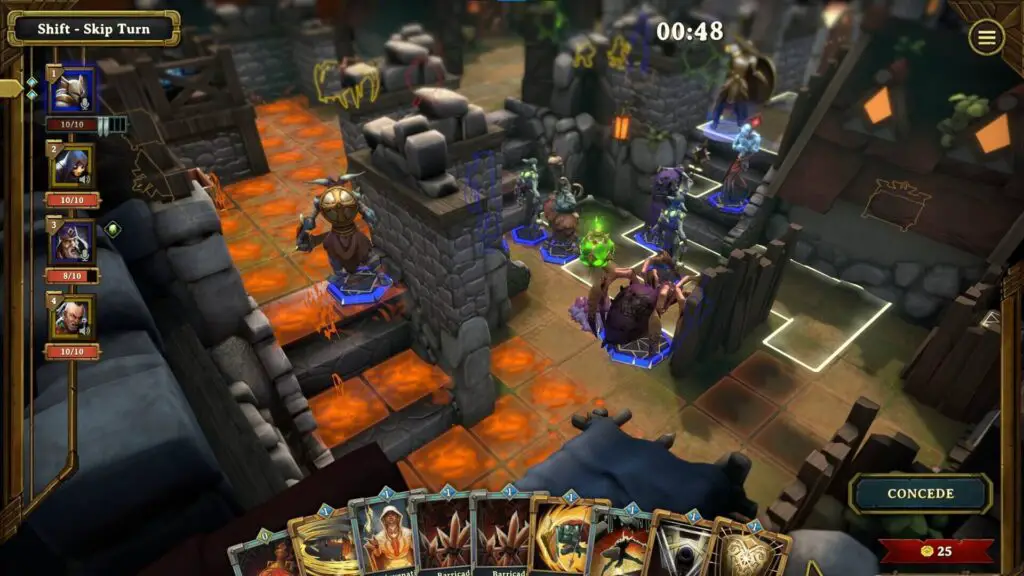 About Resolution Games
As the world's most prominent VR/AR games studio, Resolution Games is redefining how people come together and play. The studio is evolving the craft of multiplayer game development and publishing with its approach to delivering new IP across VR/AR platforms and beyond. With the largest portfolio of games across all major VR and AR platforms, no other studio has the reach, ratings and range that Resolution Games does.
The studio's titles rank among the top-rated and most downloaded games in the space. Games like Demeo, Ultimechs, Blaston, Bait!, Acron: Attack of the Squirrels! and Cook-Out: A Sandwich Tale illustrate the innovative and immersive ways the studio is constantly pushing the boundaries of what is possible.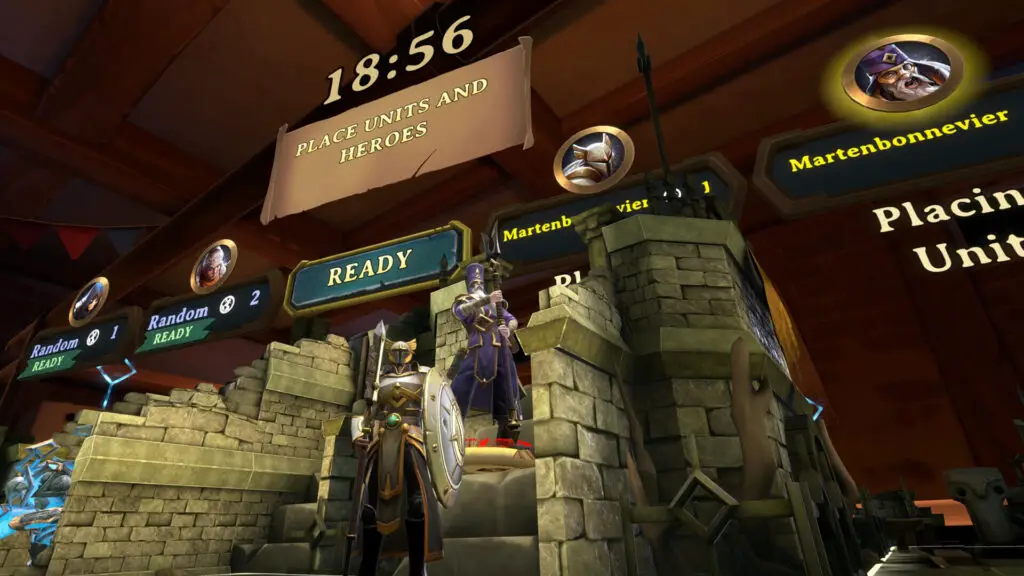 Founded in 2015, Resolution Games is privately held and based in Stockholm, Sweden, with offices in Austin, Texas, and Linköping, Sweden. Follow the company at www.resolutiongames.com and on Twitter and Instagram. Below are more details and the Gameplay Trailer.
Get your digital dice-rolling hand ready and brace yourself for the battlefield, because Resolution Games has released the first trailer for Demeo Battles, the next game in the Demeo Action Role Playing System. Following the success of the franchise's award-winning first installment, Demeo, Demeo Battles is designed to give strategy gamers on PC and in VR the opportunity to prove their worth in team-based PvP high fantasy combat. Demeo Battles will launch later this year for $19.99 and is available to wishlist starting today on Steam and Meta Quest.

"It's been incredible to watch Demeo players work together to vanquish villains in the fantasy world of Gilmerra since the game's 2021 debut — but fairly early in the process, we found ourselves asking 'what if turn-based tactics could be a team-based sport?'," said Tommy Palm, founder and CEO of Resolution Games, "Demeo Battles is our answer to that question. With its focus on quick competitive play mixed with cooperative teamwork, the second installment in the Demeo franchise is poised to satisfy current fans while welcoming a whole new audience to the world of Gilmerra – tactical thinkers with a taste for competition."

In addition to today's inaugural trailer, Resolution Games has also released a video developer diary featuring Producer Gustav Stenmark which provides further details about Demeo Battles' gameplay. 

HOW DEMEO BATTLES IS PLAYED
At the start of every match players will choose a champion, special action cards, and monsters that become the army they'll take into battle against their competition. Once on the battlefield, monsters act according to their own unique behaviors, exploring the map and pursuing enemy champions and opposing armies to try and give their player the upper hand. 

Utilizing familiar turn-based tactics, players will move their champions and play cards on each turn that deliver damage, healing, magic and more in their quest to become the last hero standing. And while positioning and movement are important in any tactical strategy game, they're absolutely paramount in Demeo Battles. If you're not thinking about placement it's entirely possible you'll find yourself caught in "The Burn" — the all-consuming threat of fire and brimstone that grows larger with each and every turn, determined to eventually dominate every inch of the map.

Demeo Battles will revisit familiar Demeo environments — like the Elven Necropolis and Ronth Desert — in all new ways with map layouts explicitly designed to create stunning moments in PvP play. And players won't be visiting these environments alone. Whether playing 1v1 or 2v2, each side will always choose two champions to pair up and bring into the fight. 

"While Demeo Battles may be competitive at its core, cooperation plays an important role," said Gustav Stenmark, Producer at Resolution Games. "Every champion brings their own unique strengths into the arena, and finding ways to balance those strengths when teamed up is crucial to securing a win. This is important when playing 2v2, but even when you're entering competition without another player on your team, you'll still benefit from controlling two champions in your party. In Demeo Battles, someone's always got your back — just pray that it's not the other team's assassin!"

Demeo Battles will launch later this year and can be wishlisted starting today on Steam and the Meta Quest Store, and will support cross-play across PC and VR. To learn more about Demeo Battles visit demeobattles.com, join the Demeo Discord, and follow the game on Twitter and Facebook.