A Tradable Card Game set in a dystopian cypherpunk world that combines the better parts of a classic card game with some strategic elements of a board game.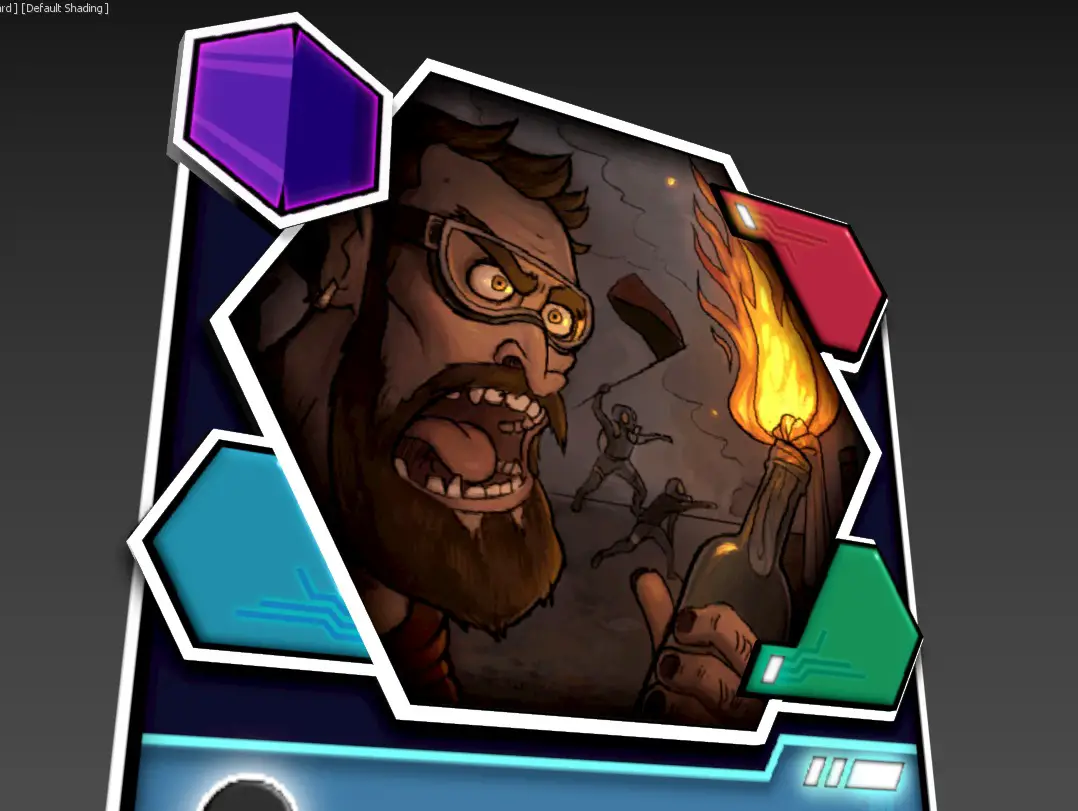 Cyberdeck is a Tradable Card Game set in a dystopian cypherpunk world that combines the better parts of a classic card game with some strategic elements of a board game, implemented with an innovative Blockchain system that will allow players to be the owners of their cards and assets.
Cyberdeck is a challenging game powered by the visions and ideas of the father of cyberpunk Bruce Sterling, by Amy Sterling's excellent artwork and the original soundtrack by Raiders of the Lost Arp.
In-Game background
Cyberdeck is set in a grotesque dystopian cypherpunk world conceived by Bruce Sterling, writer, thinker, and one of the pioneers of the cyberpunk movement. The fundamental contribution offered by Bruce Sterling has brought the project to a new level, lending the game a stronger artistic depth, an original narrative implant, and numerous character backstories.
The setting developed by Sterling proposes an intriguing and immersive structure that is suitable with the idea of periodical expansions, with the aim to guarantee an unprecedented level of interaction and involvement with the community in the TCG genre. Also, playing Cyberdeck and collecting cards will allow users to get extra original content and artwork, personalized skins, and much more.
Another great point of interest is the Blockchain system the developers have implemented, in order to secure asset management to players, allowing them to have registered ownership and enjoy free tradebility.
Gameplay info
Cyberdeck is a hybrid between a turn-based card game and a board/strategy game. You can click and drag to move cards and operators, to attack the enemy nodes, reconfigure the network, and take control of all the whole Blockchain network.
Cyberdeck offers different ways to enjoy the gaming experience: Duel mode, Adventure mode, and an underdevelopment multiplayer mode, to play together and interact in real-time.
Key features
Cyberdeck players generate their digital alter-egos on the blockchain through their skills, behavior, and inter-player interactions in the game.
For every new release, the best-ranked Avatars will become real cards that everyone will be able to play with.
The multigame digital assets
The Cyberdeck blockchain will have multiple games built over it, each of them adding to the construction of the Avatar's personality, allowing the player to use these assets on multiple videogames.
Developing an Avatar and its stats depends on a player's interactions with any and every game they play in the Cyberdeck universe.
About developers
Cyberdeck is developed by Cyberdeck Srl, founded in 2018 as the gaming division of Mangrovia Blockchain Solutions Srl, a tech company headquartered in Milan.
The first version of Cyberdeck was conceived as a board game in 2004 by developers Pierluigi Maori, Francesco Arcarese, and Giuliano Fidanza, a group of friends and players of Magic The Gathering, many other card games, and a lot of board and role-playing games. They were (and still are) also enthusiastic readers of science fiction and cyberpunk literature, and this background obviously led them to shape their gaming ideas around strong contamination among different genres.
Official website: http://www.cyberdeck.eu
To register and get the early-access: https://play.cyberdeck.eu/early-access
Release date & platforms
Cyberdeck is currently on Alpha, they are gathering as much feedback as they can in order to improve our game before the official release in June 2020. Developed with Unity, Cyberdeck currently works on PC, Mac, and Linux. An Android version will be developed in the future.