History:
Hironobu Sakaguchi, the creator of Final Fantasy, was going to make the first Final Fantasy his final game should it not do well when it was first released in 1987—thus the name. Well, that obviously didn't happen…
Chances are if you have found this site, you probably have played the early Final Fantasies in some form or other whether it's the original releases on Nintendo / Famicom to its several re-releases on different platforms with its minor upgrades and add-ons. Every re-release is the basically the same. They try to improve the original and maybe add some extras in.
However, these pixel remasters in particular do not necessarily have add-ons like bonus dungeons, etc. that were in previous re-releases. This review will be a brief overview but focus more on what makes these versions different from the others.
BRIEF STORY OVERVIEW:
FINAL FANTASY
FINAL FANTASY II
FINAL FANTASY III
GAMEPLAY:

Let me go over the basics real fast. It is a traditional role-playing game (well a good amount of tradition comes from these games) that involves characters adventuring through dungeons, new towns, and the world map; buying new equipment from currency called gil; fighting via random battles with a turn-based battle system; and usually saving the world in one way or another by getting stronger and stronger.
GRAPHICS:
These pixel remasters come with several upgrades including the pixel redrawing of characters created by Yoshitaka Amano by the original pixel artist of the Final Fantasy games, Kazuko Shibuya herself. It is a true 2D remaster and is a true upgrade in terms of a purist aspect.
MUSIC:
Nobuo Uematsu, the man behind the masterpiece level quality of music for most of the Final Fantasy games, supervised the remixing of the games tracks, so there shouldn't be worry to whether they stay true to the original.
GAMEPLAY NEW FEATURES:
QUICK SAVE ANYWHERE
This is probably one of the biggest ones added. Save anywhere via quick save. It doesn't replace regular savings as you can do that as well—up to 20 slots. So save anywhere or at any time and save yourself some headaches the more you potentially do it.
BUG FIXES AND NEW BUGS
A lot of bugs infamous to the originals are no longer there such as the invisible person from the first Final Fantasy. However, a new bug that involves water and lava shading is introduced and as of yet has been officially patched.
MAPS
As well as the general overworld map, maps for towns and even dungeons are added.
AUTO-BATTLE
Pressing a certain button toggles the fighters to auto-battle.
MOVE DIAGONALLY
RUN IN TOWNS AND DUNGEONS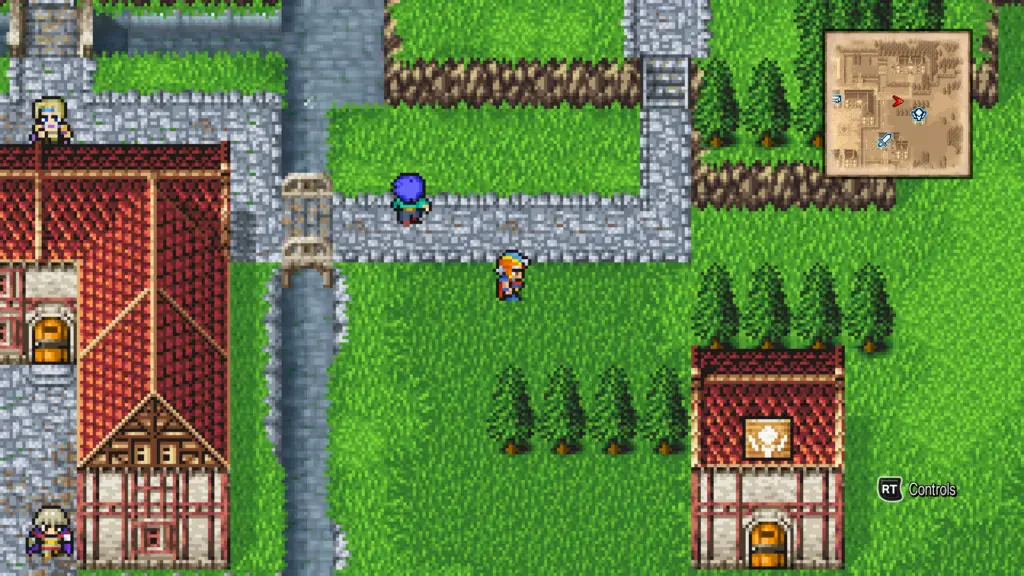 DIFFERENT LOCALIZATION
OPTIMAL EQUIP FEATURE
IMAGE GALLERY / BESTIARY / MUSIC PLAYER
VERY UNPOPULAR ENGLISH FONT
The Sans Serif-esque font the games come with is not too bad but to be coupled with it being condensed and squished, has caused a backlash of sorts by fans. There are workarounds of course. A fan-made patch is available as well there being a possibility of renaming the files in certain steam folders to fix it. Remember to back up everything before you try if you so choose.