On October 13th, 2023 developers Shiny Shoe announced that starting on October 27th, 2023 Inkbound is removing in-game monetization. Due to the fact that the video gaming industry is slowly straying away from such monetization schemes, the people working on Inkbound decided that it is best to be rid of such features. Garnering overwhelming support from their community.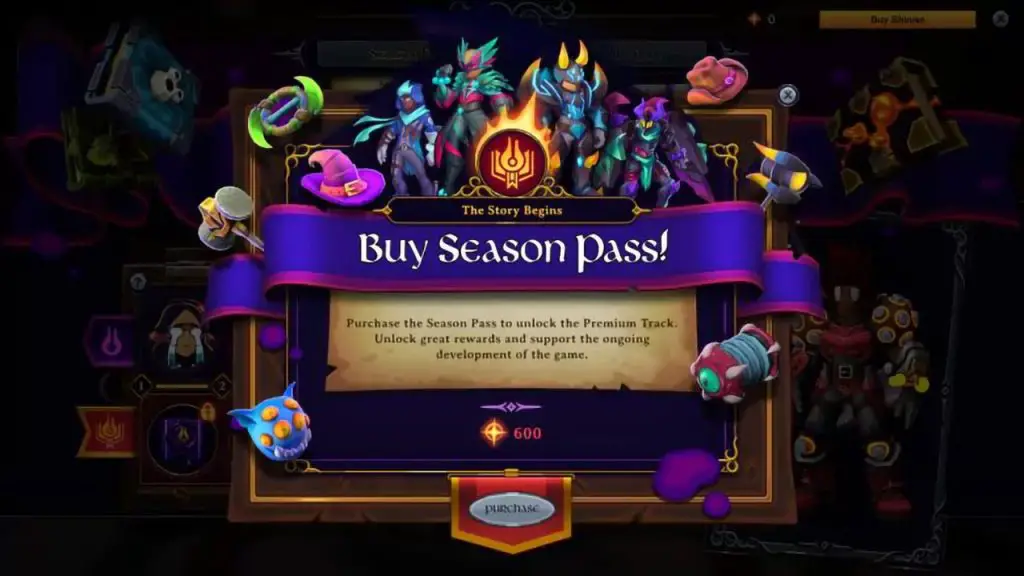 About Inkbound Removing In-game Monetization
October 14th, 2023 at 2:28AM CST. Developers Shiny Shoe posted on Steam that they will be getting rid of Inkbound's in-game monetization. The game currently has two in-game monetization features, the Leveling Pass and the Cosmetic Shop. Despite their nature these systems had actually been fairly well received in the community. Even so, Shiny Shoe's decision to completely get rid of these features garnered overwhelming support from their community. The reason behind this decision is best explained by the developers themselves.
Rationale

It's our goal to create games we can invest into and update beyond release. As developers we enjoy expanding our games over time, combining our creativity with community feedback to add new content and fun.

For that reason, we launched Inkbound with two in-game monetization features to support the ongoing development of the game – the Leveling Pass and the Cosmetic Shop. We tried to make these as generous and straightforward as possible while simultaneously being 100% optional, cosmetic-only, with no impact on gameplay, and with no FOMO.

However, it's clear that industry and player sentiment is trending against the presence of these features. For that reason we are removing in-game monetization completely. Content from the existing Leveling Passes will be turned into cosmetic-only optional "supporter pack" DLCs sold on Steam. The rest of the cosmetic content will continue to be available in-game and earned via playing.

To anyone reading this who purchased anything in-game – thank you, truly. We hope you've enjoyed your time with Inkbound so far and we'll do our best to release a strong 1.0 sometime next year. Anyone who has made any purchases will receive additional bonus rewards as a part of this transition as a thank you for your support.

Summary of Changes

Cosmetic Shop

The Leveling Pass feature will be fully removed.
Anyone who owned either The Story Begins premium pass or The Starship of Terrors premium pass will immediately be granted all unclaimed rewards out of the premium track.
Additionally, anyone who owned either The Story Begins premium pass or The Starship of Terrors premium pass will be granted 1,000 Vault Dust for each pass they owned.
We are moving the cosmetics contained in the premium tracks into cosmetic-only optional "supporter" Steam DLCs. If you bought either of the premium Leveling Passes in the past you already own all the content in the associated DLC.
The premium outfits from The Starship of Terrors that are currently in the in-game Cosmetic Shop are going to move into the new DLC. Anyone who previously purchased one of these outfits will be fully refunded for each outfit – 1,250 Vault Dust each. (Of course you will also keep the outfit.)
If you own The Starship of Terrors premium Leveling Pass you will also be granted all of The Starship of Terrors premium outfits that are currently in the Cosmetic Shop. That way there is no need to purchase the associated DLC because you will have all the content contained within the new Starship of Terrors supporter pack DLC.
The free tracks in the existing Leveling Passes will be moved into the Cosmetic Vault and will thus still be earnable via gameplay.
Upon the release of the update there will be a new free track of rewards available to all players that are earned by leveling up. The unlocks will include various cosmetic items and Vault Dust. The UI for this has been simplified and moved into the Logbook.
At the end of each Season all seasonal free rewards will move into the Cosmetic Vault and can be earned from there. There is no FOMO. If you miss the rewards during the Season you can unlock them via Cosmetic Dust (earned by leveling up) or in the random drops after defeating a Guardian as described above.

Leveling Pass

The Leveling Pass feature will be fully removed.
Anyone who owned either The Story Begins premium pass or The Starship of Terrors premium pass will immediately be granted all unclaimed rewards out of the premium track.
Additionally, anyone who owned either The Story Begins premium pass or The Starship of Terrors premium pass will be granted 1,000 Vault Dust for each pass they owned.
We are moving the cosmetics contained in the premium tracks into cosmetic-only optional "supporter" Steam DLCs. If you bought either of the premium Leveling Passes in the past you already own all the content in the associated DLC.
The premium outfits from The Starship of Terrors that are currently in the in-game Cosmetic Shop are going to move into the new DLC. Anyone who previously purchased one of these outfits will be fully refunded for each outfit – 1,250 Vault Dust each. (Of course you will also keep the outfit.)
If you own The Starship of Terrors premium Leveling Pass you will also be granted all of The Starship of Terrors premium outfits that are currently in the Cosmetic Shop. That way there is no need to purchase the associated DLC because you will have all the content contained within the new Starship of Terrors supporter pack DLC.
The free tracks in the existing Leveling Passes will be moved into the Cosmetic Vault and will thus still be earnable via gameplay.
Upon the release of the update there will be a new free track of rewards available to all players that are earned by leveling up. The unlocks will include various cosmetic items and Vault Dust. The UI for this has been simplified and moved into the Logbook.
At the end of each Season all seasonal free rewards will move into the Cosmetic Vault and can be earned from there. There is no FOMO. If you miss the rewards during the Season you can unlock them via Cosmetic Dust (earned by leveling up) or in the random drops after defeating a Guardian as described above.

Inkbound – Steam