The Steam Next Fest is an event that lasts several days and replays throughout the year. During the event, interviews, announcements, playable demos, and much more will follow up. A fantastic festival for gamers but also for developers who can obtain greater visibility by getting in touch with aficionados, industry professionals, PR, and more.
Starting on October 3rd, this 2022 Next Fest edition is live until October 10th, with many RPGs and Strategy games to try. Some will remain available even at the end of the Festival, while others will be removed; therefore, as there are still a few days to go, I want to show you some of the best turn-based games I have tried that you should do too.
Homicidal All-Stars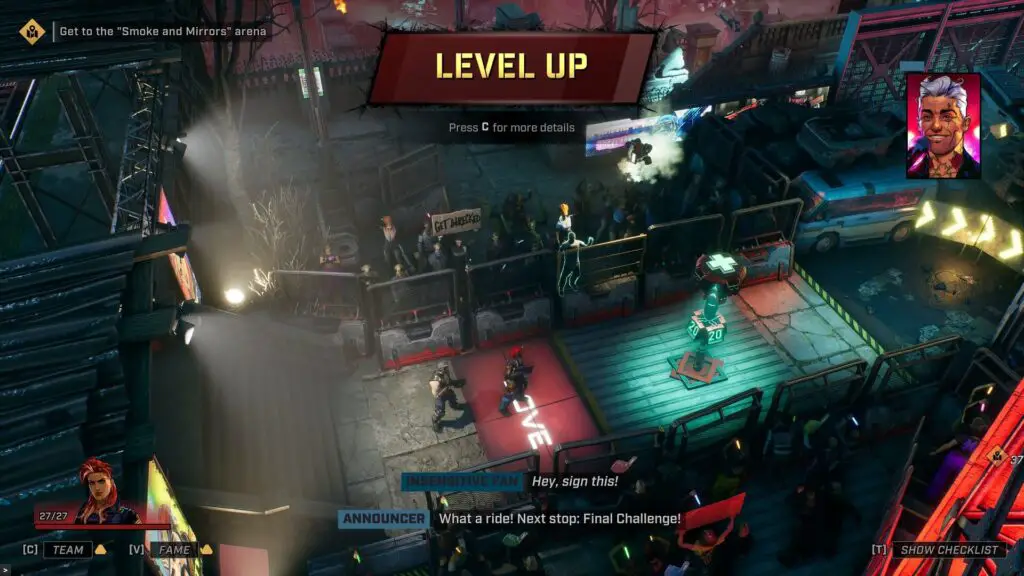 Let's open with Homicidal All-Stars. A gory turn-based tactics RPG developed by Artificer and published by Good Shepherd Entertainment set in the future within a brutal TV-Show. Players will take on the role of some participants, who must try to survive, episode after episode, winning battles and conquering fame.
Inside Homicidal All-Stars XCOM-style battles, each character has two action points that allow him either to make a move and an attack or two actions or vice versa. Lovers of the genre will feel at home, being able to take advantage of covers, half covers, skills, overwatch, and more shown by gruesome animations.
In the demo, players take control of 3 characters, each with different skills. There is a versatile unit that reminded me of XCOM rangers. A gatling gun and explosives operator, and a third unit that can create holographic images and other evasive maneuvers.
A nice touch is an announcer, which highlights key moments of the battles. Definitely, a game to keep under control and try before the end of the Steam Next Fest. Expected on PC with no release date yet.
Undeadly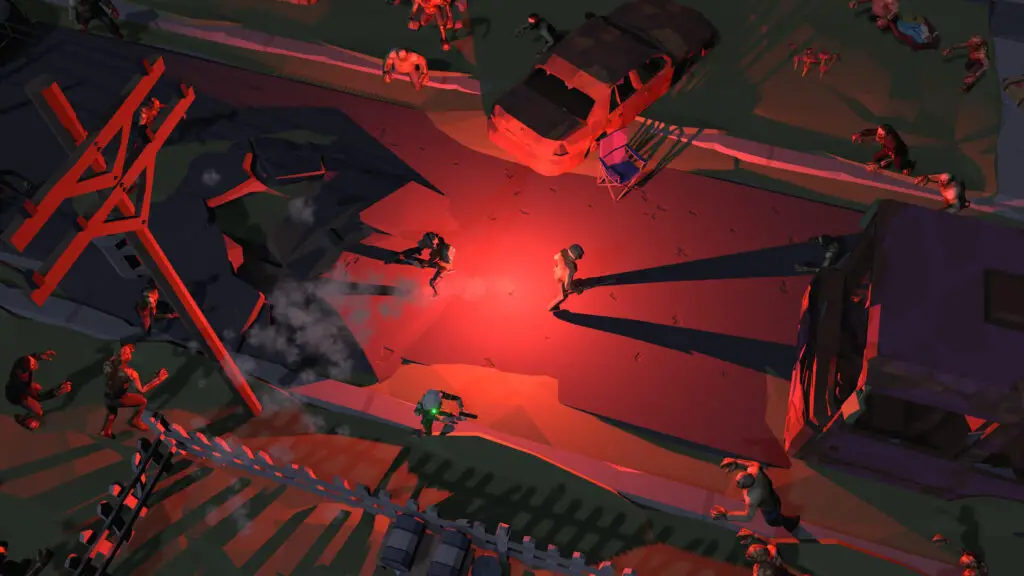 Undeadly by Irreflex Studios is a tactical strategy RPG that catapults players into yet another zombie-infested post-apocalyptic world, where a handful of survivors must … survive. During the day, the unfortunate heroes will have to collect resources that allow them to build new items, while at night, they will have to resist zombie attacks.
The "open" demo puts players in control of various units, each belonging to a specific class, such as; thieves, doctors, engineers etc. The player must use class skills to collect resources, unlock doors, treat the sick, and produce new weapons and items.
The turn-based combat system provides range weapons and melee weapons. The player will be able to switch between a head aim with a lower hitting chance and higher possibilities of killing a zombie directly or targeting the body, which will eventually transform the undead into a crawler. Therefore it will be necessary to hit it again to eliminate it.
The mechanics seem interesting, and the graphic style, even if not exaggerated, is ok, I did not particularly like the demo, because it leaves you inside the map without a real goal, and let the player miss several game mechanics, in any case, a game to follow. No release date yet.
Capes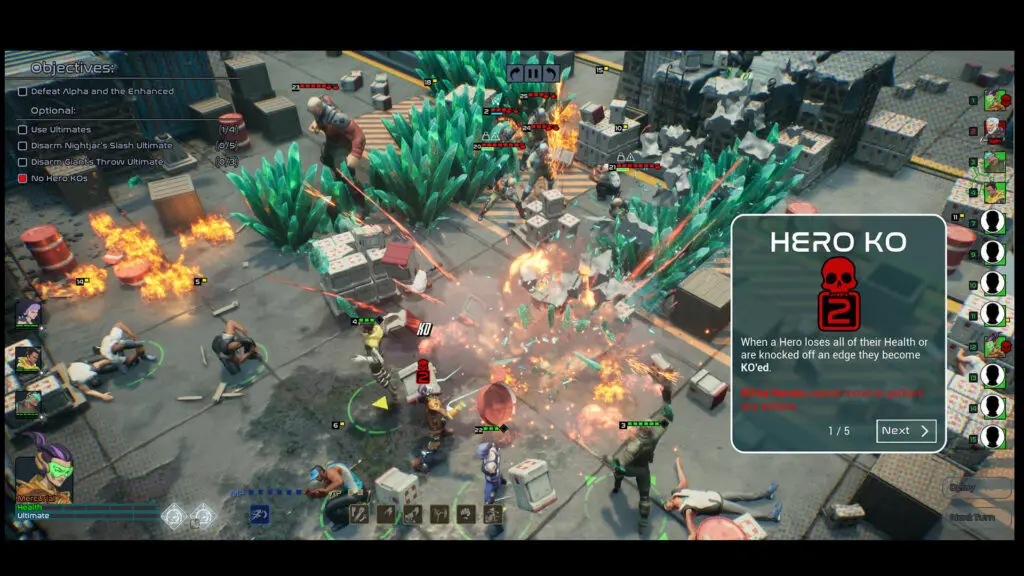 Perhaps my favorite of this October 2022 Next Fest edition. Capes by Spitfire Interactive. A turn-based tactical RPG where players take control of a group of superheroes who represent the resistance against a corporation slowly eliminating all citizens with special powers.
The demo puts players in control of Facet and Rebound, and introduces the game mechanics. Facet, is a colossus that can produce crystals on his body that allows him to attack and absorb damage, belongings to the Defender class. The other unit is Rebound, belonging to the Attacker class, she is an operator able to teleport from one point to another and cut enemies into slices thanks to her Katanas.
Each character has movement points to hang around the map, and action points to use their skills. These points are independent of each other. Respecting certain criteria, each unit can accumulate points to spend in a devastating super move. – in the case of Rebound, for example, each back attack will raise the special bar.
The skills are awesome and each character has combo moves, which can be used if another hero is close enough. These moves and skills are shown with exceptional and stylish animations. This and much more is Capes. You can find my gameplay to get a better idea of what the mechanics of the game are. Expected on PC in 2023, trying it is an absolute necessity.
SKALD: The Black Priory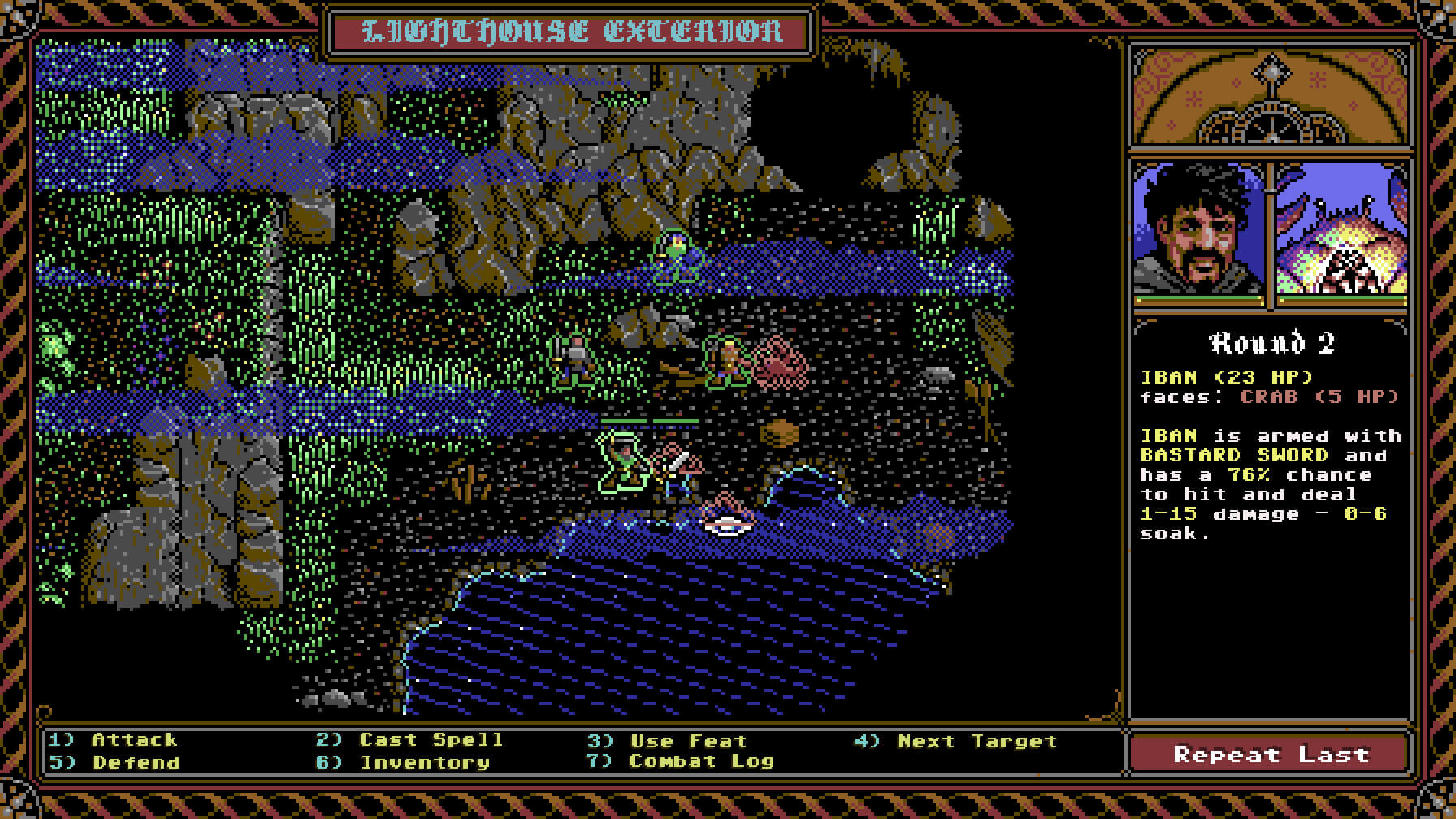 SKALD: Against The Black Priory by Scape-IT AS is a promising retro-style turn-based RPG with a nostalgic 8-bit look. The game promises great freedom in gameplay and lets the players be who they want to be, a cruel mercenary or a great hero. It's all up to the players.
A tactical grid-based battle system, an exploration system with shadow areas that give depth, stealthmechanics, many items and objects to interact with, skill check with die-throwing, and more. If you are an RPG lover, you should try this 8-bit Perl and you will never take your eyes off it again. SKALD: Against The Black Priory is a PC game expected for 2023.
Mato Anomalies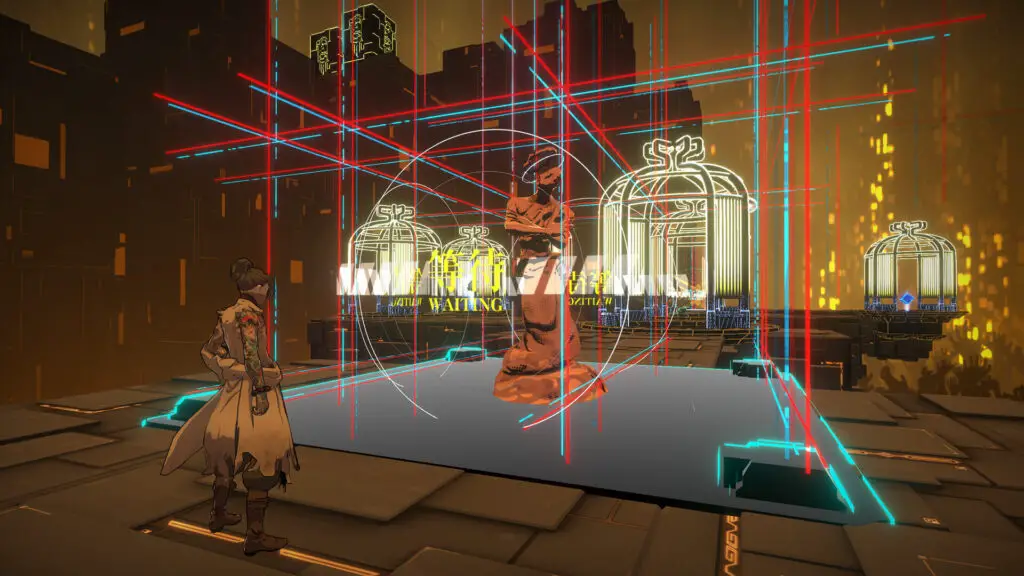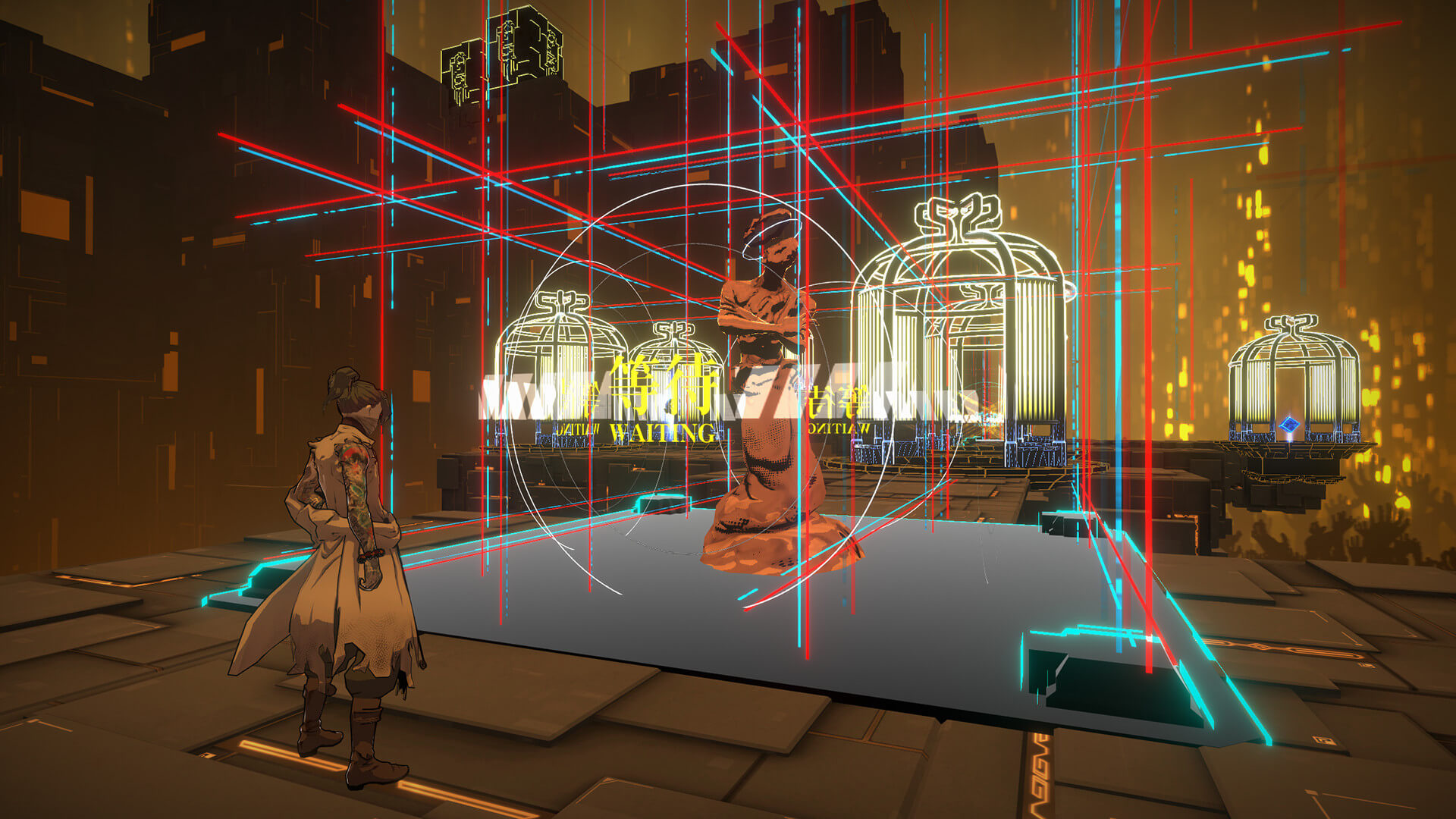 Mato Anomalies by Arrowiz and published by Prime Matter is an anime JRPG where a futuristic city mixes demons and magics. Players will guide the private detective Doe and the exorcist Gram around the city of Mato, finding clues about the strange anomalies happening in town.
A real-time exploration in which players talk with NPCs, take on quests, investigate mysteries, find allies. And an inspired turn-based combat system featuring a shared health bar between the team member and a dual-talent system. Mato Anomalies is coming on PC, Switch, Xbox Series, Ps4 & PS5 in 2023.
Desktop Dungeons: Rewind
2013 Desktop Dungeons is back again with Desktop Dungeons: Rewind by QCF Design. A fast-paced turn-based roguelike game where players must balance attacks and exploration to win the dungeon…i'll tell you why.
In Desktop Dungeons: Rewind, players will guide a hero of different unlockable classes, in dungeons full of monsters of various levels till arriving at the final boss, which must be killed to collect its trophy. Exploring the unknown tiles grants the player HP and mana points which is why the perfect balance between attacking and exploring is vital to surviving, leveling up, and arriving at the final boss with full strength and max possible level.
Told like that, it looks a little basic, but along the way, players will also need to work well with found potions, items, and spells which can be used or converted into points that will improve the character's attacking value. Once ended victoriously, players can spend gold on various buildings, which will unlock new classes, like thief, mage, and fighter – those are the ones met during my gameplay and other infrastructures to gain passive bonuses. Desktop Dungeons: Rewind is a PC game with no release date yet.
Hostile Takeover
Hostile Takeover by Whispering Spider Games is a deckbuilding turn-based tactical game set in a futuristic city. Players will control different units, each with their deck and cards.
Battles happen on square-grid-based maps, and to use the skills or simply move the characters, the player must necessarily discard cards to produce points shared by the various units, which are reset at each turn. Another important role is played by the cover system that allows you to increase the shield's value and defend against enemy telegraphed attacks.
Between one battle and another, players can choose upgrades, invest their money to improve cards, and apply permanent upgrades. Hostile Takeover is a PC game with no release date yet.
Timewreck Tales: A Rogue RPG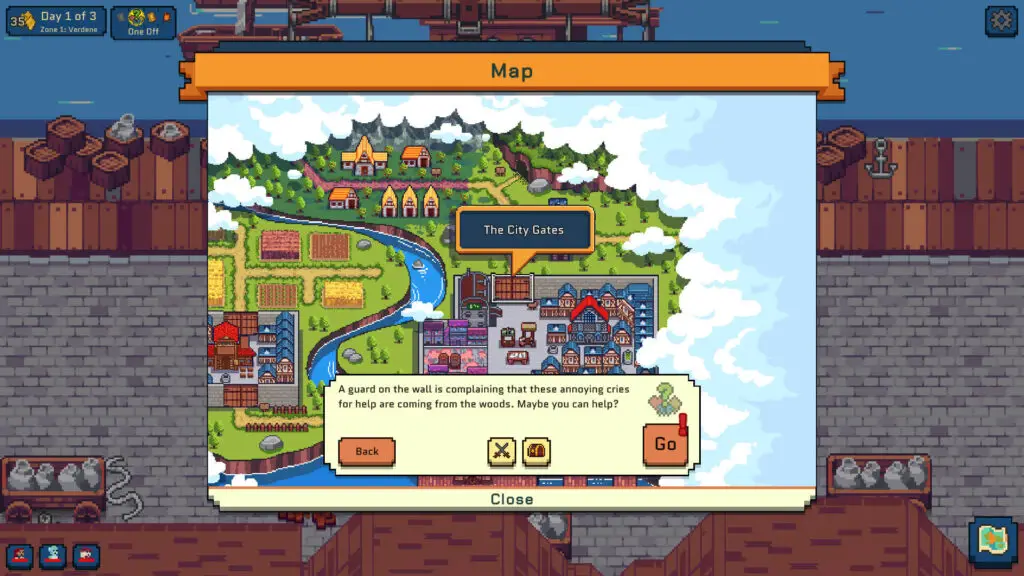 Don't be fooled by the simplistic graphics, and try Timewreck Tales: A Rogue RPG by Second Pass Studios now. An RPG with rogue-lite mechanics engaging humor, and some interesting gameplay mechanics. Characters from different places and eras find themselves part of a strange organization called Epoch Inc, which is in charge of controlling the normal flow of time.
The party of heroes will be launched in different areas of the world to fight a God becoming a serious threat to the entire universe. There are side-quests, choices to be made using the team's abilities, powerful artifacts to collect, battles where each turn follows a time bar, and skills that can have shorter or longer loading times.
I had a lot of fun during my gameplay, and I recommend everyone to check it out. Timewreck Tales is expected in 2022 on PC.
Hellcard
Hellcard by Thing Trunk is a deckbuilding roguelite game part of the Book of Demons games. If the first game, 2018 Book of Demons, is a hack-and-slash game, Hellcard instead presents a card turn-based battle system with a cooperative mode.
Players can create their characters by choosing from a fighter, a wizard, and a thief. That choice will influence the deck and the starting cards. The cooperative offers the possibility of joining other players dungeon-descending, but Hellcard can also be faced alone. Players can choose between 2 chambers at each level, and inside each chamber, an encounter is waiting with lots of melees and ranged enemies to face.
Players will start the battle with their hero at the center of the map and inside a circle. Everything outside that circle is considered a ranged enemy, while the ones inside are melee menace.
Single unit and area of effect attacks, shield cards, and more must be used to defeat hordes of enemies, and I can assure you it's not an easy task. If you don't believe me, take a look at my gameplay video. Hellcard is a PC game expected for Q4 2022 on PC.
CESSPOOL
The last one i tried from this October 2022 Steam Next Fest is CESSPOOL by indie dev Guillaume "Tryton" Collignon. Featured inside one of my last KAEOI, the game is a turn-based RPG with some twist regarding the battle system and character evolution. Sometimes, during battles, players will face mini-games that give the feel of a real-time game beside this, the battle system is solid, and JRPG fans will hang with it easily while the character growth happens through the use of Gray Matter acquired in battles that let the characters improve their stats and learn new skills.
CESSPOOL looks like a nice JRPG experience with GBA graphic and sound vibes and is expected on PC the 28th of October 2022.