Dungeon Drafters, a new dungeon adventure game that blends card battle and tactical combat, is set to be released on PC platforms on April 27, 2023, with console versions planned for later in the year. Developed by DANGEN Entertainment, the game offers unique playable characters, tile-based strategic combat, roguelite elements, and a combo system.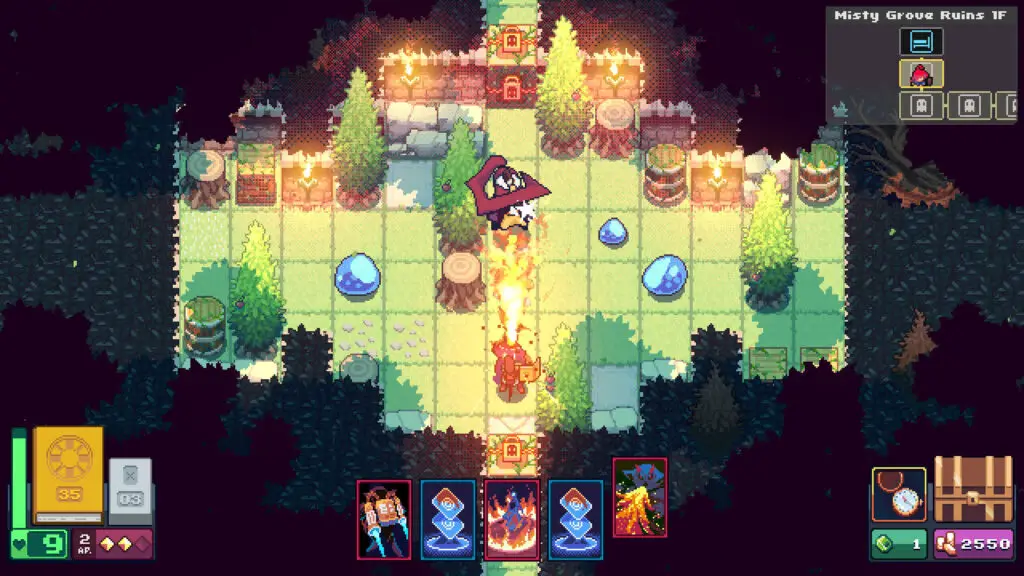 Players must explore different dungeons, collect rare cards, rescue lost adventurers, and build the ultimate spell deck to fight against evil and forbidden cards. The game also features a rich customization system with 300 different cards, five magical archetypes, and a catchy soundtrack with a special theme contributed by Secret of Mana composer Hiroki Kikuta.
A new release date trailer and more gameplay details have been revealed to commemorate the announcement. Below more details and Trailer.
New Trailer and Game Details Revealed

Dungeon Drafters is a mystery dungeon adventure that breathes new life into the card battle genre with tile-based strategic combat, unique playable characters, roguelite elements and a clever combo system.

OSAKA – April 6, 2023 – DANGEN Entertainment today announced that Dungeon Drafters will be released on PC platforms on April 27, 2023, with console ports planned for later in 2023. A new release date trailer revealing new gameplay commemorates the announcement.

Dungeon Drafters combines deck building and tactical battles, all wrapped up in a colorful pixel art mystery dungeon adventure with roguelite elements. Play as a young adventurer eager to explore ancient ruins on a quest to rid the world of evil and forbidden cards. Battle it out in turn-based combat with your spell deck to execute incredible combos that devastate the battlefield. Collect rare cards, discover treasure, rescue lost adventurers, then return to town to prepare for your next run. Dive deeper and work your way toward building the ultimate spell deck that will banish evil from the world forever.

Players choose from one of six playable characters with their unique starting deck that guides initial play-style, adding different flavor to combat and strategy while giving the player an extra step towards building those archetypes. For example, the Mage starts out with wide range magical attacks "Flamering" and "Quake" while being able to turn enemies into frogs with "Hex,"  whereas the Brawler can throw enemies with "Fling" or trap them with "Binding Palm." Regardless of your initial decision, you may branch out and create any deck you want in the game. 

Players explore a wide array of dungeons ranging from Misty Grove Ruins, Magma City, Glacial Library, Lost Wreckage and more. Once battle begins, the player and enemy take turns in strategic tile-based combat. The player has three actions points in each turn letting them move, play a card, or bash an enemy with a melee hit. Hover over the enemy to see their attack range and keep an eye on their next move so you can avoid danger or counter with a big move. Protect yourself with a "Stealth" card, create a "Barricade," jump out of the way with "Vault,' or turn a stationary item into a friendly monster with "Polymorph." Root an enemy in place then crush it with a stalagmite, or push one enemy into another for extra damage. Using the environment and creative thinking are key to dungeon survival.

Dungeon Drafters has a rich customization system with 300 different cards and five different magical archetypes – Traveler, Raider, Stranger, Oracle, and Warden, all of which employ different types of spells. Every card is tied to an archetype that defines how those cards will work in a deck. Some focus on aggressive power, while others focus on control, resilience and safety. Depending on which archetype you choose, your strategies and tactics will differ greatly. When you equip runes aligned to a specific archetype of your choice, you will be able to use cards of that archetype. As your character gains more runes, you'll be able to make more complex decks, mixing archetypes, and creating the super deck of your dreams. Spice up your magical deck with powerful Curios – magical trinkets that grant the player unique abilities that can synergize with their deck. Each character gives the player an initial taste of card archetypes and how two classes of cards may combo together. 

As you explore dungeons, you'll have the opportunity to either dive deeper, or return to the Adventurer's Town to secure your spoils. Here you can redeem booster packs, build your deck, trade cards, interact with NPCs, take on quests, unlock runes, send the Scavenger on an expedition to find Curios, play minigames and discover a ton of additional secrets and lore. You can also access the all-mighty Guide that provides a slew of information such as a bestiary, NPC profiles, a town map, encyclopaedia and more.

Each dungeon has its own theme, featuring monsters that may teleport, heal, absorb or cause massive damage. Beating the final boss of each dungeon will require a lot of effort, requiring players to learn the tricks of each, make adjustments in their deck and delve further. Seeking out different types of rooms is an important feature of the game. Look hard and you'll discover Treasure Rooms, Special Rooms with combat events, Lore Rooms, Trade Rooms, Fishing Rooms and more.

Dungeon Drafters features a catchy soundtrack with dynamic music that changes during battle to keep the player pumped. Guest composer Hiroki Kikuta, of Secret of Mana fame, contributed a very special theme to the game.