HeistGeist is a story-driven deck building RPG set in a cyberpunk version of Central Europe from the devs behind Blood Will be Spilled.
In-Game Background Story / Lore
Follow the story of Alex, a thief for hire, as she tries to pick up the pieces of her lost reputation after her last job went terribly bad. On the run from corporate assassins and a disgruntled client, Alexandra has to do her best to stay alive, as she prepares for the heist of a lifetime.
Gameplay
Plan highly sophisticated heists for super secret prototypes or classified corporate intel. But be prepared that even the best laid plans can sometimes get messy. Adapt to change, make the right choices, stay alive and most of all, get the job done. If stealth is not an option, fight guards and automated security systems in tactical card-based battles.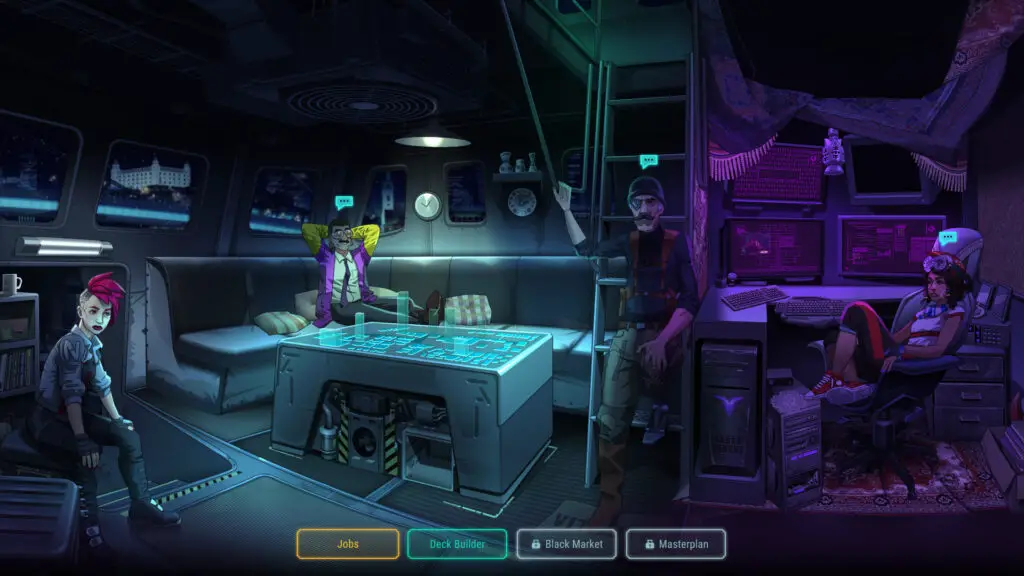 Key Features
Pull off high stakes heists in which every choice matters
Follow an original cyberpunk story full of twists and intrigue with a fully voiced cast of characters
Fight your enemies in card-based battles where sequencing and powerful combinations are the key to your success
Build a deck that suits your playstyle
Use cyberspace to hack into secure servers in a unique card-based puzzles
About HeistGeist Developer
Doublequote Studio is an independent studio based in Bratislava, Slovakia. Founded in May 2014 by two brothers – Ivan and Martin Kozmon – and currently consisting of four team members. The main focus of the studio is to create visually distinct game experiences, utilizing the team's strengths in 2D graphic design and illustration in combination with a compelling narrative.
Their first game, Blood will be Spilled was released on May 29 2019 on Steam and February 20 2020 on Nintendo Switch. The game received the CEEGA 2019 award for Visual art and four Slovak Game Awards 2020, including Best visual design and Game of the Year.
HeistGeist Release date & platforms
2023 on Steam PC/Mac and Nintendo Switch