Come, come all to see these wonderful artists willing to make you spend a very pleasant time…. But let's not waste any more time and let the show begin.
The Amazing American Circus is a video game developed and distributed by Klabater in collaboration with Juggler Games. This amazing game is a blend of deck builder, RPG, and tycoon elements. It's certainly quite original, where you'll have to manage every detail of your own circus all over America. Will you have everything you need for responsibility as big as this?
Legacy
The story begins when you travel back home and you get the tragic news that your father is dead. Arthur Jones was a renowned and talented circus owner; by the hand of his brother Jack, together they managed the famous "Jones Circus" with which they managed to travel all over America, making many people happy and having fun. During the farewell ceremony were his great artist friends.
Ready to follow your path after such a tragic experience; your Uncle Jack is preparing to give you news that would make your life turn of 360°. Suspecting what was involved, you insist on leaving as soon as possible, but it turns out your father would have left you something before he died. Your mother and your uncle are taking you to a place where they find an abandoned, old, battered circus, because of the cinematics I don't doubt there were hundreds of rats living there.
But, it is that same circus that at some point led the Jones brothers to live a dream life, full of much glory. You refuse to take over, but there's a $100,000 prize tournament going on, your mother lets you know they're broke and they need that money… So, you decide to take on the challenge and start the adventure, without having the slightest idea of how a circus is run, luckily your uncle decides to accompany you and together beat the giant of the industry: P.T. Barnum.
How do you beat the audience?
In The Amazing American Circus you will have a card duel between you and the audience; where boredom is your worst enemy, and your performances and tricks are your best weapons. You will have to choose your cards wisely and try to figure out the mood of the crowd. In some cities you'll need to perform more than one act, which makes it even more important to use your strategies properly to impress the public. Like any game, there will be easy and other difficult scenarios. Because what might work for you in some southern city would not necessarily be the most viable option for a northern city.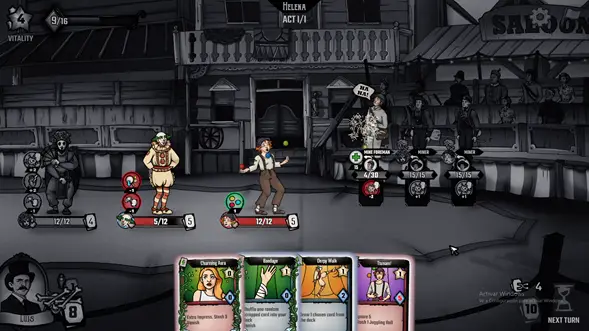 In order to travel from one city to another, you will have to cook a dish, each city counts as a dish to cook. For example, if you travel through 3 cities you will have to cook 3 dishes, each one will give you or subtract certain status that could benefit or harm you during the next show. Once you arrive, you will have to choose 3 of your artists, a Misfit for each act and a final act (Your superpower). You will also set a price for tickets, which can increase if you decide to add certain advertising that logically has an additional cost, nothing in this life is free.
Each artist will have different cards based on their playing style, which mostly require vitality points to be able to use and will give you points to fill the bar of your final act. Some of the skills that cards can have are; ignore defensive ability for when the public is willing to attack with tomatoes the focus of your artists. Your attack ability is called Impress… You didn't expect to use a sword or a bow or anything like that, did you? If you manage to impress the audience you will receive experience points for each artist, circus fame points, and money that will serve you for many things within the game. But if you fail the show will be over and you will receive nothing in return, in order to try another show in that city you will have to wait a short period of time.
Interface
Klabater made it pretty clear to us every option available. First stay we have the Map in which you can take a look at all the cities available to travel, in which you have already performed successfully and in which no; some areas will appear with fog, in order to unlock them you will have to pay a few dollars.
Artists` Wagon. Here we can see all the artists we have hired, by default you will have a maximum of 6 spots for artists. It gives us details of each one; name, class, level, experience obtained, quirks, etc. The most important thing, this is where you can choose the 5 cards that the artist will use on stage.
Training Wagon. When your artist level up, you will pay to train him and get to improve one of the cards at random or choose a new one.
Recruitment Wagon. Every time you visit a city there is a chance that new artists will be ready to be hired.
Recovery Wagon. Grandma Betty plays an important role as here will appear the gifts and hoaxes obtained during the show.
Voodoo Wagon. In this wagon, you can manage the quirks of each artist. You can remove, lock and even copy. Remember that these play an important role during each show.
Cookhouse Wagon. You don't think artists can work with an empty stomach. Here you will cook the food dishes you will use during each trip. Many recipes, many ingredients that will give you stats.
Bizarre Bazaar. You will have a panel with the obtained Misfits, they are selected before each battle, to provide an effect during each act.
Ringmaster`s Wagon. It is the most special wagon, as here you can upgrade each of the wagons mentioned above to give you better options throughout your circus adventure.
Journal. Finally, we have the Journal, here you can see your Quests (active and inactive), Keywords, Audience, Cards, Tutorials.
Graphics and Music
The developers took every detail within the game very seriously, their goal is to provide a unique and unforgettable experience. Set during the Gilded Age, they present us with very cool graphics, cartoon style, very well drawn cards and scenarios quite focused on the purpose of the game, excellent combination of colors and letters. Of course, none of this would be complete without the high-quality music, although it is not very varied, it helps to get us hooked and not stop playing.
Conclusion
The Amazing American Circus is a game for all those who love deck-building games, and are in search of something new and different with total attention to detail. They just made you feel like a real circus.