Hi, guys welcome to a new episode of THE KEEP AN EYE ON IT. Last week i skipped the column because i was too busy with the February 2021 releases. Anyway, despite the Steam Festival 2021 and all the demos to try, i was able to look for 5 promising indie turn-based games actually in development, and here the result.
Dark Deity
Sword & Axe LLC
Release date: Spring 2021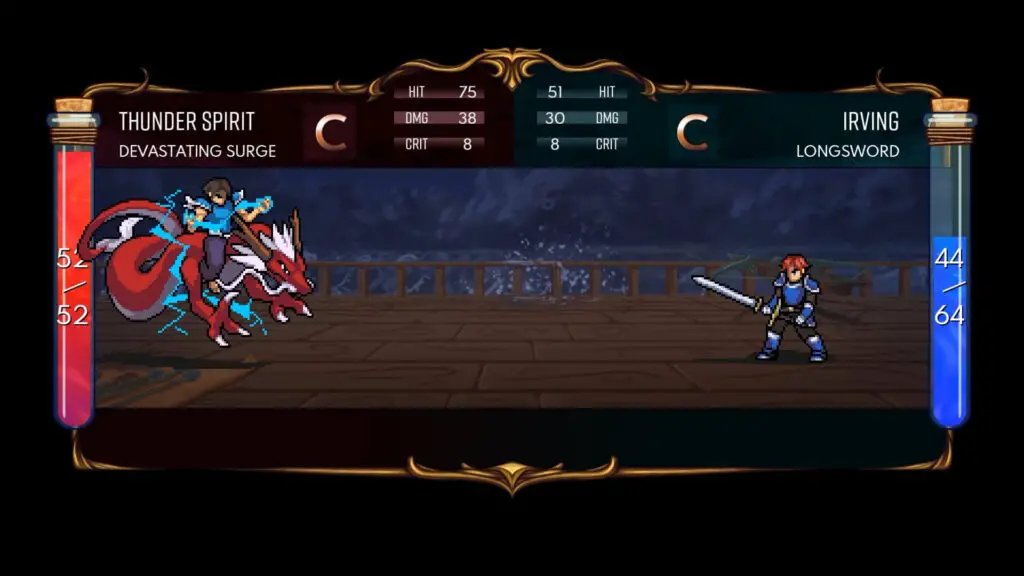 Let's start with Dark Deity by Sword & Axe LLC. An inspired SRPG that after a succesfull Kickstarter campaign, is actually in development for PC and Consoles. Command legendary heroes to reshape a land fractured by broken oaths, reckless war, and a secret search for arcane power.
Key Features
Deep Strategy All 28 chapters feature unique turn-based combat scenarios and objectives that will put your strategy skills to the test, while your units earn hard-fought experience.
Class Choice With 54 character classes to choose from, each with their own distinct skills and capabilities, no two play-throughs need look the same. Face a wide variety of enemies as you guide your units' progression toward their ultimate form.
Character Driven Story Follow 30 distinct playable characters, each with their own background, personality, and motivation, as they set out to change Terrazael forever.
Character Bonds Nothing forges friendships like the heat of battle. Watch your character's relationships evolve in over 400 unique conversations that show a glimpse of life beyond the fight, and have real implications for gameplay.
Hundreds of Weapons and Spells Equip your team for battle with a diverse array of weapons and spells which you can upgrade over the course of the game.
The Eternal Aspects Discover droves of ancient divine artifacts scattered across Terrazael, each with transformative buffs for the characters who wield them.
Dark Deity is expected for Spring 2021 on PC, Nintendo Switch, PlayStation 4, Xbox One
Sinistrous
Rice Games
February 2021
Lovecraft influenced and still influencing a lot of films and games. I don't want to be wrong but it's the first time that this happens for a Roguelike Deck Builder. I'm talking about Sinistrous by Rice Games. With each new adventure, face a unique and randomized assortment of mystifying events, phantasmal environments, and perplexing creatures.
Key Features
Play as three cultists with their own unique skillsets while fighting your way through an unpredictable Lovecraftian world.
Make critical decisions in an attempt to preserve your sanity, or satiate your lust for lunacy and unlock your cultist's untapped potential.
Customize your deck with over 100 'Cards' and game-changing 'Runes' as you strategize against enemies of shapes and sizes unbeknownst to man.
Experience events that make you question reality as you explore and unveil the secrets of Carcosa.
Enjoy a dark, gritty art style featuring fully animated heroes, enemies, and more.
Experience a hauntingly atmospheric soundtrack that fuses orchestra and electronica.
Sinistrous must come out sometimes during this month. Here the Steam page
Tactical Combat Department
LukasH
September 2021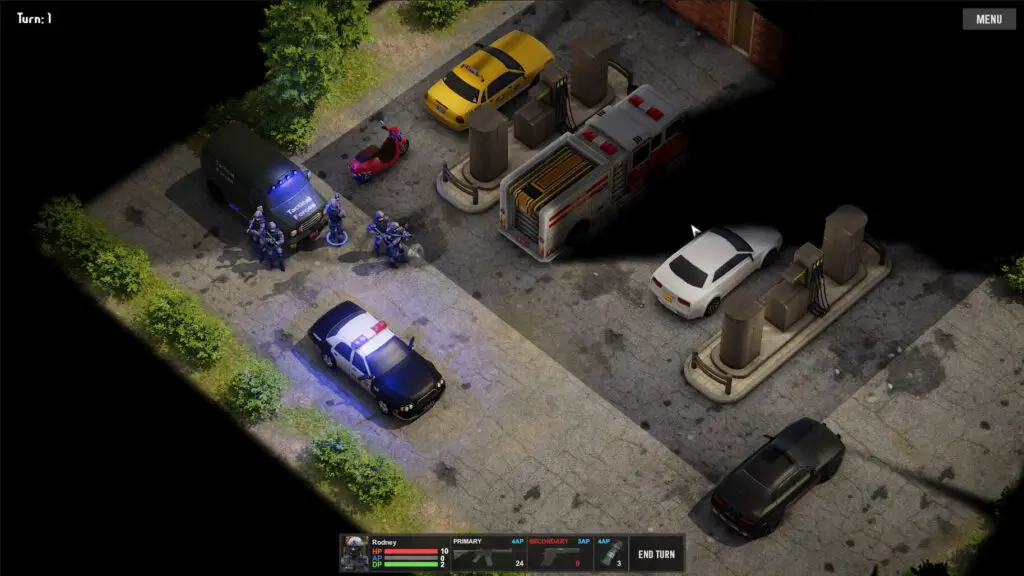 I played the demo a little while ago, but recently i discovered that Tactical Combat Department by LukasH had a completely graphic revamp which made it delicious. You can see the differences between my recent gameplay video and what the game looks like now from this new trailer. Tactical Combat Department puts us in the shoes of a Swat team that must deal with a lot of critical situations.
Key Features
Fight tactics and breaking the door Choose from an intense dynamic action such as blasting the door or kicking them in. In this case, however, you can face opponents from the outside but also the inside. In many situations, therefore, a quiet action is more appropriate, like a slow opening of the door using a handle, the use of silent variants of weapons, etc.
Fog of war You only see what your team members see. You have to proceed carefully from door to door, covering corners and unprotected places to prevent a surprise attack of the enemy. Because the design of the levels is not predictable or not know in advance, surveying the area goes step by step.
Set up the rules It is essential to set up the rules as soon as possible and to secure all suspects and civilians. An unsecured opponent is still a threat, and if one does not pay attention, he may try to escape or attack suddenly. Chaos on the battlefield increases the risk of injury to team members or civilians. Civilians can panic and scatter around.
Shooting system The shooting system is based on the trajectory of the projectiles, considering the experience of the unit and the accuracy of the weapon. The higher the distance, the greater the chance that the enemy or your unit will also hit people around. These risks have to be considered based on the unit's experience. Some materials can be shot through.
Ai Opponents move around the area based on their judgment. At the beginning of each level, their position is randomly generated, so it is necessary to proceed carefully and tactically each time. They respond to loud sounds and follow what they see. If a threat occurs, they also let their colleagues know the information for being cautious and within a specific range. If attacked, they then try to hide behind the nearest obstacles.
Tactical Combat Department is expected on September 2021 on Steam.
Void Marauders
Autarca
TBA
If you like to roam the galaxy assaulting ships, pillaging installations, and managing your space pirate crew, then Void Marauders by Autarca is the game for you. Void Marauders puts you in command of a pirate space ship and its crew. Recruit soldiers, arm them, and lead them into tactical turn-based battles against alien, robotic and human forces. Board or destroy ships, assault installations, and colonies and loot your way across the stars to become the most infamous pirate of the sector.
Key Features
Select a starting ship and allegiance: Pirate, Nomad Fleet Agent or Terran Hegemony.
Manage a ship and its crew. Recruit soldiers from different classes and species.
Lead your soldiers in turn based battles against human, alien and robotic enemies.
Play a procedural campaign for great replayability.
Loot and pillage enemy ships and installations.
Trade your loot and buy new equipment.
Manage the loyalty of your crew and hunt down any deserters and traitors.
Find and capture the legendary ship The Omen to become ruler of the sector.
No release date yet for Void Marauders. You can wishlist it on Steam.
HeatWave
Perimeter Games
TBA
We already talk about it on our pages with an overview. HeatWave by Perimeter Games is a sandbox turn-based strategy game that inevitably makes you think of Jagged Alliance. We must form guerilla groups and fights against Russian and Chinese for the freedom of Alaska.
Key Features
Run your own Guerrilla faction. Form your team and set internal laws and adapt rules to the changing environment. Set up base deep in the forests of Alaska, build new structures to make your people self-reliant.
Use and upgrade your bushcraft skills. Survive in the wilderness with limited resources. Help your people meet basic survival needs. Set up camps, obtain energy resources, provide shelter against the cold and rain. Hunt for food, collect wild plants or plunder local communities to prevent starvation. Craft items- make tools, medicines, and weapons from collected scrap and plundered materials.
Explore the world. Visit settlements. Talk with their inhabitants, recruit, trade, or complete quests to increase relations with them. Explore vast expanses of Alaska and dive into a non-linear story. Make difficult decisions and fight your own path to independence.
Partisan tactics. Stay in the shadow, avoid being discovered. Move your base if necessary and implement a hit and run strategy. Punish collaborators, constantly fight and harass the invaders. Set up traps, sabotage their supply lines and incite the people of Alaska against them.
Diplomacy. Shape your own politics, handle diplomatic relations with other factions and settlements. Perform tasks for the local population and compete with other guerrilla groups. When strong enough, start the revolution and take on the invaders to drive them away. Finally, choose your own path to independence – continue in the name of the United States, or create your new independent country…
No release date. HeatWave will be available on PC and Nintendo Switch. Here the Steam Page
Thanks for reading this episode, let me know what you think about it in the comments, and also, you can reach me on Twitter and on the Discord server. Wish you the best.
CIAO