Hi guys. Welcome to a new KEEP AN EYE ON IT episode. While we are preparing for a new general lockdown in Italy, I have been wandering the web looking for 5 games to present to you this week. Some very interesting tactics have come up, a dark RPG and a deck-building, those are easy to find lately. At the end of this list you will find the video version of this article where I collected all the trailers accompanied by my perky voice….. maybe not so perky.
Anyway, let's start
The Amazing American Circus
Klabater, Juggler Games
TBA
We open with the deckbuilding of the week. The Amazing American Circus by Klabater, Juggler Games. Of Deckbuilding, it is true there are many, but few with such an original idea, in fact, in the game we will impersonate the owner of a circus that we will have to bring to the fore, hiring artists, each with their own deck and characteristics, by completing quests. and facing the worst enemy a circus can have – bored spectators. It is they, in fact, our enemies, and thanks to the skills of our artists we will have to entertain them and thus collect consents and resources that will allow us to continue our journey into the Gilded Age of the United States.
Key features
Become a legend! Save a run-down circus, gather a troupe of performers, and dare to defy the greatest showman on earth – P.T Barnum himself.
Recruit and train over 12 different types of circus artists
Take part in exciting battles on the circus arena using the beautifully illustrated collectible cards
Upgrade your circus caravan thanks to different types of wagons offering over 100 possible modifications
Meet both historical and fictional characters deeply embedded in American folklore, such as John D. Rockefeller, Susan B. Anthony, or Nikola Tesla
Immerse yourself in a story taking place during the turbulent era of the fading Wild West and enter the beautiful and dark world of Native American folklore and the immigrant populace
Listen to a unique soundtrack inspired by classic circus music and American country & folk
The Amazing American Circus is a few days away from the end of the Kickstarter campaign.
Mech Armada
Lioncode Games
Summer 2021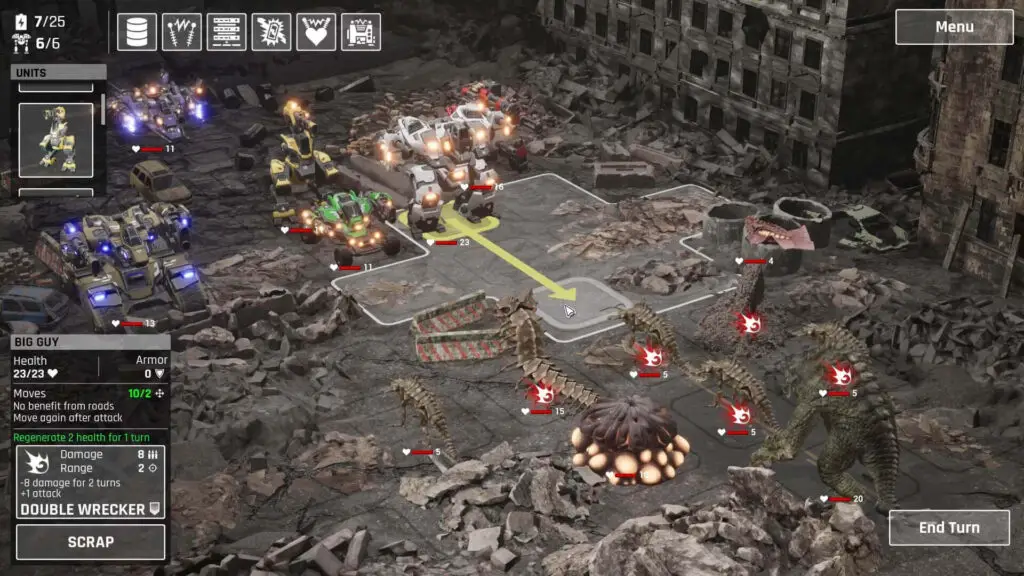 Let's leave the 19th century to catapult into the post-apocalyptic future where giant beasts have now almost completely taken control of planet earth. I talk about Mech Armada by Lioncode Games. As I told you, the earth is about to give way to monsters of all kinds and the only hope remains the resistance that has built Mechs equipped with extraordinary weapons. We are at the head of this resistance and as such, we will have to take care of planning attacks, upgrading mechs with more than 70 parts, and taking on giant bosses on grid maps.
Key features
Turn-Based combat: You can move into position and attack with each of your mechs, in any order. Then it's the Swarm's turn…
Design your own mech: With 70+ available Mech parts, you can create thousands of unique combinations. Each part has its own strengths and weaknesses, giving you an enormous range of possibilities.
Deep strategic combat: There are no perfect solutions. Create your own strategy by cleverly making the most out of your resources and the situation.
Procedurally generated: All the gameplay elements (monsters, maps, resources and rewards) are randomly combined and balanced ensuring no two battles are the same.
Rogue-like campaign: Death means game over. Try again with an entirely new run, with new random parts and encounters. You'll have to make do with what you get!
Environment variety: From the outskirts of destroyed cities, to desert wastelands, the battle for survival rages on.
Epic bosses: They're massive, ugly and ridiculously tough. Are you up to the task?
Auto-save: Never worry about saving again. Leave your game at any point and return exactly where you left off.
Mech Armada is expected for Summer 2021 on Steam
Lucid Soul
Jon Bookout
October 2022
Let's now move on to an RPG with a dark horror setting where we guide the villains, the deathtouched. In Lucid Soul by Jon Bookout we will be Scythe and we will fight the gods by using souls taken from the fallen enemies. 7 characters to guide in combat in the same time, a castle to manage and an infamy level that influences the skills of our character and the story.
Key features
Take control of not 3, or 4, but 7 characters at once in combat, switching between them to use Soul Points with the press of a button. Take your time to plan an assault strategically or use a character quickly and often if one is your favorite… Be careful though, you never know what the others are thinking if you focus too often on one…
Find and equip Souls taken from the slain enemies you've created or come across. These are your treasure chests. These are your armor and swords. As you equip them though… be ware, as some like to talk… a lot.
Leveling up your Infamy meter in this world will result in an Ability Tree selection for a character, and when you choose, their story will have a direct impact on the skill you select, resulting in you having to participate in their story to learn the new ability. Erzbet may ask you to help track down a violator of hers, Synella may be on the search for a sister or an appetizer, and Creep may be hunting down a mutinous crew member that resulted in her fate. Their stories will take place in the world around you, and you will participate.
Melee weapons and attacks, will only do so much damage, from the start of the game, to the end. It'll be up to your creativity with contaminating enemies with your Black Dragon Blood, and how to use your skills properly, that will let you move swiftly from fight to fight.
Customize your home base of operations, Castle Wyrmsgate, with the aid of the Fleshweaver to change the surroundings and make them more suitable to your personal tastes.
Lucid Soul just launched the Kickstarter campaign while the release date must be around October 2022. Steam page
Herogrinder: Tactical Combat Arenas
Modern
TBA
Herogrinder: Tactical Combat Arenas by Modern is a free to play multiplayer tactical game set in a cyberpunk futuristic world. Herogrinder feature a simultaneous turn-based combat mode, where players will choose their next moves on the same turn and then they will see what happen. The execution order is influenced by a lot of different factors like initiative, awareness, feats and much more. Use the arena enviroments at your advantage, design your own arena and compete in various gameplay mode.
Game modes
1v1, 1v1v1: Command a single bioroid, or a squad of four bioroids against one or two opponents.
2v2 Co-op: Join a teammate with your squad of four bioroids in a co-op battle against another pair of players.
10-Player Deathmatch: Enter the arenas with a single bioroid to match your skills against 9 other players, each commanding a single bioroid.
4v4 Co-op: Join three teammates with a single bioroid to play against another team of four players commanding a single bioroid each.
No release date yet for HeroGrinder, here the Steam Page
Tactics Tower Mayhem
One Up Plus
During 2021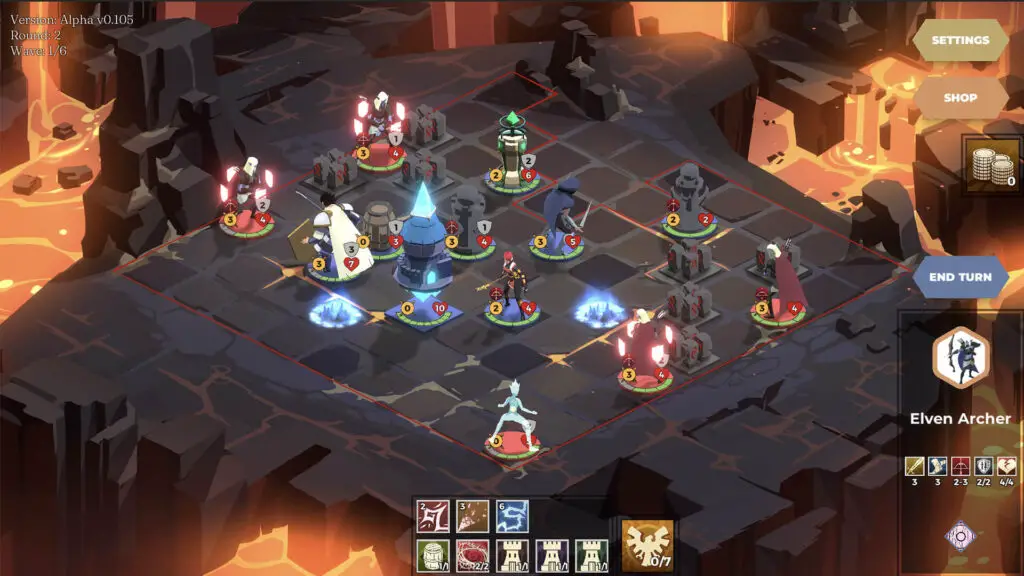 From One Up Plus Entertainment, the developers behind the acclaimed Dungeontop, comes a new promising tactical roguelike game. Tactics Tower Mayhem. In the game, we will face waves of enemies using our heroes and towers. I was lucky enough to receive a playable first build and I can assure you that this is a title to add to your wishlist for both its visual style and deep, fresh and fast gameplay.
Deploy your heroes to outsmart the enemy! Enjoy more tactics than your average TD game, whilst fighting through waves of enemies. Turn the tables on the invaders with the aid of devastating spells! Overcome the odds and outsmarting the enemy.
Build and upgrade your towers to survive the onslaught! To survive you'll need to utilize more than just your heroes wit and prowess! Careful placement and tower upgrades will be necessary to ensure victory.
Place traps and barricades to defend your castle! Use these wisely to funnel and confuse the invaders. Wreak havoc amongst their ranks and break up their carefully manicured ranks!
Become a champion to save the kingdom! Do you have what it takes to save the land? Jump right in and enjoy a set of procedurally generated rougelike battles like no other! Every battle fought is unique.
Tactics Tower Mayhem must be released during 2021, but no release date yet. Here the Steam Page
That's all for this week. Now let me know what you think about these 5 Promising indie turn-based games. Remember to reach me on Twitter and on our discord server. Below the video version of this article. Wish you the best.
CIAO