Ciao a tutti. I hope everyone is staying cool and enjoying their favorite turn-based games out of the heat! If you need something besides autumn to look forward too, there are some very exciting PC strategy games on the horizon. Some will be released in a matter of weeks, and others won't be out until next year, so there will always be something new to play.
Fans of tactical battles are in for a great year in 2023, with ZEPHON and Slaves Of Magic providing sci-fi and fantasy wars to wage, respectively. If you prefer vehicular combat, JRPG Fuga: Melodies Of Steel 2 has tanks aplenty while The Darkest Star could be your next space-battle obsession. There are also digital board games, dungeon crawlers, and grand strategy games to keep an eye on; if your Wishlist could use some new entries, be sure to take a look at this lineup of great games in development!
Slaves of Magic
Slaves Of Magic is a tactical RPG that imagines a medieval world beset by otherworldly invaders. Claiming to be gods, the mysterious beings took over the entire world in a matter of months. Your character leads the Shadow Council, a resistance group skeptical of the invaders' divine origins.
The game's neat concept feels like XCOM 2 set in the Middle Ages, and the grid-based battles exchange high-tech weaponry for swords and armor. With permadeath, classless character progression, and a randomized enemy pool, Slaves Of Magic should offer several campaigns' worth of challenge when it releases in 2023.
ZEPHON
Proxy Studios is known for bringing the Warhammer 40,000 galaxy to 4X gamers with Gladius. Now, they're bringing that game's tactical gameplay to their own setting with ZEPHON. Blending eldritch horror, military sci-fi, and cyberpunk, ZEPHON promises an engaging post-apocalyptic world to explore and conquer.
The game also includes event-based decision points, adding a layer of roleplaying that wasn't present in Warhammer 40,000: Gladius. Sci-fi strategy gamers of all stripes should wishlist this one right away if they haven't already, and strap themselves in for the game's 2023 launch.
Home Safe and Silent
If Resident Evil had originally been a board game, it might have looked something like Home Safe And Silent. Relying on dice rolls and positioning to survive, you'll explore randomly-generated buildings looking for supplies while avoiding monsters around every corner. You can fully interact with nearly everything in a room, from furniture to cover and drawers, so be sure to check everywhere when you're not fighting for your life!
There's something innately charming about digital board games being presented like physical ones, complete with pieces pulled from a box. Home Safe And Silent does a great job of evoking a tabletop game in this way, and you can try the demo right now to see for yourself. No release date has been announced, but the game is listed as "Coming Soon."
Terra Nil
Fans of city builders have something new and unique to look forward to in Terra Nil. The game challenges you to restore a devastated ecosystem, using technology to bring lush greenery back to the wasteland. Once that's done, you have to safely remove your equipment to leave the environment looking like you were never there.
Not only does Terra Nil look gorgeous, but it also teaches important lessons about the scale and difficulty of environmental reclamation. Critically, it shows that such undertakings are hard but not impossible. A demo is currently available, though no release date is listed at this time.
Fuga: Melodies of Steel 2
If you need more anthropomorphic dieselpunk tank combat in your life (and who doesn't?) 2021's Fuga: Melodies Of Steel is getting a sequel next year. With the Taranis, the megatank and home base from the first game, going out of control, the crew commandeers theTarascus to go on another adventure.
Like the original, Fuga 2 requires players to crew their tank effectively in order to win battles. Placing characters at the correct stations to make use of their abilities and fire effective weapons is key to success. If you haven't yet played the first game, there is still plenty of time to get up to speed before the sequel arrives in 2023.
The Darkest Star
There are few tropes more thrilling than a good space battle, and The Darkest Star looks like it could be the next game to make our dreams of sitting in the captain's chair come true. There's a significant difference between the speed and maneuverability of light and capital ships, making scouting and planning critical parts of the game's strategy.
Orders can take several turns to execute, so the battlefield situation will change and you may need to adapt on the fly. To top it all of, The Darkest Star looks spectacular with epic explosions and brilliant volleys of laser fire. It's expected to release in September of 2022, so there isn't long to wait!
Spies & Soldiers
The first title from Ghostbat Games has a very pleasant watercolor aesthetic that belies the game's ruthless politics. Spies & Soldiers challenges players to put their chosen claimant on the throne of a fantasy kingdom by any means necessary, on the battlefield or through subterfuge. You'll be expanding your borders at the same time, conquering the known world as you maintain your iron grip on power.
Spies & Soldiers is a quintessential indie strategy game in all the best ways. You can try the demo right now, and the game enters early access later this year.
Search and Rescue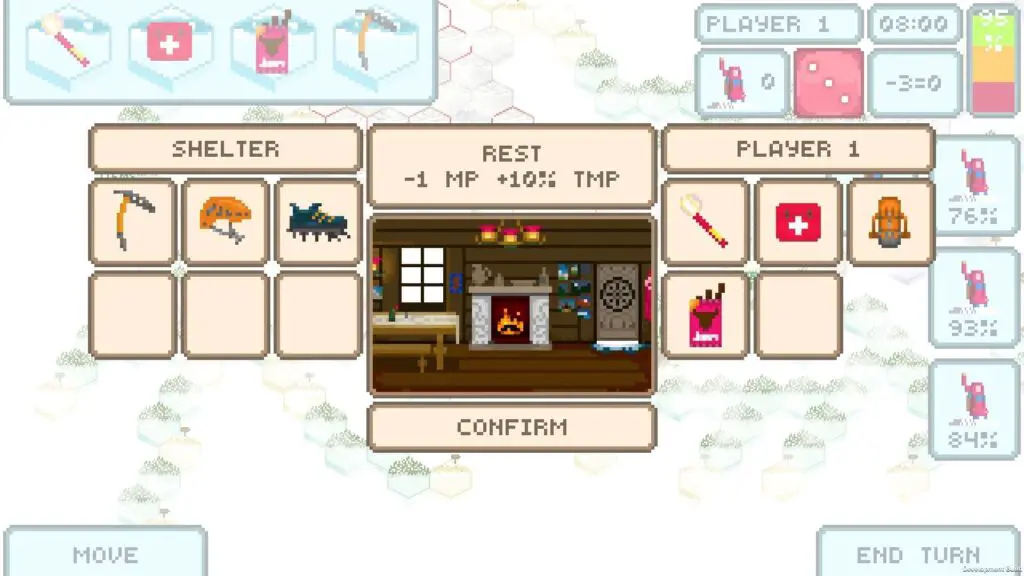 NowakGames' Search And Rescue is a digital board game for up to four players that simulates one of the most dangerous jobs in the world. As members of a search and rescue team, the players must track down and save tourists lost in a snowy wilderness before it's too late. Based on the real-world Tatra Mountains in eastern Europe, where winds can reach up to 300km/h, Search And Rescue requires you to contend with dangerous conditions to keep your team safe and bring your charges home.
There is not currently a release date listed for this game, so be sure to Wishlist it for updates!
Desktop Dungeons: Rewind
The original Desktop Dungeons was released in 2013, giving players a tactical dungeon-crawl experience that could fit into a coffee break. Rewind gives the game a full graphical overhaul, so Desktop Dungeons looks better than ever. Keeping the original's appeal to both hardcore and casual gamers, Rewind is more than just a subtitle; the remake has a new feature allowing players to back up a few turns after dying, potentially saving a run.
Whether you are a longtime fan or have never heard of Desktop Dungeons before, be sure to check out the new version if you need a quick dungeon crawl every now and then. Desktop Dungeons: Rewind is expected to release in Q4 of 2022.
Prime of Flames
The debut title from Rayka Studio is a fantasy roguelike RPG with Fire Emblem-style tactical battles. Roguelike players will be familiar with the branching paths and challenge nodes that make up the campaign map in Prime Of Flames, complete with unpredictable upgrades and events.
Prime Of Flames' character design and gameplay show lots of promise. If you're able to read Chinese, the game is best enjoyed in its native language, as the English translation is currently a little rough, and the demo is not available in English at this time. Don't let that stop you from trying the game (in either language) when it launches on 25 August, though!