There's definitely no lack of hardcore strategies on any mobile app store – and when it comes to turn-based mobile strategies, there can truly be an overwhelming number of options! In addition, these are often way more accessible, compared to their PC counterparts. Most of them are done on a smaller scale, or include various modes that let players dip in and out of the game, on the go. Here I've put together a list of the best of the best. These are the Top 10 turn-based mobile games, that you should download right now – or add to your mobile gaming collection.
Seven Scrolls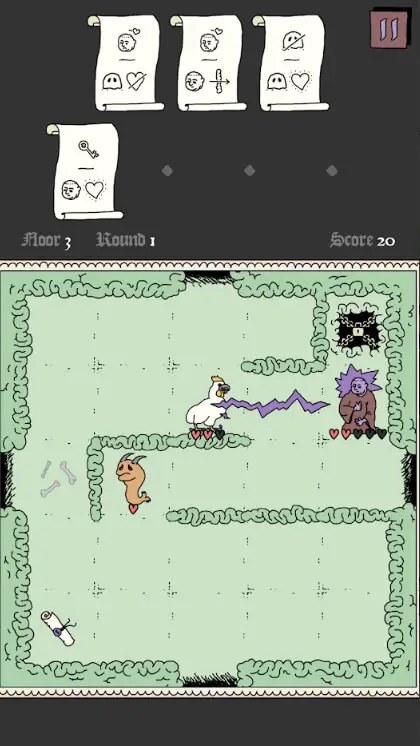 Seven Scrolls may not look like much, judging by the graphic style alone. The visual design has a really basic hand-drawn feel to it, and, as a whole, looks quite understated. However, the challenging and engaging gameplay definitely makes up for this! In this game, you play as a monk, fighting his demons across different dungeons. In addition to turn-based combat, Seven Scrolls also features some puzzle elements. There are special scrolls scattered around the levels.
As you pick them up, without knowing of their contents, they'll activate – impacting the gameplay in a given room. Some of these can work together, combo-ing into a way of powering through the dungeon. Others, however, are not very helpful. Although you can only have seven of these, the game does allow you to drop some to get others. However, you can't get rid of any scroll without first dealing with whatever powers it contains within! Since the rounds in Seven Scrolls are often quick, the scrolls' randomness does add a lot of replay value.
Seven Scrolls is on Android and iOS.
Fire Emblem Heroes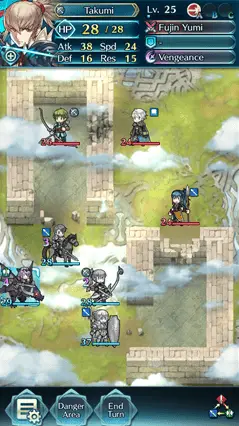 Fire Emblem Heroes is another chapter in the Nintendo's series that has been captivating the fans for more than 30 years. So – there is a lot of weight behind the title. In this game, there is a war going on between two kingdoms. To help the good guys win the conflict, you must join the Order of the Heroes. Then, in order to succeed in your quest, you must gather a party, bringing together the various warriors of the realm: knights, archers and even mages.
With time and experience, they will level up, becoming progressively more powerful in their skills and abilities. Once you have your team, you'll begin battling and defeating your enemies, through turn-based combat. If you are familiar with the series, you'll get to see some familiar faces. If not – I am sure you'll enjoy the graphics and the general art style regardless. All-in-all, it is a very polished turn-based mobile game with deep gameplay and a well-written story to back it up.
Fire Emblem Heroes is on Android and iOS.
Overland
Overland is a truly difficult turn-based game where you must adapt to the harsh realities of living in a world after an apocalypse. This is the game, for those who are really looking for a challenge. It has a steep learning curve, and it might not let you recover often enough to continue moving forward. Unlike with other games on this list, in Overland it may be better to try to avoid combat. To be, instead, as quiet as possible, moving through a world filled with hordes of dangerous and hostile creatures.
Whenever you kill any enemies, more will come, attracted to the noise of combat. Eventually, you're likely to get overwhelmed by foes, no matter how good you are. Instead, you need to take your time, manage your inventory and – find a way to survive. The gameplay feels very chaotic: running into areas, grabbing all you can, quickly helping the survivors, and then getting out before too many creatures appear. It's a challenge, but one well worth taking on.
Overland is on Apple Arcade. 
Grindstone
Grindstone is a hypnotic turn-based mobile game, with bright and colorful graphics and an overall semi-casual look to it. Here, you'll be working your way up a massive mountain, fighting monsters and earning money. The way you do this is by entering levels that let you slash through enemies – making a long trail, that you then move through on your turn, killing anything in your path. It's somewhat similar to a match-3 game in that you need to connect similarly-colored monsters in one move.
At the same time, there are also plenty of gems and power-ups that allow you to perform a more powerful slash – going through multiple colors in one chain. The game also lets you see, in advance, where exactly the enemies will attack. As such, planning ahead is essential to avoid getting hit. It's an interesting take on the genre, and also something that feels really approachable.
Grindstone is on iOS. 
The Battle of Polytopia
The Battle of Polytopia is a 4X-style game, that is somehow fit into a super manageable, bit-sized session – ideal on mobile. These matches last about ten minutes each, depending on the mode you choose, which is definitely a good amount of time when it comes to the platform. No matter what sort of challenge you take on, the game itself is pretty straightforward – you'll be creating units, using those units to take over cities, and then upgrading the cities, using the nearby resources.
As you continue to dominate the map, you'll expand and take over more area. And also meet other tribes – that don't want to easily part with their land. Each tribe you're up against has a different function and starting area. This provides for a ton of different ways to play the game, even if you only play in a single mode. It's a great, bite-sized strategy game, that absolutely feels designed for mobile first.
The Battle of Polytopia is on Android and iOS.


Although there are certainly more games that could be on this list – like Civilization VI and XCOM 2 – the titles you see here are some of the best I've myself played. They also cover a wide variety of the turn-based style, showcasing all the different ways you can implement such games on the mobile platform. And in a way that does work well in bite-sized amounts of time – ideal for gaming on the go.