Autumn Steam Sale is one of its biggest events each year, so there are more great deals for turn-based gamers than I could possibly fit on a single list! Check out all of these fantastic RPGs and Strategy Games at fantastic prices in the second part of my list.
Save some denarii on League of Legends Spinoff and a great cRPG saga
The Total War series has spanned some of the greatest campaigns in human history and several from mythology and fantasy as well. Total War: Rome represents one of the franchise's high points, and still holds up despite its age. The remastered edition allows players to see the series' signature mass battles in 4K while keeping the classic gameplay.
Whether you're commanding the Roman Empire or engineering its fall, Rome Remastered is a blend of turn-based grand strategy and gripping real-time battles. It's 50% off during the sale, which will save aspiring conquerors a few denarii!
Ruined King is an excellent RPG set in the same universe as fan favorites League Of Legends and Legends Of Runeterra. It's an opportunity to delve deeper into the personalities and adventures of popular League Champions, and presented in a gorgeous comic-book style.
Ruined King is currently 50% off, a discount which applies to both the standard and deluxe editions. Players who like to get a little extra out of their games can pick up the full experience for only a little more than the base price!
Steam sales are the perfect opportunity to get top-tier games at great prices. This time around, you can get not one, but two of the greatest CRPGs of all time for one amazing price! The Source Saga Bundle includes both Divinity: Original Sin games, promising hours and hours of fantasy adventure.
The games are individually 60% off, but getting the bundle nets an additional 30% off the total! It's one of the best deals of the Autumn Sale 2022, so if you haven't yet played the Original Sin games, this is one of the greatest opportunities you'll see.
Two of the best JRPGs series and a Monster-Catching game in Autumn Sale
Atelier Ryza is a lovely story of small-town youths with big dreams, all wrapped up in the Atelier series' famous alchemy system and lovely visuals. Getting to know Ryza and her friends is a real treat, as is going on their adventures with them.
Both the standard and deluxe editions are 50% off during the Autumn Sale. The sequel, Atelier Ryza 2, is also half-off, giving players a great chance to gear up for the release of the third installment in 2023.
Trails Of Cold Steel is a series within a series. Part of the enormous, expansive Legend Of Heroes franchise, Trails Of Cold Steel tells the story of a pivotal point in the shared world's history.
With anime-style visuals, a deep storyline, and oh-so-many airships, Trails Of Cold Steel is, in many ways, a quintessential JRPG series. The individual games range from 40% to 60% off, and if you're a big spender, you can get the entire Nihon Falcom library for less than half the regular total price!
Fans of classic Pokemon looking to recapture some of the magic of the older games should try Nexomon: Extinction. The gameplay is easily picked up by anyone who's ever thrown a Poke Ball – which, let's face it, is nearly everyone. The world is bright and colorful, and the combat is familiar and new all at once.
With over 300 monsters to catch, Nexomon offers a huge variety of team builds to try. At 60% off its already-reasonable price, Extinction is excellent value for monster battlers of all stripes.
Abominations in a bundle, retro-style sci-fi cRPG, and a strategy fantasy game
Darkest Dungeon is synonymous with brutally difficult roguelite gameplay, where every battle is a struggle for survival and sanity. Players looking for a challenge can't do much better than this grim tale of secrets better left unlearned.
The base game is available for an incredible 85% off, but the value doesn't stop there. The Ancestral Edition includes all of Darkest Dungeon's DLC, all with the same great discount. That lets you get the whole thing for less than $10 USD!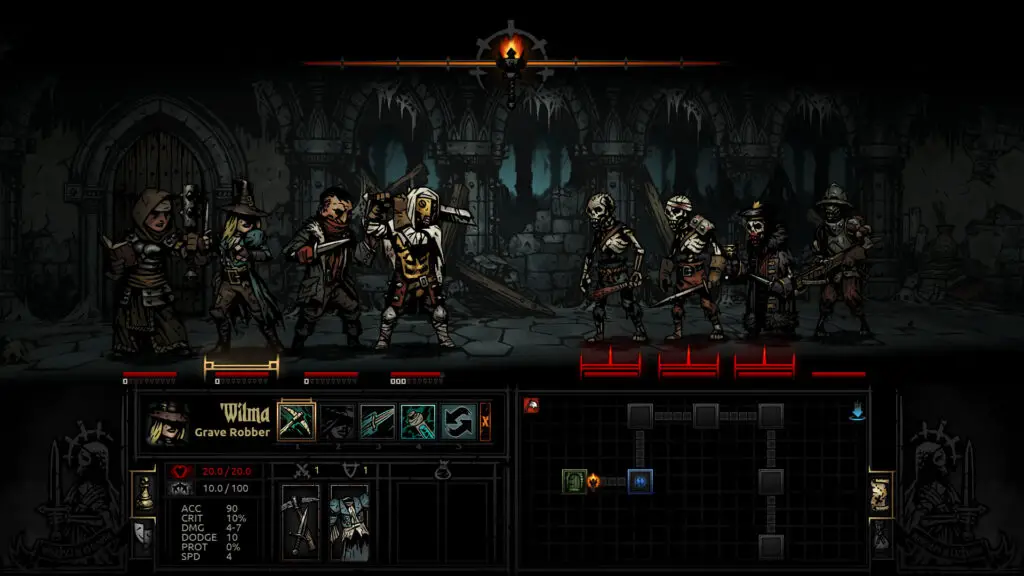 Fans of old-school Fallout will have a great time with UnderRail, a retro-style sci-fi CRPG. The surface of the world is uninhabitable, so you'll be exploring the underground environments in and around an enormous metro system.
As with any good isometric RPG, you'll manage your relationships with the different factions of the underground and ultimately have a hand in how events play out. You can get UnderRail for 50% off, or get it alongside the Expedition DLC for an even greater total discount!
Fantasy General II is a fun blend of old and new gameplay. While it's technically a sequel to the classic PC game Fantasy General, you don't need to have played the original to appreciate FG2's story and gameplay. All of your units gain individual levels and upgrades, letting your veterans craft their own stories within the greater campaign!
Fantasy General II is 50% off during the sale. If you're looking for a full suite of campaigns featuring all the game's playable factions, the Complete Edition includes all of the DLC for a total discount of 46% off the standard price of all items.
One of the best RPGs of the last decade, a Darkest Dungeon-like with little more snark and a glorious JRPG
Disco Elysium is a mystery RPG that can be as serious, heroic, or utterly off-the-wall as you like. It offers one of the most open-ended campaigns ever seen in a game, and it feels like every possibility has been thought out.
Considered one of the best games of the last decade, Disco Elysium is not to be missed. The definitive Final Cut is available for an excellent 75% off – take the plunge into the mystery yourself, or get it as a gift for a friend!
If you're looking for the challenge and gameplay style of Darkest Dungeon but want a little more snark, Iratus: Lord Of The Dead has all three in spades. As the titular necromancer, you'll raise your unliving army and make your way out of the catacombs that have imprisoned you, harvesting body parts from your fallen foes to raise more undead monstrosities.
The base game is 80% off, but the best deal is the Necromancer Edition, which includes all the DLC as well for just a few dollars more. The DLC adds new units and challenging bosses, plus an epilogue chapter – it's a great addition to the game.
Grandia II is a classic JRPG from the Dreamcast era. It's got one of the best stories in a genre full of them, and alongside titles like Skies Of Arcadia and Chrono Cross it helped define JRPGs in the early 2000s.
JRPG fans can experience Ryudo's journey for the first time in HD, or return to the glory days with the Grandia II Remaster. Its thrilling combat and memorable characters will leave an impression on even the most jaded player – get it while it's 50% off!