Chimera Entertainment has announced the development of Songs of Silence, a new turn-based strategy game with real-time cinematic battles. Set in a fantasy realm torn between light and dark, players will manage their kingdom on a grand scale and lead their armies across two distinct worlds in both single-player and multiplayer modes. The game offers a unique blend of turn-based kingdom management, exploration, real-time battles, decision-making, and card-based gameplay, allowing players to conquer their rivals through military might, subterfuge, or arcane means.
Songs of Silence offers a fresh spin on card-based mechanics, with cards representing the unique actions granted by heroes and locations. Each faction and hero has their own distinct play style on the turn-based strategic map and in real-time combat. Players will be able to choose their heroes and embark on a story-driven single-player campaign or compete in multiplayer battles brought to life with vivid artwork and an epic score from Final Fantasy Tactics composer Hitoshi Sakimoto.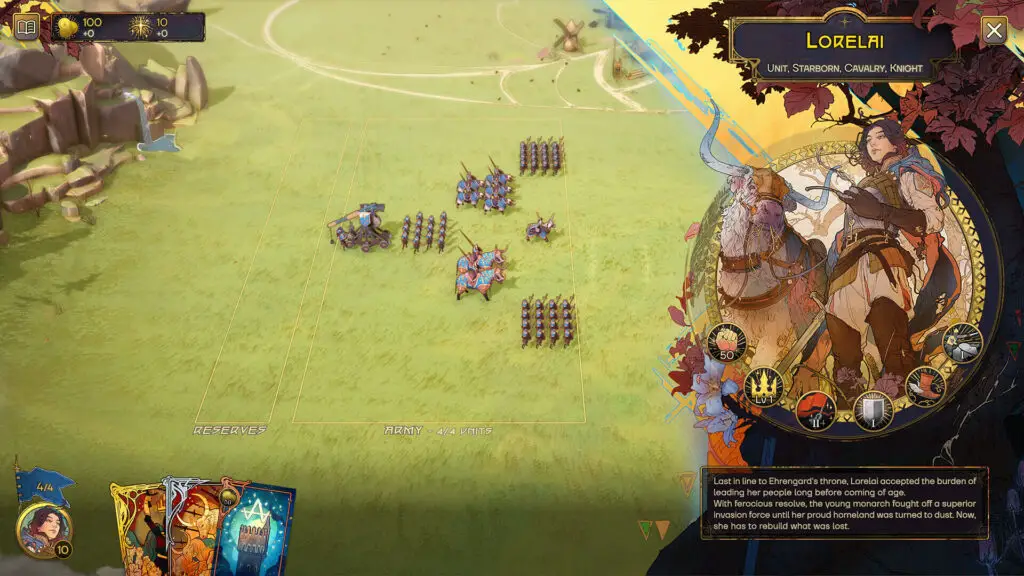 The game features two worlds at war, where players must lead their armies to victory through exploration and strategic decision-making. The real-time battles are fast-paced and allow players to use powerful combat cards from their heroes to drive their forces to victory. With hundreds of cards to choose from, players have a nearly limitless range of possibilities, from burning down entire cities to spreading the life-devouring Silence. Songs of Silence also features a roguelite progression system, which rewards multiple playthroughs with new factions, heroes, campaigns, maps, and more.
Songs of Silence offers players a vibrant fantasy universe with detailed, art nouveau-inspired visual design and compelling voice-over narration. Players can wishlist the game on Steam and follow updates on Twitter, Discord, and Reddit.
Songs of Silence Key features
Two Worlds at War: Lead mighty armies, exploring the world on the strategic map to gain a tactical advantage. Outwit your opponents with deadly ambushes, and manage precious resources to rebuild the ravaged land and defeat your rival kingdoms.
Master Dynamic Real-Time Battles: Unleash your forces in fast-paced, real-time battles and drive them to victory by playing powerful combat cards from your heroes.
Make Strategic Decisions: Carefully construct your armies from more than 100 different units to counter whatever the enemy may throw at you. Songs of Silence offers a wide variety of viable builds, from wild monster stampedes to defensive lines of war machines.
Wield Powerful Cards of Fate: Choose from hundreds of cards offering a nearly limitless range of possibilities, like burning down entire cities or spreading the life-consuming Silence.
Progress with Each Playthrough: Songs of Silence rewards multiple playthroughs with a roguelite progression system. Unlock new factions, heroes, campaigns, maps and more with each game.
A Vibrant Fantasy Universe: Discover an original, atmospheric world captured with colorfully detailed, art nouveau-inspired visual design and compelling voice-over narration.
Single-player & Multiplayer Modes: Play on your own in the story-based single-player campaign, or face off against real opponents in fast-paced online multiplayer for up to six players.
Legendary Music: Experience an evocative score by renowned composer Hitoshi Sakimoto (Final Fantasy XII, Final Fantasy Tactics, Valkyria Chronicles).