Broken Roads, the highly anticipated Isometric RPG set in a post-apocalyptic Australia, has just released its May 2023 update, packed with exciting announcements, new features, a new Trailer, and a 2023 release window.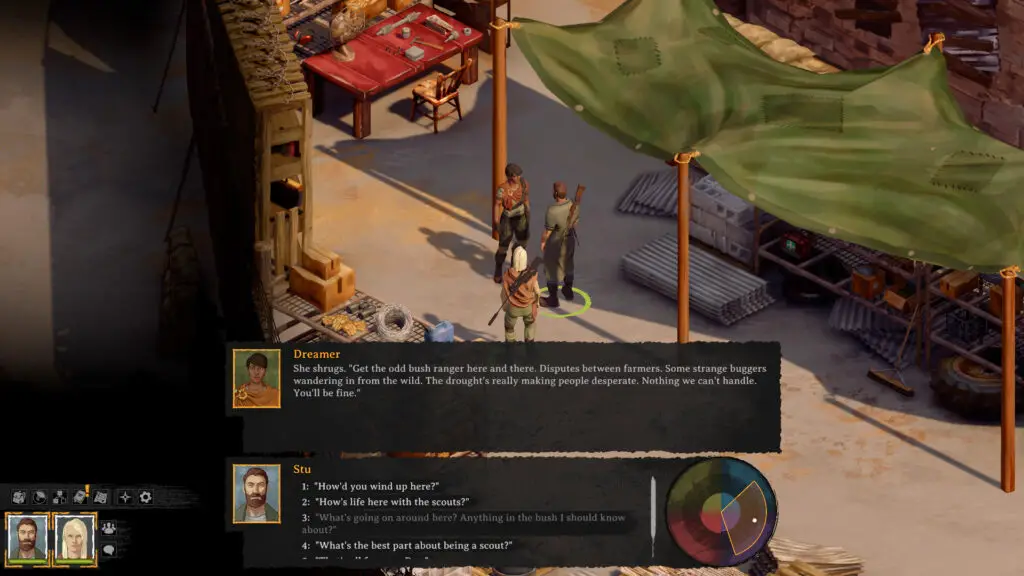 Broken Roads Pacifist Playthroughs
If you are one of those players who prefer to resolve any situation without brute force in RPGs, this update is right for you. One of the most significant highlights of this update in fact, is the introduction of pacifist playthroughs in Broken Roads. Players will now have the option to complete the game without engaging in combat or killing anyone, provided they make the right choices throughout their journey. This innovative feature opens up a whole new realm of gameplay possibilities, where decision-making, companion reactions, and quest resolutions are crucial in shaping the narrative.
Languages Available at Broken Roads Launch
Broken Roads will be localized into several languages at launch to cater to a diverse global audience. The confirmed languages include Brazilian Portuguese, French, German, Polish, Russian, Simplified Chinese, and Spanish (Latin America). The developers have expressed their openness to assessing additional languages based on player demand in different regions, ensuring that players worldwide can fully enjoy the game in their preferred language.
Drop Bear Bytes, the team behind Broken Roads is gearing up for an eventful June, promising more exciting updates and announcements that will further enhance the gameplay experience.
About Broken Roads
Broken Roads is a post-apocalyptic isometric role-playing game developed by Drop Bear Bytes. Set in the Australian Outback, the game offers a narrative-driven experience where choices have real consequences and moral dilemmas test the player's character. With its unique pacifist playthrough option, Broken Roads aims to redefine the genre and provide players with an unforgettable journey through a beautifully crafted world. We chatted with the devs a while ago and exciting details came out, and you can find the interview here. Below is an overview of the game via Steam and the Pacifist Trailer.
For more information and updates on Broken Roads, wishlist the game on Steam and visit the official website. But if you want to stay updated with the latest Turn-Based RPG News, subscribe to our Newsletter and activate the push notifications (you can do it from the non-mobile version of the website).
ABOUT THIS GAME

Born of a love for traditional computer role-playing, Broken Roads provides a rich, engaging narrative in which players make their way across a desolated future Australia. Blending together traditional and all-new role-playing elements on top of a classless system offering nearly unlimited character development options, Broken Roads presents players with an original morality system: the Moral Compass. This novel design sees dialogue options and questing decisions influence, and be influenced by, a character's philosophical leaning.

Features

All-new post-apocalyptic setting
Unique morality system influencing dialogue, quests and character development
Authentic Australian locations and environments
Blend of traditional and original RPG mechanics
Up to 5 party members
Turn-based tactical combat
Hand-drawn artwork
A content-rich and densely-crafted world