Motorgrid is one of the most interesting and original turn-based game we heard about in recent days.
Backgroud story
In an alternative reality, the humans' homeland is a desertic world where the survival conditions are extremely hard. They have been overwhelmed by the robotic beings which were once created to serve them, and which now have turned into the first predatory force of the planet.
The vivianite, a powerful radioactive mineral, on which all the current technology is based, has become very limited and rare. The search and fight for it are the ones and only driving force.
Gameplay
Motorgrid is a new twist to the turn-based combat genre where the environment has its own turn sequence. The player will take the role of a mysterious renegade woman who tries to make a living riding through the desert, taking mercenary jobs and savaging every time she can. During her adventures, she will encounter an event that will change her forever. She will ride through the desert, destroying enemies and recruiting new fearless gang members.
The game will have 2 gameplay mode:
One is the campaign/story mode, which will offer between 6-10 hours of gameplay. The second mode is a random procedurally generated combat system, where the player can have a different match every time.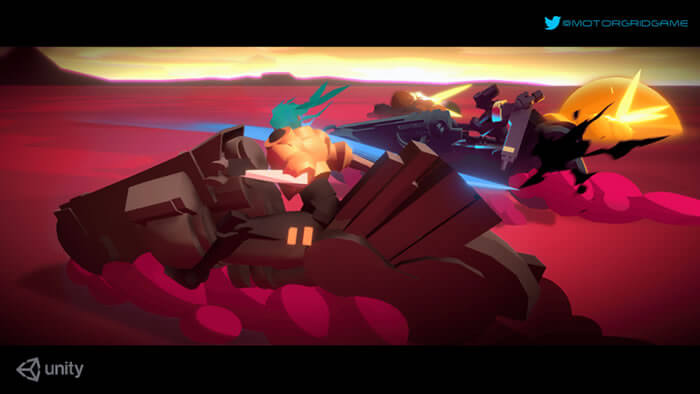 Key features:
Fight your way out of full speed skirmishes with scavengers, robots and mutants
Different areas ambientations
Random matches based on unit value cost
Character and skill progression
Gear upgrade system
Items shop
Modular and randomizable bosses encounters
Gang team managing
About developers
The team currently consists of two members, with extensive experience in the video game industry:
JfranMora
In charge of coding the whole thing, with 6 years of experience as a developer in the game industry.
Skydsgaard
Senior general artist, with 8 years and big video game lover.
Release date and platforms
Motorgrid is under development without an exact release date, and initially, there will be only the PC version then the team will decide whether to distribute the game on other platforms. Below you will find a short gameplay video.
Want to learn more about other promising turn-based games? Check out our overview section.