Developed by Barking Kitten Interactive, Northwind is a Deckbuilder Roguelite adventure where players are called to hunt for hostile creatures in the frozen lands of Northwind. Inspired by games like Slay the Spire, the game offers a twist by adding Town Management. Players must hunt and look for new cards and relics and then try to build new structures and keep upgrading them for bonuses and advantages.
Northwind Key Features:
Play as one of two renowned mercenaries, each with their personalized deck of cards. Explore a limitless combination of combos with 150+ cards to play.
Overpower your enemy:
Your attack power is your defense power. Minimize damage taken by overpowering your enemies. In each turn, either you or your enemies will take the damage.
Build and Upgrade:
Earn experience points and meet the resident of Northwind. As you build this small village, these individuals offer unique services, from merging cards to enhancing them.
Fight stronger monsters:
Each monster comes with unique abilities. Matching one with another can create an entirely new threat. Hunt down the enemies and climb the difficulty ladders. You grow stronger so do the monsters.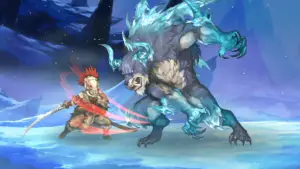 About the Developer
Barking Kitten Interactive is an indie studio based in Bangkok, formed by 5 team members. Northwind is its debut title. Get in touch with them on:
Release date & platforms
Northwind is a PC game expected to be released in Q2 2023 via Steam.