Have you seen the new blog design? What do you think about it? Personally, i love it, not only for the graphic design but for everything it allows me to do. First of all, I can create HUB pages, each game has its own starting board with links to all the contents, you can see an example here. Obviously, it is a huge job that I am doing, because I will have to slowly create the database. The other big news will be the possibility to subscribe to the site, and participate in discussions, publish news, and have your say on a game by acquiring experience points that will give you access to new features and gifts, but for this, we have to wait for a little.
In any case, soon I will publish an article dedicated to all these new features, now we have to deal with these 5 very interesting indie projects currently in development, and for this episode, I have to make a special thanks to Strateture, an expert indie content creator and friend who pointed out some of the games on this list. That said, let's go.
Sheltered 2
I didn't play the first chapter, from which it takes the winning survival formula, adding a diplomatic component, with which to relate to other factions and interesting turn-based combat. Another novelty is the Permadeath feature, if something happens to our Leader, it will be game-over, also interesting the possibility of using vehicles to explore the wasteland. This is Sheltered 2 by Unicube
Factions: New to Sheltered 2, the Factions system allows you to create relationships with other groups that will provide your base with resources and support. Or grab your weapons and take things the old-fashioned way.
Resource Management: Balance the needs and wants of your survivors, manage the scarce resources, craft what you need and maintain the shelter's equipment to keep the group alive.
Permadeath: New in Sheltered 2, your leader is the most important member of the shelter. If they die, the game is over. Starvation, asphyxiation, extreme temperatures and combat are just some of the challenges you'll face in the harsh wasteland of Sheltered 2, and without the ability to respawn, every decision could be fatal.
Combat & Weapons: When negotiations fail, wield a huge variety of makeshift weaponry against hostile outsiders. Fight to the death in turn-based combat to win the critical resources you need to survive.
Characters: Your survivors have their own personalities, traits, desires and a huge list of skills to acquire. Customise them to your liking and make your faction members unique and individual.
Vehicles: Find and fix more vehicles to explore the wasteland with, from Bicycles to Pick-up trucks.
Sheltered 2 is expected to be released on Steam without a precise date.
Table of Tales: The Crooked Crown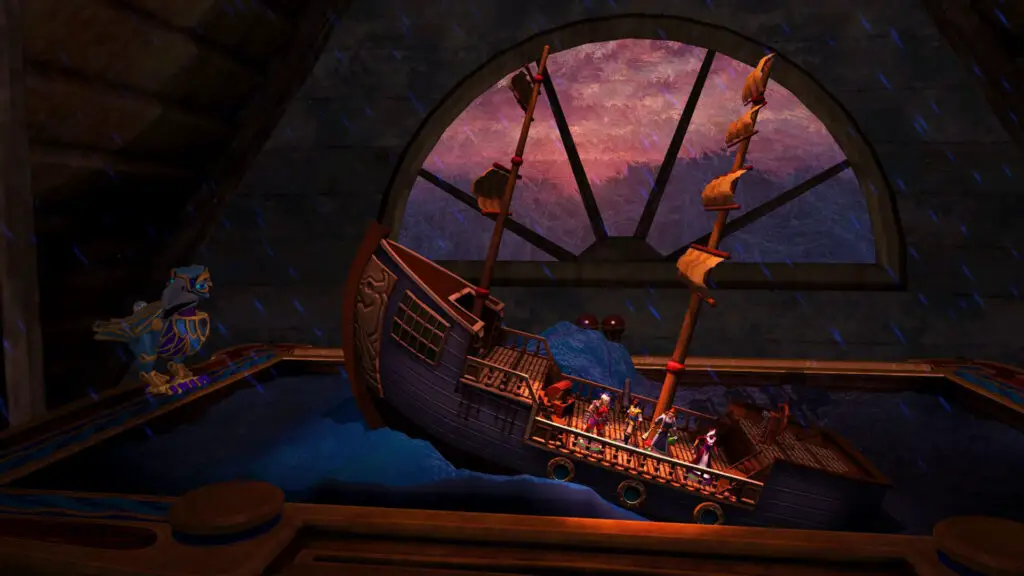 A Role-Playing game that reminds me a lot of Wartile, with that lovely miniatures. Table of Tales: The Crooked Crown by Tin Man Games & Zero One Studio is a story-driven RPG with VR support where we guide a group of scoundrels through various scenarios using dices and skill checks.
Embark on a narrative-driven campaign featuring a fully-voiced Dungeon Master companion, who appears as a mechanical talking bird called Arbitrix.
Guide a party of four scoundrels through a captivating story that is shaped by important world-changing choices!
Battle, charm or sneak your way through more than 24 enthralling encounters.
Tactical turn-based combat and encounters feature dice, cards, skill checks and over forty different types of enemy.
The magical table transforms before your eyes. You really need to see it to believe it!
Inspired by the nostalgia of classic tabletop games and built by the team that brought you The Warlock of Firetop Mountain and the Fighting Fantasy series.
Table of Tales: The Crooked Crown will come soon on Steam.
Lost In Fantaland
I am literally in love with Lost In Fantaland by Supernature Studio. A delightful Tactical RPG with deckbuilding and roguelite mechanics. Different classes to choose from, upgrades to unlock, always different runs and clashes that take place on eye-chatching 8×8 square grid pixel maps.
The great blends of deckbuilding and checkerboard strategy creates a fresh feeling.
The creative card combination play method makes unexpected surprises.
Each adventure in the randomly generated world will be different and fresh.
Different gameplay by unique character classes.
A huge amount of cards, items and secret treasures to unlock and use.
Persistent upgrades and carryover between runs.
We must wait till 2022 to put our hands on Lost In Fantaland. On Steam
Railroads & Catacombs
The idea of traveling the world with your own train in a desolate and dark world, choosing carefully where to stop, is wonderful. These are the premises of Railroads & Catacombs by Felipe Aulló. A Turn-Based Roguelike RPG with Deckbuilding mechanics and the possibility of using our train as a headquarter and expanding it with new wagons for new advantages. The combat system happens on square grid maps where we can move our units and use our cards to defeat enemies.
Travel and explore this desolate and hostile land aboard your ancient train. Generations ago the world became a hostile wasteland when a rampant wave of madness swept over its inhabitants. The only way to survive is aboard these steel beasts on rails.
Use Your Train As A Headquarters. Expand your train and choose wisely which wagons to build on each travel, each one will provide you with a different advantage.
Choose Wisely Where to stop. Search for supplies and resources in dark forests and abandoned cities, and return to the safety of your train.
Customize your cards with over 120 different upgrades. Each card has 4 slots, in each of them you can put an upgrade if you find the resources for it.
This world is merciless, face fearsome creatures and survive to continue your Journey. Fight against dangerous beings and try to defeat the 6 nemesis with each of the different decks.
Railroads & Catacombs has no release date yet. On Steam
Cross Blitz
Okay, in this episode, deckbuilding was the boss. In fact, even Cross Blitz by Tako Boy Studios presents a combat system with the use of cards. A remarkable pixel graphic, a fantasy world to explore in single-player, and the possibility of launching into the arena by confronting in cross-platform with Android and iOS players.
Play through each hero's story as they face a variety of trials and tribulations! Sail the dangerous waters of the Southron Sea alongside the pirate Redcroft or explore the underbelly of the bustling city of Dawndell with Quill the thief! Unique mini-games and dialogue choices keep each adventure fresh.
Collect over 150 cards across 5 factions – War, Nature, Balance, Fortune, and Chaos! Gather materials from winning battles to craft even more powerful cards.
Partake in fierce battles that require strategy and cunning – build the perfect deck to stomp your enemies into dust! Easy to pick up, but difficult to master, you'll have to harness the strength of your minions alongside a plethora of spells, trick cards, and Hero Powers if you're to claim victory!
An expansive world awaits, filled with colorful characters and curious locations. The hex map exploration system makes it easy to navigate from region to region – with plenty of secrets to be found along the way!
The Hollow Hunt beckons! Play against increasingly difficult opponents as you make your way through this exciting rogue-like game mode, venturing deeper and deeper into the abandoned ruins at the border of the Hellwilds.
Partake in the Coliseum and battle against opponents online with cross-play across all supported platforms.
Participate in various Daily and Weekly challenges to earn exclusive rewards.
Beautifully rendered pixel art awaits you at every twist and turn.
Cross Blitz will come soon on Steam.
The twentieth episode of Keep An Eye On it has also ended, as usual, I am waiting for your comments, let me know what you think of these projects, of Deckbuilding, of the world of turn-based games, and of the new graphic design of the blog. You can get in touch with me on Twitter and on Discord. I wish you a good week.
CIAO