We are finally in the new year and taking a quick assessment I cannot say that my 2020 has been bad. Life has given me a daughter, work, even if a bit slowed down, has never stopped, so I am grateful and look to 2021 with even more optimism.
Coming to the world of video games, 2020 for turn-based games has been a fantastic year, very prosperous, and full of great releases and new announcements. Here you will find the top 10 according to doubt and a top 5 according to Aiori. As you know, in Keep an Eye On It we talk about games in the works, and therefore we are projecting towards 2021 and often beyond. In this seventh episode I have collected 5 very interesting projects and I can't wait to read your opinions.
So let's start this episode with 5 indie turn-based RPGs & strategy games to keep an eye on them.
Across the Obelisk
Developer: Dreamsite Games
Platforms: PC
Let's start with a deckbuilding RPG that you can play in solo or with friends. Across the Obelisk by Dreamsite Games is a story-driven RPG with roguelite elements and a Darkest Dungeon battle mechanics with the use of cards. Expected for Q1 2021 on Steam.
Key features:
Dynamic Deck Building Roguelite RPG
Singleplayer and Multiplayer Cooperative
Choose your team, craft your deck, equip your items, and go!
Explore an evolving world unveiling the story that hides behind the corruption
Get rewards, upgrade your party and face powerful bosses in tactical combat
Pawnbarian
Developer: j4nw
Platforms: PC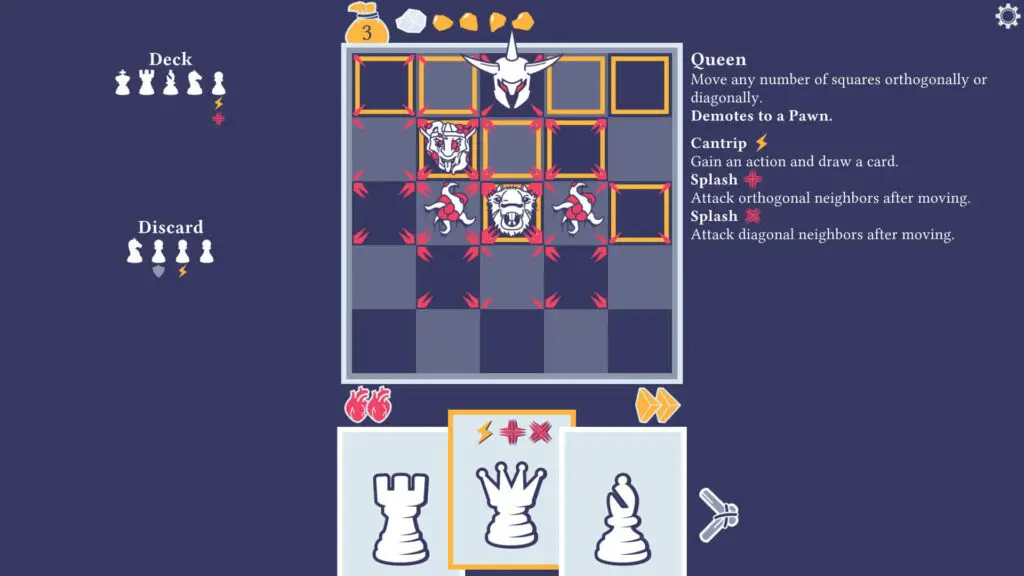 A sort of deckbuilder adapted to chees. Basically, we will have to equip chess moves and use them against enemies. Pawnbarian is a minimalist rogue-like puzzler. It's built around the core mechanic of using chess moves to control your adventurer on a tiny dungeon board. Pawnbarian by J4nw is expected for Q1 2021 on Steam.
Key features
Use a deck of chess pieces to hack and slash through hordes of monsters.
Pick up the basics instantly if you're familiar with chess, or learn in minutes if you aren't.
Carefully plan your moves to navigate tricky, emergent tactical situations.
Spend treasure to upgrade your cards with additional powers.
Blitz through quick 15-30 minute rogue-like runs – or die trying.
Unlock characters with different rulesets, and dungeons with new challenges.
Heretic's Lot
Dveloper: Golden Cup Games
Platforms: PC
Learn perks, collect battle spells, solve puzzles, discover magic auras, fight bosses, find what cursed lands are hiding in Heretic's Lot by Golden Cup Games. A mix of puzzle and roguelike games. Expected for Q1 2021 on Steam.
Key features
Unconventional Gameplay
Varied Locations
Boss Fights
Special Puzzle Levels
Unique Art Style
Tons of Perks and Battle Spells
Revival: Recolonization
Developer: HeroCraft PC
Platforms: PC
For 4x fans, Revival: Recolonization by HeroCraft PC is here. A strategic one set in a post-apocalyptic world that highlights all the elements of this genre by adding different catastrophes that will force you to adapt to survive. Revival is expected for 2021 on Steam.
Key features
Enjoy an unprecedented level of freedom
Progress through the ages
Engage in tactical combat
Explore Earth after a devastating cataclysm
Empis
Developer: Kyle Meadows, Colin Magerle
Platforms: PC
And we finish with another 4x free to play that recalls the classics of the past for its pixelated graphics. Empis by Kyle, Meadows & Colin Magerle is a strategy game that offers short gaming sessions, both single-player and multiplayer. Choose from unique factions, build sprawling cities with buildings and fortifications, and gain Favor to unlock your deity's powers. No release date yet, here the Steam Page.
Key Features
Micro 4X: Empis is 4X distilled to its base processes and streamlined for quick matches so that you can get in and out as quickly as you'd like. Unlike large and lumbering 4X games that can go on for ages, Empis delivers fast paced and tactical gameplay to keep you engaged only for as long as you'd like it to.
Unique Factions: Choose between multiple factions – each with its own unique units, buildings, upgrades, and mystical powers.
Smart Simultaneous Turns: Using a unique priority system, Empis avoids problems often plaguing multiplayer turn-based games.
New Worlds Every Time: Empis procedurally generates new worlds for matches every time you play, giving you fresh and interesting choke points and control areas every time.
Grow and Outsmart: Expand your cities into this new world. Create synergies among your units and out-think your opponent's strategy. Destroy them at all costs.
This episode ends here, let me know what you think about these 5 indie turn-based RPGs and strategy games in the comments here, plus you can reach me on Twitter, the discord server, and on the youtube channel where you will find the video version of this article with games trailers and gameplays.
Wish you an amazing 2021, full of joy and cool turn-based games to play.
CIAO