There are games that each one of us carries in his/her heart. Games that are special not (only) for their qualities, but often for some other external reason. For examples, many of you (especially the older ones) may remember a game because they were used to play it with their best friends, or because it evokes the memory of a very special summer.
One thing is certain, these games will accompany our memories even many years after we stopped to play them. In other words, they will become forever part of our lives.
For example, next month will be released a game (at least we hope so…) that for some of you may look look not so interesting but that, instead, for our dear Marcello is really important. I'm talking about Guile & Glory: Firstborn. The reason? The interview with the developers of Guile & Glory was the first one he took in his whole life, when our beloved blog was just a newborn baby!
And, now, what about you? What is your "special" game and, above all, why? Tell us about it in the comments!
MONSTER LOGIC – 6th July
This time we are not talking about the good old turn-based RPG, but something very different that under many points of view may recall a puzzle game.
On paper your goal here is quite simple, you have to "use, edit and organize monsters on a game grid to create a path to send the appropriate cans to the cute bat monster". Ok, I'm sure this is one of those things easier done than said.
Not exactly my favourite genre but I'm sure someone will find it very funny.
Obviously on Steam!
RIFT WIZARD (E.A.) – 6th July
Rift Wizard is described by the developers like a "tough as nails fantasy roguelike", and I'm sure that if the developers decided to choose this description, the difficulty level of the game is beyond my ability!
Anyway the game feature a challenging turn based combat and a deep open ended character building. Obviously we're talking about a true roguelike, so don't the graphic is essential (but quite charming) and the levels are all procedurally generated challenges.
Try to guess? Yeah…on Steam.
SODA DUNGEON 2 – 9th July
Soda Dungeon 2 features a new adventure, a whole town to upgrade, crafting, new classes, alternate dimensions, and more!
It's everything you loved about the original plus all the stuff you've been asking for (at least this is what the developers said!).
Features:
Experiment with Confidence – Mix and match classes, try out loads of gear, and send them off to fight. But fear not, everyone comes home safe with all your hard-earned loot. Defeat is just part of the game 🙂
Free and Fair – Everything can be earned with in-game currency. No loot boxes. But if you want to level up a little faster, we may have some special upgrades for you to peruse.
Cross-Platform Play – Play on your mobile phone, tablet, or Steam and take your save file with you wherever you feel like playing. We're told it's in "the cloud".
Optional Auto-Combat – Feeling lazy? We get that. Set up your party, flip on the auto-combat and let the spoils of battle roll in. You deserve a break.
Mind you, it'a free game, both for PC and android, so expect some kind of microtransaction.
On Steam!.
ARIA CHRONICLE – 12nd July
The tags of the game are: dungeon crawler, party based RPG and turn-based, in other words…. what I usually ask from a game!
Aria Chronicles promises a good story, unique characters and monsters and a deep strategy system.
If you like JRPG I think you can't miss it!
On Steam.
DEAD AGE 2 – 16th July
Dead Age 2 is a unique combination of survival, management, Rogue-Like events, turn-based combat, classic role-playing game with tons of quests and a story in which your decisions directly effect plot progression!".
Personally, I really liked the first game except for one detail… the not-so-realistic (and silly) "Sexy Nurses"! Maybe this time the developers will put some option to turn off the damned nurses!
On Steam!
VAGRUS: THE RIVEN REALM – 22nd July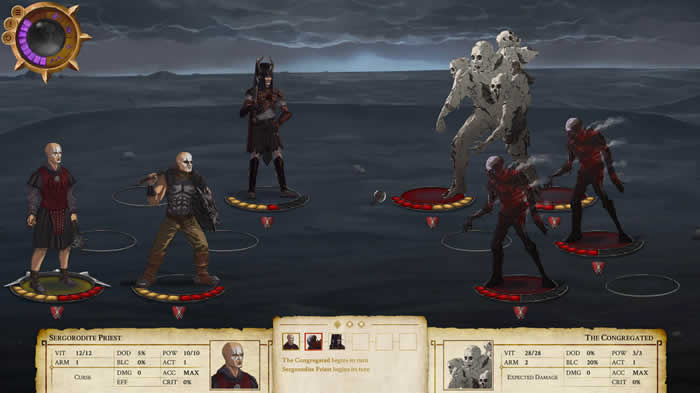 One of the most promising RPGs we have been following for a long time. A fantastic and dark open world and choices that will change the course of events so that each game will be different from the other. Here you can find our interview with the talented developers.
Vagrus: The Riven Realm will be released on 22nd of July in Early Access on Steam.
THE FEUD – 22nd July
We've never officially covered this game before, but I'm keeping an eye on it for quite some time now.
After a very long time of development, finally, it seems that The Feud will be released in July.
At a first glance, it seems a sort of Jagged Alliance with a Wild West setting, but maybe my expectations are too high.
At its core, The Feud is a turn-based game where you have to fight enemies factions, explore, research, and eventually build your western empire.
Even if the graphic may look not so attractive, I'm looking forward to this release.
Soon on Steam.
OTHERCIDE – 28th July
Othercide is a strange game, something really hard to describe.
It is a tactical game, that's for sure, but luckily it has so many original features that, I can assure you, you'll never find something similar on the market.
When I saw Othecide for the first time, I thought "it seems a tactical (and black and white) version of Devil May Cry", but then I discovered that there was a lot more under the surface.
Finally, after a very long development path, the game is ready to be released!
If you want to know more, I suggest you read our previous interview.
On Steam at the end of the month.
FAIRY TAIL – 30th July
I don't know much about this game, but, looking at the picture above, I can say that it spreads – how to say – very good vibes!
I read somewhere that Fairy Tail – The Game is based on a self-titled manga, so I imagine that this franchise has already tons of fans.
Anyway with regard to the game, Fairy Tail is an open-world JRPG with a turn-based combat system, where you play as a powerful mage against other rival guilds.
After some delays, Fairy Tail is finally expected for the 29th of July, on Steam.
Imperiums: Greek Wars – 30th July
All lovers of strategy games should be super excited for the release of Imperiums. A unique combination of turn-based 4X and historical grand strategy with a mythological twist inspired by our previous award-winning title Aggressors: Ancient Rome. Available through Steam
MONSTER CROWN – 31st July
Who said Pokemon? I don't "know" exactly why, but I got this impression when I saw for the first time the reveal trailer.
Setted in a dark world ruled by monsters, you'll have to make pacts with them to defeat an evil young woman seeking power.
Hunt, battle, tame and breed monsters to create your own legacy. Together with your monsters, you can restore the balance to Crown Island.
Features
Make pacts with monsters to receive their protection in return for shelter
Breed and fuse over 200 base monsters to create your own new species
Travel across Crown Island with your monster allies to uncover a dark world
Make a pivotal decision that will drastically change the ending and post-game
Play online to battle and trade, and have your new species reach across the glob
On Steam.
GUILE & GLORY: FIRSTBORN (E.A.) – July
I'm very curious about this game.
It remembers me of the golden era of RPGs. I'm nostalgic and the good old pixel art goes straight to my heart.
A legion of nightmarish immortals sweeps across the land, slaughtering all who would oppose them.
Your goal is to assemble a perfect team to explore the furthest reaches of the Drowned Land in a tale of heroic fantasy and take part in a lot of turn-based tactical fights.
On Steam.
AGAINST THE MOON – July
Against The Moon is a turn-based strategy where chthonic monsters will challenge your tactical skills. Lead a squad of superhumans in a desperate attempt to save humanity's last stronghold, the intelligent city of Arx.
Features:
Unique deckbuilding system
Giant arsenal
As beautiful as it is deadly
Something for everyone
Epic sci-fi adventure
New adventure each playthrough
On Steam.