Have you ever noticed how the passage of time – sometimes – is misleading?
It can go really slow or really fast according to your desires. For example if you're waiting so badly the release of a game you can be sure the time will hangs heavy on your's hand, but If you are on holiday the time will go very fast! Someone once said "Those who make the worst use of their time are the first to complain of its brevity" but I'm sure he was telling the truth.
For this reason I'm really happy I still don't know when the next Baldur's Gate game will be released. If I don't have an exact date I'm sure time will go faster.
Probably during the next year we will have at least two turn-based masterpieces (one is the game I've already mentioned above and the other one is Pathfinder: Wrath of the Righteous), but both of them seem so far away I don't even want to think about them.
So, for the moment, let's focus on what is waiting us during the next month.
4th Generation Warfare (E.A.) – 5th March
Fourth-Generation Warfare is a wargame developed by Eversim which simulates warfare in the 21st century and combines strategy with role play. As the leader of a nation, dispatch and control your team of characters all around the world to destabilize your enemies and establish your supremacy. All methods are fair game: hacking, sabotage, political interference, military strikes, corruption, treachery, assassinations, energy domination, data theft… On Steam.
Frontline: Panzer Blitzkrieg! – 6th March
Fight your way through 30 WW2 battles – Aim your targets carefully, counter-attack and strategically coordinate your Squads. The study of enemy tactics and the use of Special abilities will lead to victory! Steam page
Horizon's Gate – 9th March
The desciption of the game says "Voyage into the wide world of Eral as an explorer, trader, or privateer. Defeat your enemies on land or at sea in deep but straightforward tactical combat. Unravel the secrets behind Dominio's betrayal – or sail off in search of your own adventure." It is developed by Rad Codex that has already released in the past a raw gem like Voidspire tactics, but this time it seems they made a very big open-world game with the idea of an epic journey on the background. Here you can find our brand-new overview.
As you will have understood this is my favourite game of the month and my personal advice is:
"if you really love deep turn based rpg don't sleep on this one!". On Steam.
Dreadlands – 10th March (E.A.)
Dreadlands is a turn-based skirmish game in which you control a gang of misfits and mercenaries, battling for survival and supremacy in a lush post-apocalyptic setting. Pick your crew from one of the playable gang factions, all distinctly different playstyles, lore and visuals. Steam page
Langrisser I & II – 10th March
The battle between light and chaos comes to a head in this remake of legendary Strategy RPGs Langrisser I and Langrisser II. Steam page
Trial of the Gods: Siralim CCG – 13th March
Trial of the Gods is a collectible card game based in the world of Siralim. Collect over 100 creature cards with unique traits and use them to battle against the gods. Features a lengthy campaign with two difficulty modes, along with randomly generated post-game content! Steam page
Goblin Times – 13th March
In this joyful Steampunk world, Goblins are the absolute dominators. They have their own ways of living. Money and power is what makes this world go around and also every goblin's ultimate pursuit. Some goblins who are good at making money become leaders of the pack. Steam Page
Guile & Glory: Firstborn – 14th March (E.A.)
An interesting mix between Into the Breach and Golden Axe for this promising indie turn-based tactical game by Elston Studios. Here the itch.io page while here our interview with the developer.
Panzer Corps 2 – 19th March
Ok this is not my favourite genre (wargame), but I'm sure that for a game like this there are a lot of fans out there.
Panzer Corps 2 is the ultimate Second World War strategy game. Enjoy the time-proven gameplay formula which has been appreciated by millions of players over the years, brought to a whole new level of refinement up to the latest technical standards.
Very soon on Steam.
The Legend of Keepers: Career of a Dungeon Master – 19th March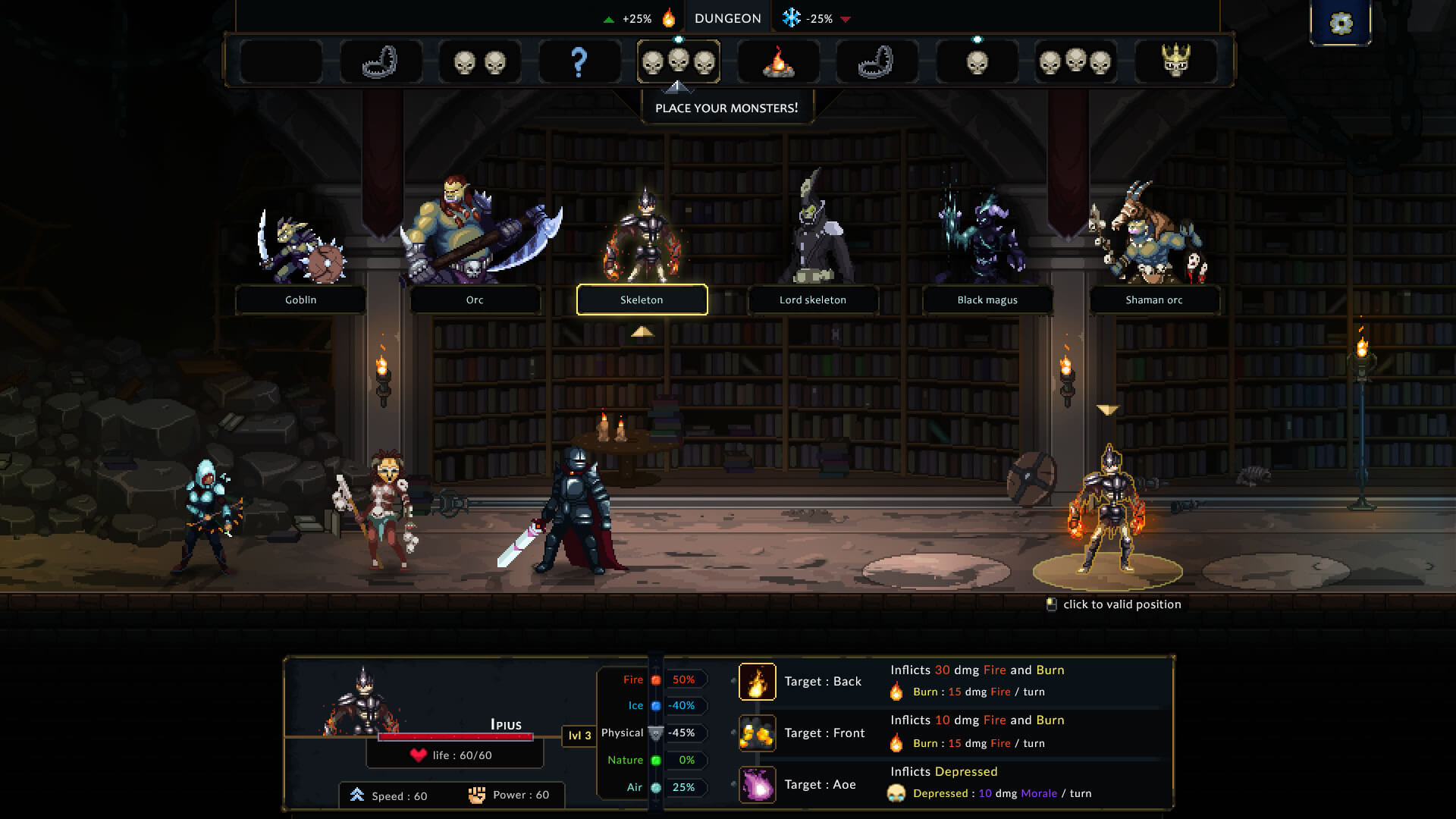 Legend of Keepers is the perfect mix between Dungeon Management and Roguelite. You have been hired as a dungeon master by the Dungeons Company. Your job is simple: protect their dungeons! Steam page
The Pale City – 20th March
The Pale City is a story-driven, dark fantasy RPG with an emphasis on characterization and atmosphere. Explore a dangerous, morally complex world where every detail is personal.
Among its features:
An Unconventional, Character-Driven Story: Written and designed by novelist Kyle Muntz, The Pale City tells the story of one man's struggle against a merciless world and the emptiness inside himself.
A Sense of Place: Discover a city ravaged by time, cruelty, and the cold silence of apathetic gods.An Attention to Detail: Every NPC has a unique personality; every line of description tells something important about the world.The Price of Survival: Tense, unforgiving combat that rewards close observation and careful use of skills, where a single mistake can mean defeat.
No Grinding: Every battle is unique and necessary.
A Solitary Journey: Can you survive, alone and outnumbered, when even your friends seek to destroy you?
As usual on Steam.
The Legend of Heroes: Trails of Cold Steel III – 23rd March
The Legend of Heroes: Trails of Cold Steel III is a role-playing video game developed by Nihon Falcom. It is a part of the long-running The Legend of Heroes series, and a direct sequel to Trails of Cold Steel II. Similar to Trails of Cold Steel and Trails of Cold Steel II, the game is a traditional JRPG with turn-based battles and a lot of dialogues. This time the fights will be faster thanks to transitions into battle scenes more seamless and more battle commands assignable to specific buttons rather than various menus.

Key Features
Welcome to the New Class VII – Explore the newly annexed lands of the Empire with a brand new squad, and catch up with familiar faces from the past.
An Immersive Story – Experience an epic story developed across three titles, and crafted for new and old fans alike. Also includes an interactive introduction to catch up new players to the ongoing story so anyone can dive right in to the world of Trails of Cold Steel.
Combat Honed to a Fine Edge – Challenge oncoming threats with a combat system that has been refined over the course of decades. The addition of features like Brave Order and the Break System open up new possibilities in battle
Out soon on Steam.
Iron Danger – 25th March
Iron Danger is a tactical combat game with a unique time manipulation mechanic. A never before seen combination that combines the tactical depth of turn-based games with the exciting action of real-time games. Tackle challenging encounters with your party of two characters, using a variety of skills and highly interactive environments. Maybe you will set an enemy on fire and kick them into a grain field for a proper barbeque, or set up a trap and fell a tree on top of them. The options are endless and it is you who will be deciding your own approach! Very soon on Steam!
Grand Guilds – 26th March
Grand Guilds is a Story-driven, tactical RPG set to be released during March (but I'm so confident about it). It mixes tactical RPG with card combat mechanics. Despite the not-so-original idea the game seems rather interesting.
Among its features we have:
Turn-Based Strategy – Learn and master the fundamentals of tactical combat. In Grand Guilds positioning, terrain, and your action points will mean the difference between victory and defeat.
Card Combat System – A diverse set of skill cards will form the abilities of your units, making every turn more dynamic and each decision more important and meaningful.
Deck Building – Tailor each character to your playstyle by customizing their skill decks. Obtain powerful new abilities by completing quests or leveling your characters.
Guild Quests – Embark on challenging, procedural missions that yield exciting rewards. Increase your guild's reputation to earn bonuses that will aid you in combat.
Diverse Cast – Each playable character has unique mechanics and abilities that enable them to fill various roles in your squad such as tank, support, and damage dealer.
Epic Narrative – Unravel the mysteries shrouding Irin, a continent on the brink of war. Follow Eliza and her companions as they journey through this vast, magical world.
Partial Voice Acting – Heroes will shout out their actions in combat and express their feelings during dialogue with short voice lines
During March on Steam.
Bonfire – 27th March
Bonfire is all about complex strategy emerging from simple rules. The rapid turn-based battle system drops menu navigation in favor of contextual abilities and tactical item use. Each click is a move, each move is significant, and each encounter is a puzzle to solve. Steam page
Gordian Quest (E.A.) – 27th March
Gordian Quest is epic roguelike/lite that combines the best elements of deckbuilding, tactical combat and strategic decision-making. Lead and manage heroes on gruelling missions. Forge bonds and discover new skills among them. Unravel curses laid upon the lands and defeat the ultimate evil at the heart of it all.
Features:
Form parties of heroes with unique classes, skills, and playstyles (more heroes will be added as we expand on the game).
Build and refine your deck with hundreds of active and passive skill cards that will help you claim victory in strategic turn-based combats (more cards will be introduced as we keep upgrading the game)
Train, upgrade and equip your heroes with weaponry to meet the arduous challenges ahead. Enchant your equipment to give your heroes an edge during battles.
Experiment with forging bonds among your heroes to see who become friends, lovers and foes. Discover special combo skills made possible only through such bonds (a WIP feature).
Enjoy endless replayability with procedurally generated adventures. No one single adventure is the same.
Collect powerful relics that can turn the tides of fate in your favor, or against it.
Take on side quests and be presented with complex decisions that will shape the course of your adventure.
Choose the difficulty level you desire. Play the hardcore mode and experience a satisfying, teeth-gritting permadeath experience. Or play more casually, where deaths simply mean respawning back in town. It's entirely up to you.
On Steam.
Operencia: The Stolen Sun – 31st March (Steam release)
This is a classic first-person dungeon-crawlers which combines exploration with turn-based battle (does anyone said Dungeon Master?). It has been released a year ago on epic store and now finally it approaches also on Steam. If you want to know more about it you can just read our review. At the end of the month on Steam.
Fates of Ort – 31st March
Fates of Ort is a retro fantasy RPG focused on strategic action, in a land where time is frozen when you stand still. Cast powerful spells – but beware, they will cost you your life. Steam page
Charterstone: Digital Edition – March
The official digital adaptation of Jamey Stegmaier's board game – Charterstone! From the creator of Scythe – the person responsible for eight successful crowdfunding campaigns (totalling over $3.2 million) emerged Charterstone. It's a campaign focused game with high replayability. Players build charters to turn their village into the new Eternal City. Steam page
Ram Pressure – March ?
Tactical story-driven online multiplayer game combining the turn-based combat of X-COM with a deep, well-grounded sci-fi setting. Experience intense tactical online multiplayer action and explore a deep plot and unique storyline built on both single-player and multiplayer missions. Steam page