Lots of things to do, work, family, blog, and Youtube channel, but, what is really keeping me busy is the new writer's policy of turnbasedlovers.com. As you know, since turnbasedlovers was born, we have always been and still are looking for collaborators who like to play games and write about them and why not, making videos. From today, we have taken a very important step for our project, we are offering small incentives in dollars for all the contents made, and if you may be interested, contact me on Twitter or send an email to [email protected]
All of this preamble was done to justify the fact that last week's KEEP AN EYE ON IT was skipped. In any case, over the last weekend, I managed to work on it and I think this episode is one of the best ever, for the quality of the turn-based games that I am going to show you. Before starting, I remind you that on the youtube channel you will also find the video version with trailers. Let's go
Knights of Frontier Valley
A unique retro graphic style and a world of possibilities to face the adventure that will never be the same. We start this episode with Knights of Frontier Valley by Adamant Studios. An RPG where the most important thing is to survive in the open-world proposed by the game. We will be able to customize our character, decide whether to join a faction, craft items, and fight in turn-based combat on gridless maps.
Key features
Survive the dangers of both the wilderness and faction politics in a procedurally generated world full of secrets and lore.
Choose your character from a number of different classes, customize his skills and appearance to your liking, and pursue a profession that fits your style of playing.
Join a faction and gain titles and glory, or go at it alone in your search for long-lost wisdom and powerful artifacts.
Fight in gridless, turn-based tactical combat, or choose to have the AI battle for you quickly.
Adapt to a highly dynamic world with day/night-cycles, seasons, and ever changing places and characters.
Craft items from a large number of materials, and interact with the environment in creative ways to gain the edge over your enemies.
See your actions become part of the valley's story, impacting friends and foes alike.
A true Indie game: designed, funded and programmed from scratch by one person who has never done this before.
Knights of Frontier Valley is expected in early access at the end of 2021 on Steam.
The Dragoness: Command of the Flame
Let's talk now about The Dragoness: Command of the Flame by Crazy Goat Games. The main inspiration of the game is HOMM for both the exploration phase and the combat system, but with the addition of rogue-lite elements. In fact, in each run, we have the possibilities to unlock new monsters, ancient artifacts & upgrades that will allow us to be more prepared in the following runs.
The Dragoness: Command of the Flame have no release date yet. Here the Steam page
Aye Captain!
Let's go a little bit further with Aye Captain! by The Knights of Unity. For this pirate turn-based tactical game we have to wait until 2022, but it is a very captivating title both in terms of the graphic style and in terms of the combat system, where we will have to manage our crew and move it between the various positions of the ship. Lots of items to unlock, such as races, locations & ships.
Key features
Player driven narrative with witty humor.
Turn based combat.
Deep strategic options with unique Loyalty mechanics.
Beautiful graphics.
Plenty of Hidden Content to discover.
Unlock new races, locations, ships, crew mates and much more!
Every game is different thanks to randomly generated maps & encounters.
Aye Captain! is expected during 2022 on Steam
Astria Ascending
From a highly respected team of developers, paired with titles like Final Fantasy, Nier Automata, and Bravely Default, comes Astria Ascending, a turn-based JRPG set in a hand-drawn 4k 2d fantasy world. Lots of hours of gameplay, 8 characters to choose from + the ability to recruit and summon legendary creatures.
Key features
Explore the vast and beautiful world of Orcanon. Visit five different cities populated by unique creatures and solve more than 20 dangerous dungeons. With over 50 hours of game-play and a range of fun mini-games – including shoot 'em ups, an original fantasy-themed card game, and challenging environmental puzzles.
A grand tale of fate and sacrifice. Immerse yourself in a fascinating narrative rife with betrayal, sacrifice and terrors. A story based around adult characters, Astria Ascending offers a more mature experience and extensive dialog.
A rewarding turn-based combat system. Fight over 200 different monsters in captivating, turn-based combat. Collect and summon legendary beasts into the fight and build up your power to wield legendary Cosmo Breaks.
Meet an unforgettable cast of characters. Pick from eight customizable characters spanning a range of fantastical races and skills, and assemble a heroic team that must sacrifice everything to save the world. With 20 classes to choose from and an array of unique skills to command, their fates are doomed, but the world is not.
A hand-drawn adventure crafted with skill and passion. From a team featuring developers from Final Fantasy, Nier Automata and Bravely Default, Astria Ascending includes full voice acting in Japanese and English, a traditionally animated, fully hand-drawn 2D world and a dynamic weather system.
Astria Ascending is orphaned of a release date. In any case, it is intended for PC and all consoles, even next-gen ones.
Lost Eidolons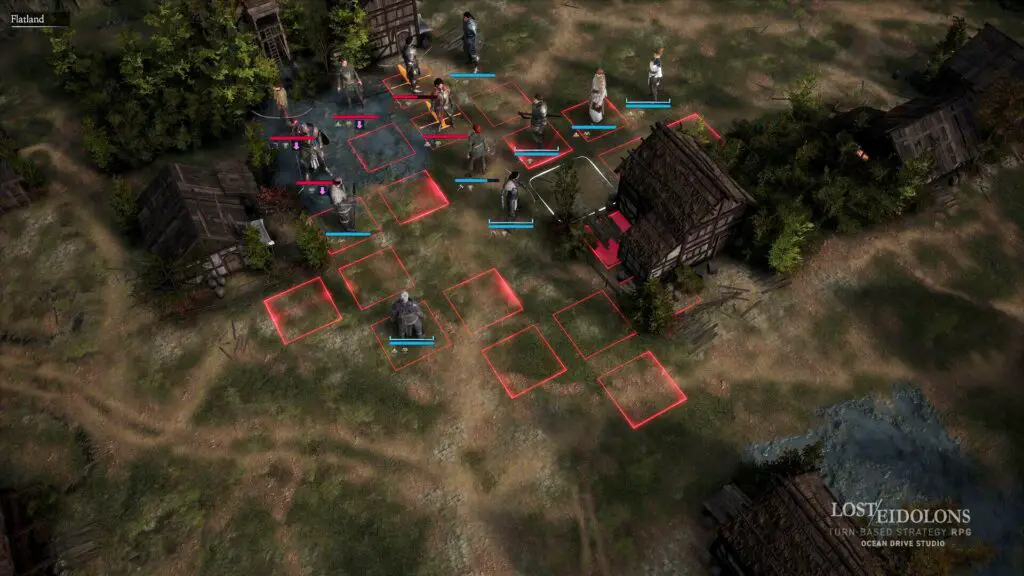 And we close with a turn-based tactical fantasy recently announced during ID@Xbox, Lost Eidolons by Ocean Drive Studio. Here the official trailer. Lost Eidolons will be a single-player experience with combat taking place on grid maps. What impressed me at first glance is the character screen, really well done. We will try to know some more details in the coming months. Regarding the release date, the title of Ocean Drive Studio will arrive in Early Access on PC during 2021, while the full version and the console version are scheduled for 2022. Here the official website
Key features
Strategic turn-based tactical combat – Leverage the terrain, careful positioning to execute synergistic
effects, and the unique strengths of your army's composition to deal with any enemy encounter. How you
employ your strategy allows you to minimalize casualties on the battlefield.
In-depth character customization – Unlock new equipment, discover over a dozen unique combat classes,
and arm your units with a varied selection of skills and spells that will help them seize victory.
Explore a meaningful outgame – Take time to strengthen the resolve of allies and see this effort yield
powerful results on the battlefield. Leverage affinity with visiting NPCs in the camp to potentially earn
new recruits. Strengthen your units by training with them and learn their stories in via their side quests.
A carefully crafted classic story revolving around the bonds formed between comrades struggling for
freedom in a continent marred by war and political turmoil, along with a backstory that is influenced by
the mythos of the Four Symbols of the Chinese constellations.
Beautifully orchestrated original soundtrack by the talented composer Clark Aboud, the brilliant mind
behind the score of memorable games such as Slay the Spire and Factory Town.
Regarding the release date, the title of Ocean Drive Studio will arrive in Early Access on PC during 2021, while the full version and the console version are scheduled for 2022. Here the official website
This week's appointment ends here, let me know what you think of these 5 promising turn-based games and above all give me some feedback about this article, and how I can improve it. I wish you the best
CIAO