Thunderful and independent developer Maschinen-Mensch are pleased to announce that Curious Expedition 2 is out today on PlayStation & Xbox platforms. The game is available for ​$19.99 / €19.99 / £16.99 on PlayStation®4 and Xbox One and is also playable on PlayStation®5 and Xbox Series X|S via backwards compatibility. Check out our full detailed review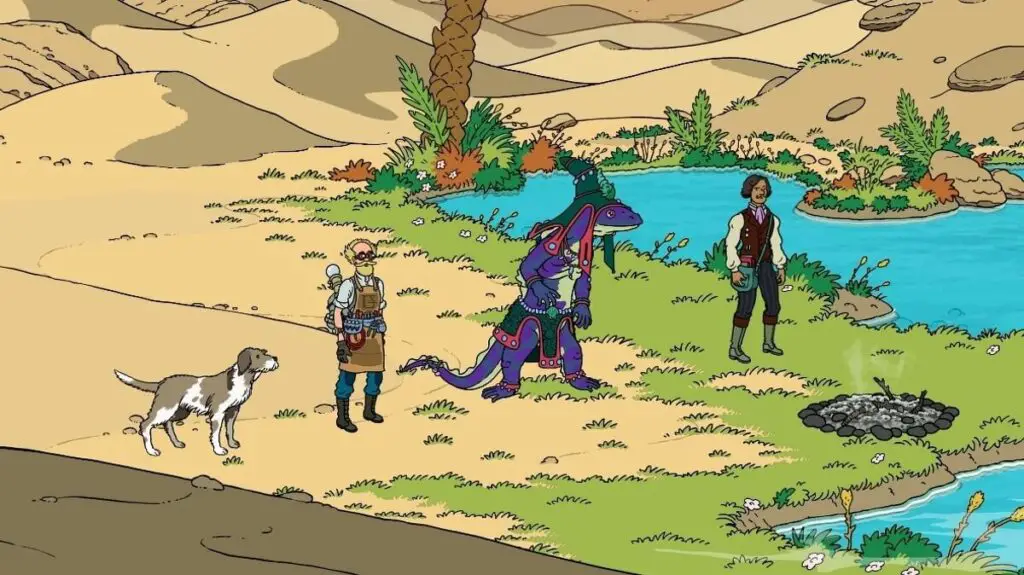 Curious Expedition 2 is a Jules Verne-esque pulp adventure inspired by pen & paper RPGs and mixed with narrative roguelike elements, all wrapped up in a streamlined and accessible gameplay experience. Take on the role of an intrepid explorer, assemble your crew and head out into the unknown. On your expeditions you'll come across all manner of cultures, flora, fauna, treasures and more, ranging from the worldly to the altogether more… curious! Using a combination of hand-crafted and procedural gameplay and story elements, Curious Expedition 2 creates completely unique and epic adventures every time you play.   
Set in a reimagined late 19th Century, mysterious islands shrouded in purple fog have begun to appear in the oceans, only to vanish soon afterwards. The three great Explorer Clubs of Paris are now funding expeditions to these strange islands in a bid to make bold new discoveries. These new treasures will be exhibited in their stands at the upcoming World's Fair. Will you seek out the legendary Golden Pyramid, or choose to recover the Rainbow Orchid instead? In Curious Expedition 2, a world of unimaginable wonder and surprise awaits!
Along with the launch of Curious Expedition 2 on PlayStation and Xbox, the Highlands of Avalon DLC is also available for all platforms including Nintendo Switch. Bringing a brand new island type to Curious Expeditions 2, Highlands of Avalon offers a new set of tiles, a new game mechanic related to traversing hills and valleys, a new tribe called the Picts and new artwork for shrines. The DLC includes eight new recruitable characters – Grail Knight, the Precious Clydesdale horse, three Kobold variants (Bard, Scoundrel and Shamen, Shaman) and three variants of Picts islanders (Spiritual Druid, Pictish Outrider, Tattooed Warrior).
You can also encounter four deadly new enemies, visit six new locations, and kit yourself up with seven new pieces of equipment and five new items. Last but not least, there are four new levels to unlock at the Royal Avalon Society Explorer Club in Paris, giving you access to one recruitable character and three pieces of equipment.
"We're really excited that Curious Expeditions 2 is now available on PlayStation and Xbox," said Riad Djemili, CEO at Maschinen-Mensch. "We've tweaked and refined the game during its adventures on PC in response to community feedback, so this console version of Curious Expedition 2 is the best the game has ever been. I wish the PlayStation and Xbox communities good luck on their varied and intriguing expeditions!"  
Thunderful
Twitter: https://www.twitter.com/thunderfulgames
Facebook: https://www.facebook.com/thunderfulgames
Instagram: https://www.instagram.com/thunderfulgames
Maschinen-Mensch
Twitter: https://twitter.com/maschimensch
Facebook: https://www.facebook.com/mschnnmnsch/
Instagram: https://www.instagram.com/maschinen_mensch/
About Thunderful
Thunderful Group is a group of companies that develops, publishes and invests in games as well as distributes Nintendo products, games, game accessories and toys. Founded in 2017 Thunderful Games is one of the two business segments in Thunderful Group, the other being Thunderful Distribution. Over the last few years Thunderful Games has, organically and via acquisitions, grown into a global organization with eight development studios and over 300 employees. Besides the award-winning internal development pipeline, Thunderful Games also publishes a large number of third-party titles and invests in external game projects.
About Maschinen-Mensch
Maschinen-Mensch is a Berlin-based studio founded in 2014 by Riad Djemili and Johannes Kristmann, combining 15 years of experience in professional AAA game productions. Among other projects, they worked on the multi-award winning game "Spec Ops: The Line" by YAGER Development. Maschinen-Mensch's debut title Curious Expedition was first released in 2015 and has sold more than 300.000 copies across all platforms.