Independent studio Ganymede Games are excited to announce the crowdfunding target for their upcoming Sci-fi RPG deckbuilder, Xenotheria, has been achieved.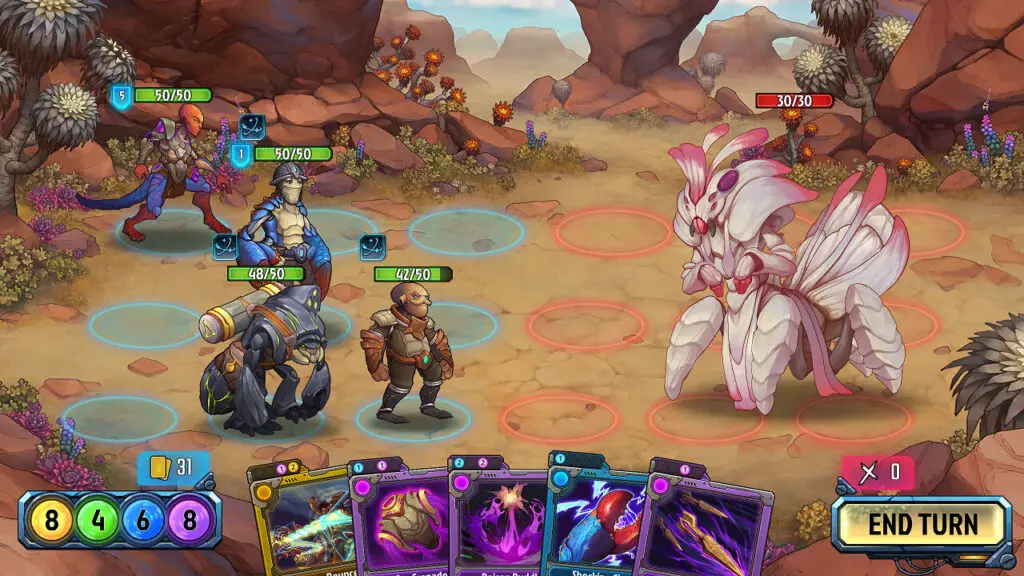 Xenotheria takes place on Wolf Prime, a sprawling desert planet that's home to the galaxy's most important trading port. A seemingly ordinary day quickly turns chaotic after a mysterious, cataclysmic event, leading to a shower of spaceships, satellites, and orbital stations raining havoc down on the innocent souls of Wolf Prime.
The events of Xenotheria take place in the immediate aftermath of the ship-raining apocalypse. Squiggles, a cuttle-fish construction worker known for shying away from the spotlight, finds himself leading a team of everyday misfits on an epic journey across the planet in a search for the truth behind the event.
Xenotheria is a deck builder made for RPG fans. The dangerous world of Wolf Prime is full of combat encounters to overcome, relationships to manage, character side-quests to discover, secret lore to be found and card-based puzzles to solve.
The RPG mechanics of Xenotheria start with its combat, which puts the player in complete control. For example, position your party members to take advantage of any environmental objects like cover or explosive hazards. Add elemental damage into the mix and you're starting to scratch the surface of the combat combinations on offer.
No RPG would be complete without an expansive skill tree to sink hard-earned ability points into. What sets Xenotheria's skill tree apart from other RPGs is how you have the ability to customize your party's cards. Investing in an ability offers you the opportunity to change a card's abilities and even increase the synergistic benefits between different party members.
Throughout the course of the Kickstarter campaign, Ganymede Games have released several updates including the reveal of their fifth character, Floxxy, a clownfish piloting a mech suit. They also revealed that all backers of the campaign will receive free DLC once Xenotheria launches. The first stretch goal has been revealed as a port to the Nintendo Switch.
Xenotheria's Kickstarter is running until Thursday 16th December. The campaign offers the chance to grab some exclusive rewards by backing the game before release. Currently, Xenotheria is set to release on PC via Steam Early Access towards the end of 2022.

Featured links
Xenotheria Steam Page: https://store.steampowered.com/app/1454960/Xenotheria/
Kickstarter: https://www.kickstarter.com/projects/ganymede-games/xenotheria
Ganymede Games Website: https://www.ganymede.games/
Xenotheria Website: https://www.xenotheria.com/
Presskit: https://www.xenotheria.com/press
Xenotheria Twitter: https://twitter.com/Xenotheria
Xenotheria Discord: https://discord.gg/TGtmrBaP6X