Lingo Legend is a video game to help you learn a new language. It's like Duolingo meets a monster-battling, deck-building RPG. You'll explore a vibrant world collecting ability cards, crafting powerful weapons, doing quests, and using your target language in combat to defeat dangerous enemies. The combination of language and gaming makes the learning process more fun, which helps keep you motivated to achieve your goals.
In-Game Background Story / Lore
You play as Hamish, a reclusive herdsman living peacefully in the forest and tending to his animals. That is until the night when things got weird. Inanimate objects and natural materials magnetically pieced together into strangely anthropomorphic forms, bound by a dark, ethereal goo. These beings referred to as the Yorth started appearing everywhere. Did everyone get along nicely and celebrate their differences? Oh no, no, no – the Yorth arrived in a fluster, busting up everything and everyone that crossed their path. The forest – the place where Hamish fled to, to live in solitude amongst nature – become the place to be for the Yorth. Cue a panic!
The game begins on the evening of the crisis when Hamish's animal pen is destroyed in the ensuing chaos. His panicked animals run off in every direction. Though he tries to avoid the surrounding settlements, he's quickly entangled in their personal, political, and idiosyncratic problems on his quest to track down his animals. Where did the Yorth come from? Can the island's settlers mount a proper defence to ward off these strange creatures? These are the questions Hamish may get answers to, but they're not questions he's asking. Right now he's got one thing on his mind: Get his animals back safely.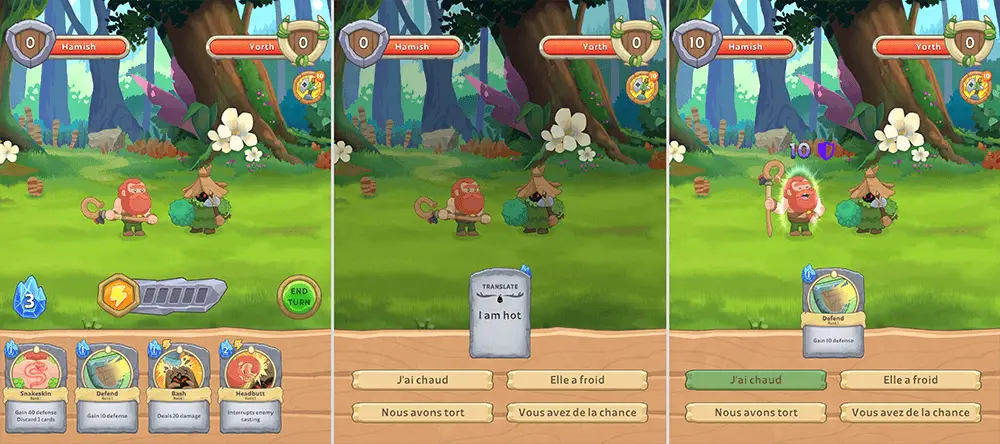 Gameplay
Lingo Legend is a deck-building RPG in which your target language is your secret weapon in strategic card battles. To begin an adventure, you'll leave your basecamp and explore the island using your map to navigate between different nodes. Many of these will be combat nodes – that's where the card battles begin. At the start of your turn, you'll draw a hand of ability cards to attack, defend, heal, buff, debuff, set traps, or any combination thereof. When you go to play an ability card, you'll have to answer a language flashcard. If you get the language question correct, your ability card is played; if not, the card is discarded without activation. The best players will have always have a plan B in place in case they get the language question wrong and foil their initial play. The theme of the flashcards is organized into units, ordered by difficulty, and selected by you.
As you explore the island, you'll battle a wide range of Yorth who use differing abilities and strategies to try and take you down. You'll need to collect new cards and upgrade your existing cards to counter your enemies. Battling gives you experience and generates resources that can be put towards progressing your character through crafting new weapons, expanding your deck, and upgrading your cards.
Key features
A language curriculum designed by language teachers with over 150 categories of vocabulary, grammar, and common phrases
A spaced-repetition algorithm to reintroduce content and ensure sustained mastery over your new vocabulary
The option to input your own flash cards into your game to personalize your vocabulary or add subjects beyond language
Strategic card battles and a deck-building system with over 100 cards to collect and upgrade
Multiple heroes to play with distinct play styles and unique cards (1-2 available at launch)
Crafting system with dozens of weapons to make and recipes to collect
Six zones populated with unique enemies to battle and narrative-driven quests (1 available at launch)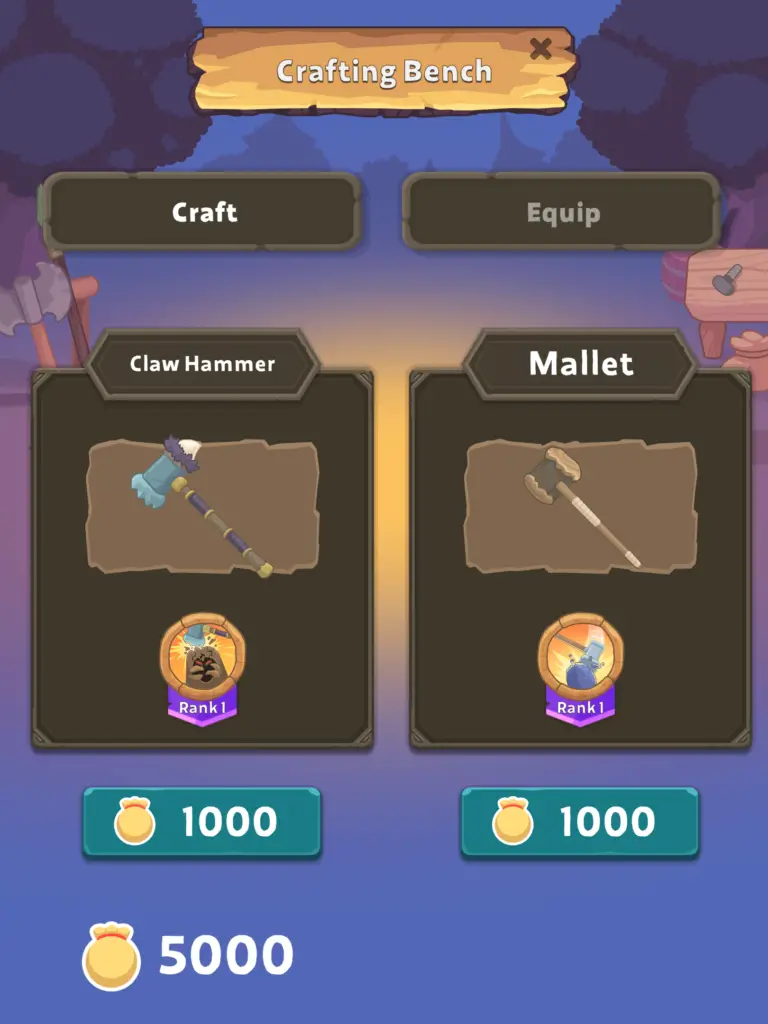 About the developer
Hyperthought Games is an indie educational game studio based in Ontario, Canada. Founded by Darien Morris, previous head of product for the math game Prodigy. Their mission is to help build a world in which people have access to opportunities for personal and professional growth, regardless of the language they were brought up speaking. They build games that are as fun as they are functional as learning tools. These are games that give you meaningful opportunities to apply your learning and feel good about your progress; games that keep you motivated and practising your new language longer than anything that exists today.
Official website: lingolegend.com
Twitter page: https://twitter.com/LingoLegend
Release date & platforms
Launching on mobile (iOS/Android). Plan is to fully launch by mid-2021.