Here we are with part 2 of indie turn-based games under development. (part 1) All the games listed on this list came out of the discussions that took place within our Twitter community.
I also remind all developers who want to show their game on our blog, which is available here, a form where you can send us information about your project, through this information, we can prepare an overview of the project and keep our radars open for any news regarding your games.
Anyway, let's start the list of indie turn-based games under development:
Fuzz Force: Spook Squad
A dice-drafting, ghost-busting, roguelite video game. Use your dice to fight and capture ghosts! Learn more
Eysir
Sci-fi 80's-style dungeon crawler with a Fire-Emblem-esque strategic combat system. Learn more
Asterius
Asterius is a "smart" and true, but streamlined rogue-like dungeon crawler game, inspired by ASCI games, but made so each procedurally generated dungeon is winnable.  The game is carefully crafted to give each dungeon a hand-designed feel with the randomness of a rogue-like. The mechanics are easy to learn but take a long time to master. Learn more
The Cards You're Dealt
Minimal card roguelike in development. Learn more
Blind Battle Championship
Take your weapons, join your friends and put on your blindfold to participate in the most spectacular battles of the kingdom! Smash your enemies thanks to your skills and intuition to reach victory. You'll never see anything like this! Learn more
Fae Tactics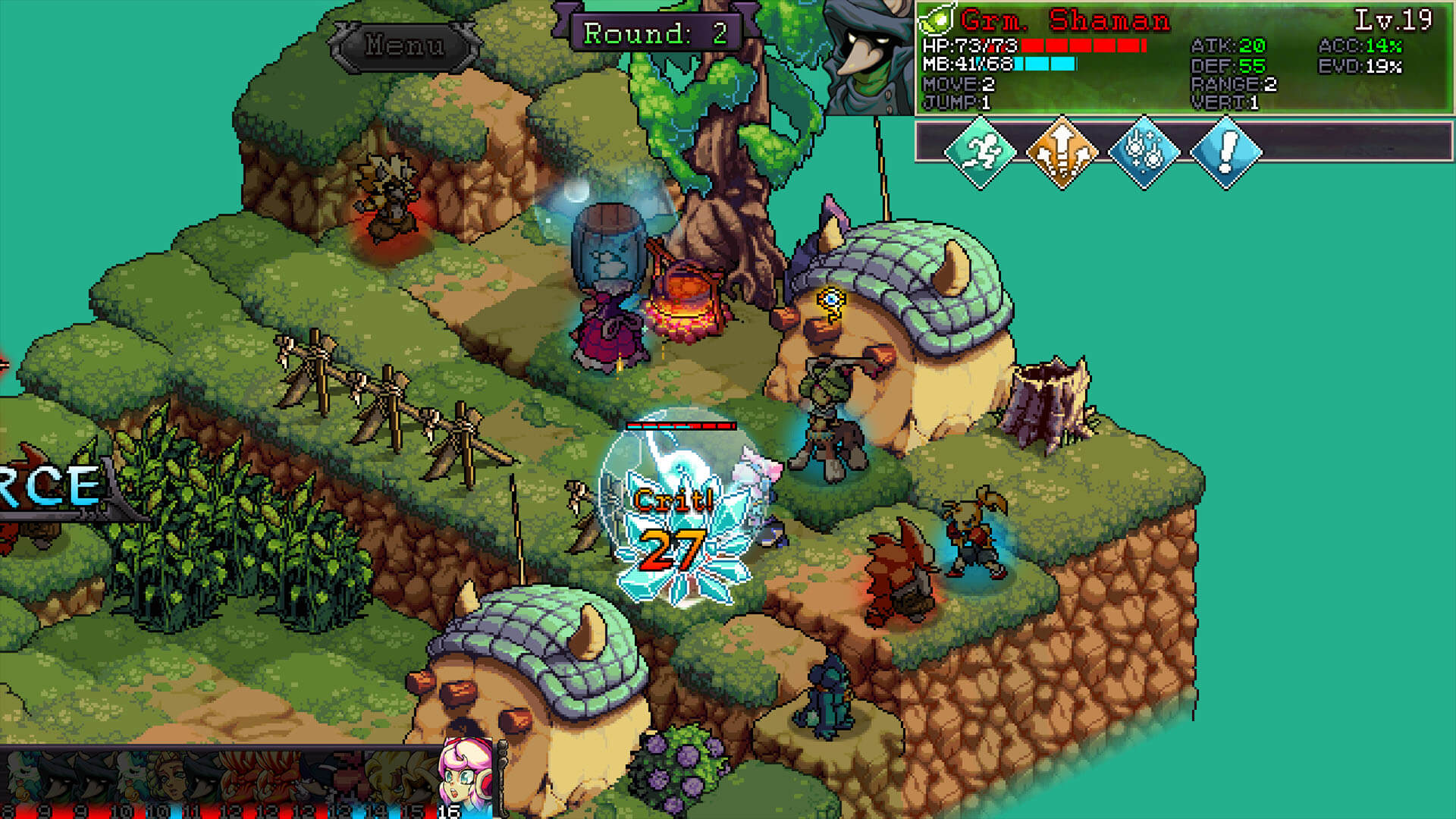 Featured also on our list of games like Final Fantasy Tactics, In Fae Tactics, you follow a young magic-user named Peony on her journey across a vibrant world full of mystery and danger. Summon allies, cast spells, and befriend a motley crew of characters as you dive into the growing conflicts between man and magical beings known as fae. Learn more
Second Front
Second Front offers a unique and infinitely replayable WW2 wargaming experience. It shows turn-based actions of single Officers and groups of soldiers manning weapons like MGs or Flamethrowers. Players maneuver Tanks and other historical Vehicles on dynamic battlefields. Learn more
Voxel Tactics
No descriprion yet. Learn more
Inanis
Inanis is a rogue-lite deck-builder currently under development. The game-play brings the player through boss fight after boss fight, only allowing them to go to a shop along the way.  Inanis draws inspiration from games like Slay the Spire, Cup-head, and Dark Souls, drawing together many concepts to create a punishing product. Learn more
If you want to learn more about cool turn-based games, check our overviews, lists and youtube channel.