"I need never get old"
"I said I needed to try
Needed to fall
I needed your love I'm burning away
I need never get old"
– Nathaniel Rateliff & The Night Sweats
Most of the people think that playing videogames is only for youngsters. Citing McCarthy, they'd say "No country for old men", but the reality is somewhat different…
Inger Grotteblad wakes up every morning in her cozy house in Uppsala and begin her training. She is 68 years old and, even if she is a grandmother with six marvelous grandchildren, she is also a pro player of CS: GO! The results? More defeats than victories, but that's not the point. In Sweden, she is still a star, so it is not so unusual that walking on the streets, Grotteblad and the other members of her team, the "Silver Snipers", have to sign some autographs for their young fans!
Still about famous senior players, we cannot forget the two Berliners Uschi Cezanne (81 y.o.) and Peter (76 y.o.) with their YouTube channel, "Senioren Zocken", with more than 480.000 members!
One of my favorite is Mrs. Hamako Mori, better known as 'The Gaming Grandma'.
Born in 1930 Mrs. Mori is officially – according to the Guinness World Record – the oldest gaming YouTuber. Hamako began playing videogames 39 years ago, and she became interested in it when she saw children playing them.
She thought "It looks so much fun, it's not fair that only children can played it" and then she began to play.
Her favorite game? Grand Theft Auto V and this for two specific reasons:
"Because it's like watching a movie, and because it has age restrictions, so children can't play it!"
Now, try to take a look at this picture and tell me if you don't see in her eyes the same wonder and amusement of a child!
However, the best story is the one told by Kuniko Tsusaka. Her 95-year-old mother was used to play Tetris on her Game Boy Classic. After almost 30 years, the console suddenly (!) broke, unfortunately in the same moment her health started to get worse. The real problem was that the production of the console had ceased in 2003. So, after fruitlessly searching local shops and enthusiasts' circles for spare parts or replacements, Tsusaka decided to write to the Nintendo's costumer service.
Well, in a "normal" country nobody would have even read the letter, but we're talking about Japan, so not only the company read and responded to Tsusaka's letter, but they were able to send a replacement Game Boy discovered in their warehouse!
Kuniko's mother, aided by the gift, lived to a remarkable 99 years of age and I'm sure that her last years were full of amusement.
So, the list of the upcoming games that follows is dedicated to them, to everybody who never renounce to his inviolable right to have fun, despite his age, despite his past.
No one should forget that playing is the true elixir of long life!

SWORDS AND SANDALS CRUSADER REDUX – 04th November
Since 2005, the Swords and Sandals series has been delighting fans both young and old. With over 12 games comprising of both the original and Redux series, now is the time to dive in and live the gladiator life!
This time, the world of Swords and Sandals is at war! Join the Crusade against Emperor Antares! For the first time since 2007, the beloved Swords and Sandals Crusader returns, reforged from the ground up. Fast paced, addictive tactical warfare is back and better than ever!
On Steam!

MÖBIUS FRONT '83 – 05th November
In Möbius Front '83 you will fight tactical, turn-based battles with the cutting-edge military hardware of the early 1980s. Use every tool available — powerful tanks, fast-moving attack helicopters, long-ranged artillery, tenacious infantry, and more — to control the complex and rapidly-changing battlefield of the era.
Who are the "Americans" attacking America, and why? Find out in the game's extensive single-player campaign and its fully voiced cutscenes. When you're ready for some R&R, play a new kind of solitaire, solve Zachtronics-style puzzles, and even read the U.S. military manuals that inspired the game.
On Steam!

RAIDERS! – 10th November
Raiders! is a post-apocalyptic single-player strategy game by the makers of the Age of Gladiators.
It can be defined as a strategy/management game where you play as the leader of a merciless band of post-apocalyptic marauders. Build up your organization while extorting, kidnapping, and destroying the last remnants of civilization. The wasteland doesn't need another hero…
Features:
Hire, manage, equip level up (and sometimes eat) your raiders.
Extort, attack and pillage greenhouses, rock quarries, and other industries of the wasteland in order to gain the resources required to build up your forces.
Interact with, loot, or capture settlements and industries, spreading your reign of terror – captured settlements will need to be run with an iron-fist in order to ensure they remain under your control.
Combat local mercenaries and regulators sent to stop your rampage.
You are the fearsome commander of the your raiders; the boss. Engage in duels, terrorize both your men and your enemies, and build your physical and mental attributes toward the eventual goal of total domination of the wasteland.
Establish laws for your raiders and new society to follow.
Fight other raider organizations for territorial control
On Steam.
YAKUZA: LIKE A DRAGON – 10th November
Become Ichiban Kasuga, a low-ranking yakuza grunt left on the brink of death by the man he trusted most. Take up your legendary bat and get ready to crack some underworld skulls in dynamic RPG combat set against the backdrop of modern-day Japan.
Experience dynamic RPG combat like none other. Switch between 19 unique Jobs ranging from Bodyguard to Musician, using the battlefield as your weapon. Take up bats, umbrellas, bikes, signs, and everything else at your disposal to clean up the streets!
On Steam!

BLOCKS!: CRUSADER REX – 11th November
Crusader Rex is a wargame covering the 3rd Crusade. One player plays the Christian Franks, the other, the Muslim Saracens. The objective of the game is to control important Victory Cities such as Jerusalem, Acre, Damascus, and Antioch.
Not on Steam this time!
STRATEGIC MIND: SPECTRE OF COMMUNISM – 13rd November
Strategic Mind: Spectre of Communism is a (hi)story-driven turn-based strategy set in the WW2 period. It offers refined wargame mechanics, story-rich gameplay, and modern 3D graphics. Lead the USSR Armed forces staging the world Communist revolution.
The game has many historical operations and events but also features a number of alternate history moments. It is created with great care and attention to historical details by a team which is passionate about WW2 history. Watching cinematics before and after every operation you can almost feel that you are indeed a participant of the unfolding epochal events. Moreover, numerous primary and secondary objectives allow you to explore every battle in detail. The gameplay is plot-driven and features many historical personalities such as Joseph Stalin, Georgy Zhukov, Vyacheslav Molotov, Kliment Voroshilov, Lavrentiy Beria, Aleksandr Vasilevsky, Konstantin Rokossovsky and others.
On Steam.
REVOLUTION: THE SPARK – 23rd November
Fight back in Revolution: The Spark, a story-driven, turn-based tactical RPG. Gather your allies and explore 9 unique districts in the capital of a corrupt Empire whose citizens cry out for your help. Will the city erupt in violent revolution or can you find a way to keep the fragile peace?
FEATURES
Strategic Turn-based Combat – People are your greatest assets, so take care of them. Those who fall in combat will need time to recover.

Recruit up to 25 Allies across 7 distinct Classes – You'll need all the help that you can find on your journey to unseat the Empress. But beware, as some of your companions might not like others.

Explore 9 Dynamic Locations – From the mines to the noble villas, you must fight your way to the steps of the Empress' palace itself across 9 exciting, beautiful, hand-drawn, isometric locations.

Forge Your Own Path – Your actions shape the future of a corrupt Empire. Choose how you want to solve conflict. Will you conquer all or reason with your foes? Every decision you make in travel, conversation, and combat has a meaningful effect on the outcome as your story unfolds.

Discover secrets and Unlock 5 Different Endings. – Explore and talk to everyone. You never know what you might find. There are many routes and options that will help you steer the ultimate fate of the Empire.

Steampunk Victorian Culture – Master the weapons of the early 20th century in this steam-fueled alternate reality where things aren't what they seem.

Decide what you fight for – Peace? A new world order? Or do you just want power for yourself? Everything is possible in Revolution: The Spark.
On Steam.
FEUDAL KINGDOMS – November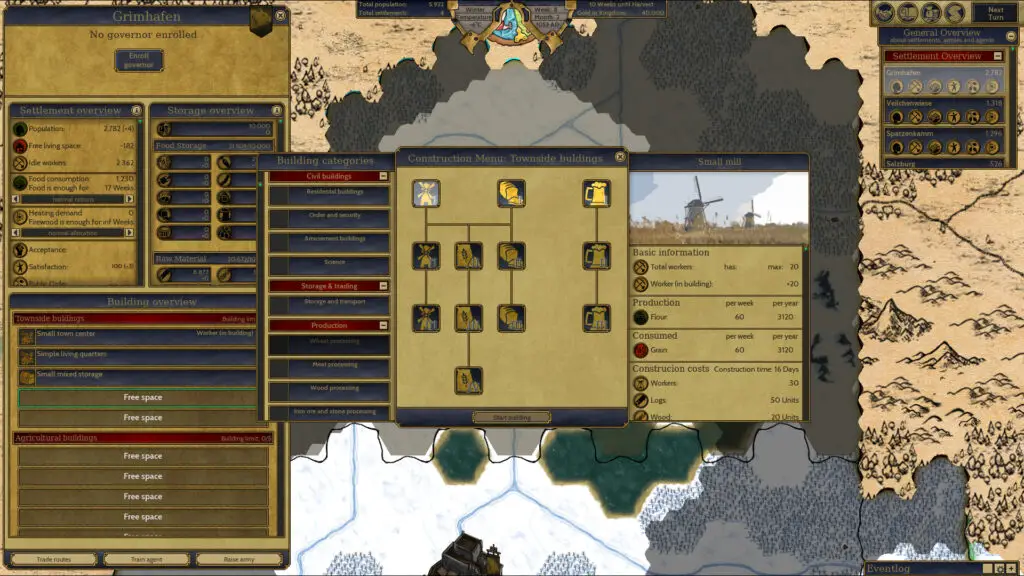 Feudal Kingdoms is a medieval Grand Strategy game, which sets new limits to the genre with challenging features. The realistic population structure is only one of the few features you shouldn't miss.
On Steam!