Sometimes finding a good game could be very hard. That's why "What to play next" is here. Today I want to highlight ten surprisingly fun and deep indie turn-based games you should try.
As a fan of turn-based RPGs, it can be challenging to find new titles to play that offer a unique and engaging experience. While many players are drawn to big-budget games from major developers, the indie gaming scene has been producing some outstanding titles in recent years that are well worth your time.
In this article, we will be highlighting 10 exciting indie turn-based games that you should consider adding to your gaming library. From captivating storylines and memorable characters to innovative combat systems and stunning visuals, each of these games offers something special that sets it apart from the rest. So, without further ado, let's dive into our top picks for the best indie turn-based RPGs to play next.
The Dark Egg
This is the only game not released yet in this list but a lengthy demo is available for you to have a clear idea of what to expect.
I must be honest, I'm not a great fun of text adventure, I probably hate heavy-text games, but it's not the case with The Dark Egg. Ok, the game is a text-based adventure, but it doesn't look like it at all. Players explore a mysterious island looking for the Dark Egg. The way things are set, the exploration and the combat system, tip the needle in favor of a regular and deep RPG experience you should get.
The developer just successfully ended a Kickstarter Campaign, so I'm excited to see what's next. You can find the demo on Steam.
Desert Revenant
Are you ready to face the scorching sun, treacherous sand, and cunning enemies in a vibrant Arabian world? Desert Revenant is a unique roguelike deck-building RPG that emphasizes game knowledge and skill over grind. In this game, you will explore a storyful world where the sand conceals secrets and rebellion is brewing. As you journey through the desert, you will encounter interesting and dangerous enemies and bosses, and you must carefully choose your every move to survive the hand-crafted encounters.
With multiple playable characters, each with unique cards and tons of upgrades, Desert Revenant offers a unique focus on minions and summonable allies. You will explore multiple stories where your decisions shape the world, experience two maps with dozens of hand-crafted encounters, and immerse yourself in a visually stunning world crafted by the gods themselves. Upgrade your cards and carve out your own playstyle to defeat your enemies and survive the harsh desert.
Curious Expedition 2 with new DLCs
Step into a world of adventure and exploration in Curious Expedition 2, a turn-based narrative roguelike that will take you on a journey to uncharted lands. With the discovery of mysterious islands that appear and vanish from the oceans, the great Explorer Clubs are funding expeditions to these strange lands to bring back treasures for the 1889 World's Fair in Paris.
Manage your resources carefully to keep your trek alive and maintain your sanity. Balance your desire for glory against your survival needs to find success without perishing. With procedural storytelling, every adventure is unique. Your characters form relationships, change loyalty, acquire illnesses, and more in response to the environment and your decisions. Experience an epic campaign that combines procedural gameplay with handcrafted story, creating a narrative experience that can be played again and again. The game has released 3 DLC, adding even more fun and twists.
Guild of Dungeoneering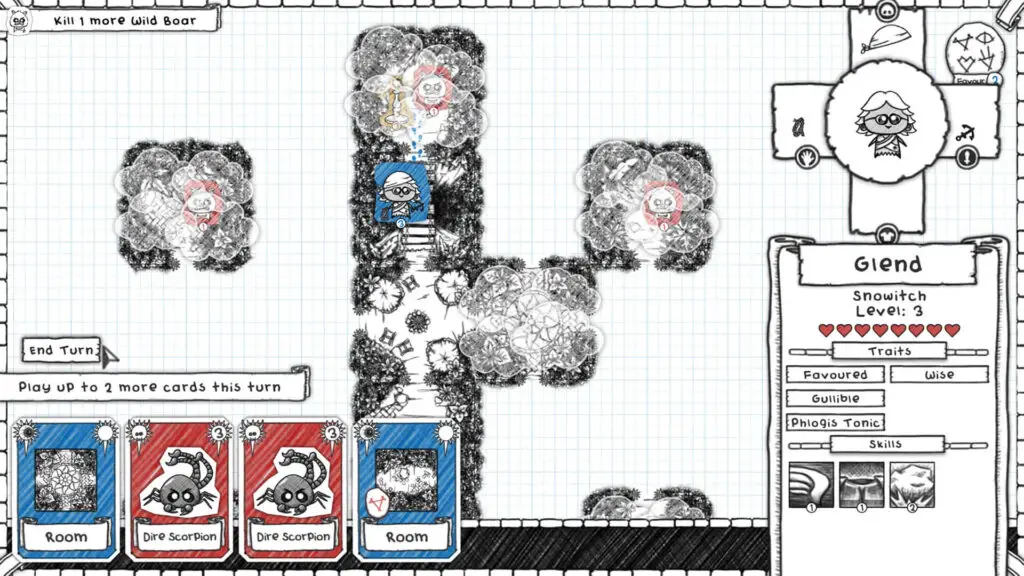 Enter the world of Guild of Dungeoneering Ultimate Edition, a unique twist on the classic dungeon crawler genre. Instead of controlling the hero, you get to build the dungeon around them using cards drawn from your Guild decks. Your hero will then make their own decisions on which path to take, what to fight, and where to go. But be warned, the deepest dungeons will not be easy to conquer, and your hero must be strong enough to take them on. Between dungeon runs, you'll manage your Guild, adding new rooms to attract more adventurers and expand your decks of cards with powerful items.
The Ultimate Edition includes all content from Pirates Cove and Ice Cream Headaches, along with new classes, monsters, quests, and loot-filled chests. You can also customize your dungeoneers with dozens of new hairstyles and accessories, as well as new victory traits to help them survive longer in the perilous dungeons you create.
With improved game mechanics and complete rebalancing, sending your Chumps to their doom has never been more enjoyable. And with new writing, animations, music, and sound effects, the dungeons and Guild come to life in ways you've never seen before. But watch out for the bard and his snarky remarks!
Queen's Wish 2: The Tormentor
Welcome to Queen's Wish 2: The Tormentor, a thrilling epic fantasy adventure that puts you in the shoes of a child of the dread Queen of Haven. Your luxurious life has been taken away from you as your mother is gravely ill, and you are forced to travel to the brutal Rokaj, a land of constant rebellion and violence.
Deal with misbehaving vassals using diplomacy, bribery, or violence, and build new forts and customize them to gain powerful bonuses. With over 50 hours of gameplay, an open-ended story, and more than 100 quests, there is no shortage of adventure to be had in Queen's Wish 2.
Experience suspenseful tactical combat by selecting from sixty different abilities and rebuilding your warriors to face the rapidly changing foes. Gain strength with a unique fortress system, and explore the enormous outdoors and a huge variety of dungeons and enemy fortresses to find hundreds of magical artifacts. Whether you are a seasoned fan of Spiderweb Software adventures or new to the genre, Queen's Wish 2: The Tormentor promises an unforgettable journey filled with fascinating and unique worlds.
Warriors: Rise to Glory
Welcome, adventurer, to the Indiekingdom! In this world, only the bravest warriors can survive. Join the arena and create a powerful bloodline of fighters who will battle to the death for honor and glory. Every fallen warrior will make your bloodline stronger, as you collect loot and harvest the souls of your defeated enemies.
But be careful, death is permanent, and your choices will decide the fate of your opponents. Will you show mercy or vengeance? Make tactical decisions in intense turn-based battles and team up with friends to challenge the mightiest bosses of the Indiekingdom. Upgrade your warriors' weapons, armor, and appearance to create a unique fighting style. Rise to glory and become the most honored or brutal bloodline in the Indiekingdom!
Prime of Flames
In Prime of Flames, you will lead a group of powerful warriors from different clans as you explore the vast and treacherous Wilderness. With each clan offering its own distinct playstyle, you will need to strategize and adapt to overcome the dangers that lie ahead.
As you venture forth, you will encounter all manner of foes, from demons and ghosts to orcs and witches. But fear not, you can recruit a beast army or construct powerful magical defenses to aid you in battle. Each encounter is unique, and your creativity is your greatest weapon.
With over a hundred characters to choose from, each with their own twist on class playstyle, the possibilities for customization are endless. And with turn-based combat that's easy to pick up, anyone can enjoy the thrill of strategizing and outsmarting their enemies. Choose your clan, gather your warriors, and let the adventure begin.
Lost In Fantaland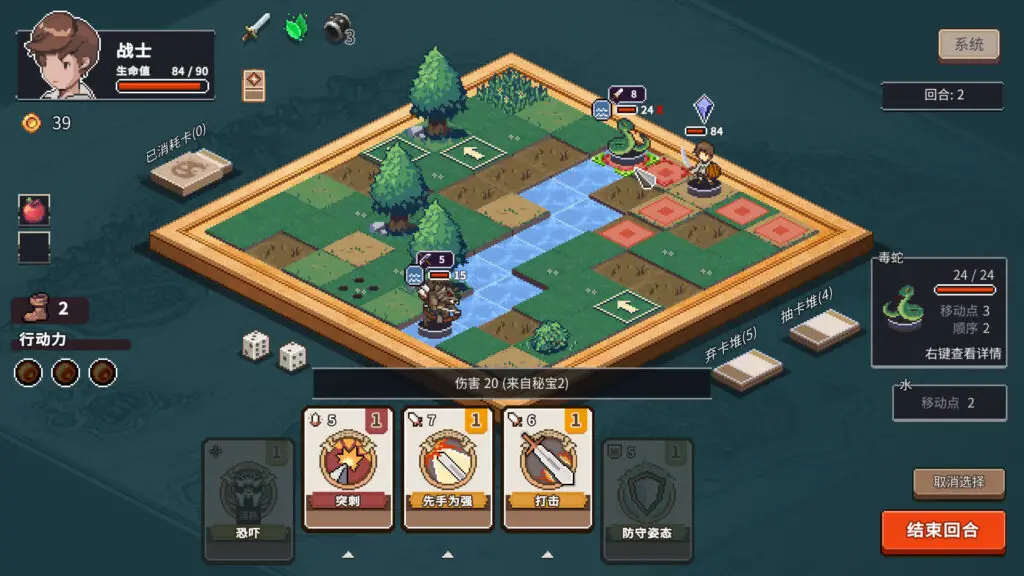 Welcome to the world of Lost in Fantaland, a retro-style roguelite game that brings together the best of deckbuilding and turn-based strategy. With its charming pixel art and addictive gameplay, this game will surely keep you coming back for more.
Choose your character from three unique classes – the Warrior, the Mage, or the Deceiver – and embark on an epic adventure through a randomly generated world. Each adventure is different, offering fresh challenges and surprises with every playthrough. As you journey through this fantastical land, you will collect powerful cards and items to build your deck and hone your strategy. With creative card combinations and unexpected surprises, no two battles will ever be the same.
But be warned – the enemies you face will be tough, and victory will require skill, strategy, and a little bit of luck. But with persistent upgrades and carryover between runs, each defeat is just another step towards ultimate victory.
OneBit Adventure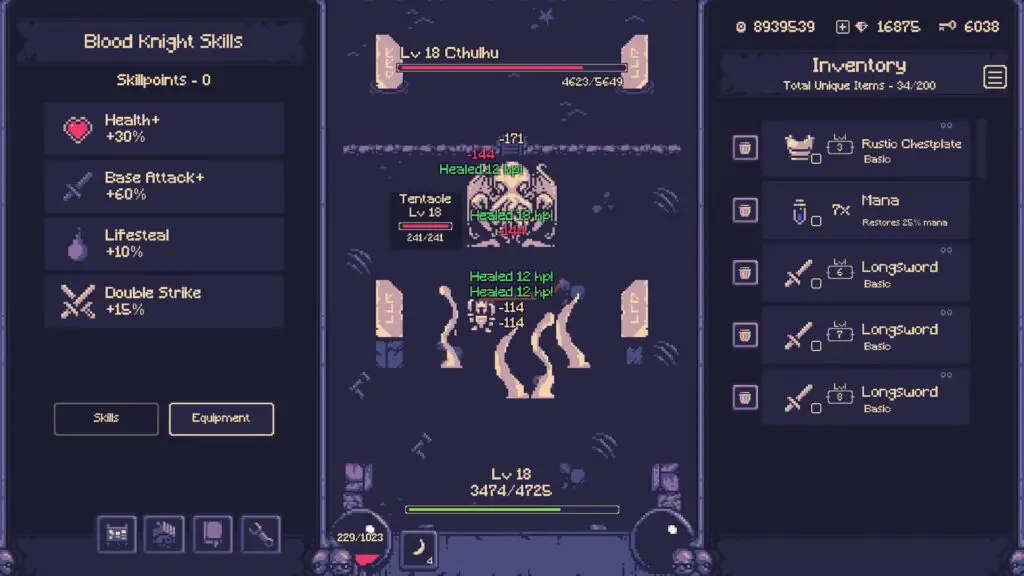 Embark on an endless adventure in OneBit Adventure, a casual 8-bit roguelike game that gets progressively more challenging as you journey further. Choose from 7 unique classes, level up, and collect loot to survive against tough monsters and bosses. Every adventure is unique with infinite world generation, 4+ dungeons, and 40+ monsters to battle.
Unlock themes and compete on the worldwide leaderboard with cross-platform compatibility on Android, iOS, and Steam. Whether you prefer the permadeath experience of hardcore mode or the classic mode with resurrection, OneBit Adventure is a relaxing and fun game for all skill levels.
Nadir: A Grimdark Deckbuilder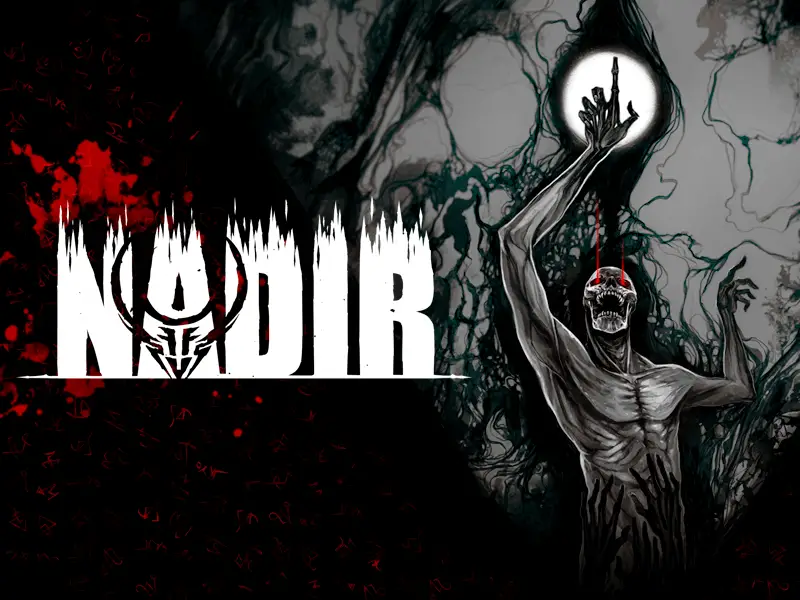 Explore the depths of Hell in Nadir, a dark and twisted deck-building rogue-like adventure. Drawing inspiration from Dante's Divine Comedy, Sin City, and Hellboy, Nadir immerses you in an infernal world of demons and sin. Choose your avatar of one of the Seven Deadly Sins and engage in 1v1 battles against powerful demons using your customized deck of double cards.
Craft your cards by combining red and blue abilities, and balance them strategically in battle to gain an advantage. But be careful, every action you take charges the abilities of your enemies. Collect resources to expand your underworld kingdom and unlock new characters, cards, and vendors as you journey through Hell.
Nadir offers a fresh take on the deck-building genre with its double cards and Sin-inspired gameplay. With stunning artwork burning of infernal fire and a soundtrack to match, Nadir immerses you in a dark and unforgettable world.