It is interesting to see games contaminating each other, even across different genres. At times, it feels an equivalent of a cinematic universe. Like "What if someone makes a turn-based RPG but with DOOM?" But that's a different game. Instead, how about a 90s FPS-like narrative but with turn-based action and RPG elements? Well, this is what Jupiter Hell is here to give us. Let's rip and tear through it.
I'M ALL OUT OF GUM
The developers sell the game as "Chess with shotguns". Not a bad description all considered, though they forgot to bring hell into the picture. Here it's the usual "abandoned space-station swarming with demons", familiar to anyone who's played a Doom title before. At the start of each run, we get to choose between classes like Marine or Scout, with only slight differences in abilities, leading to somewhat different play styles.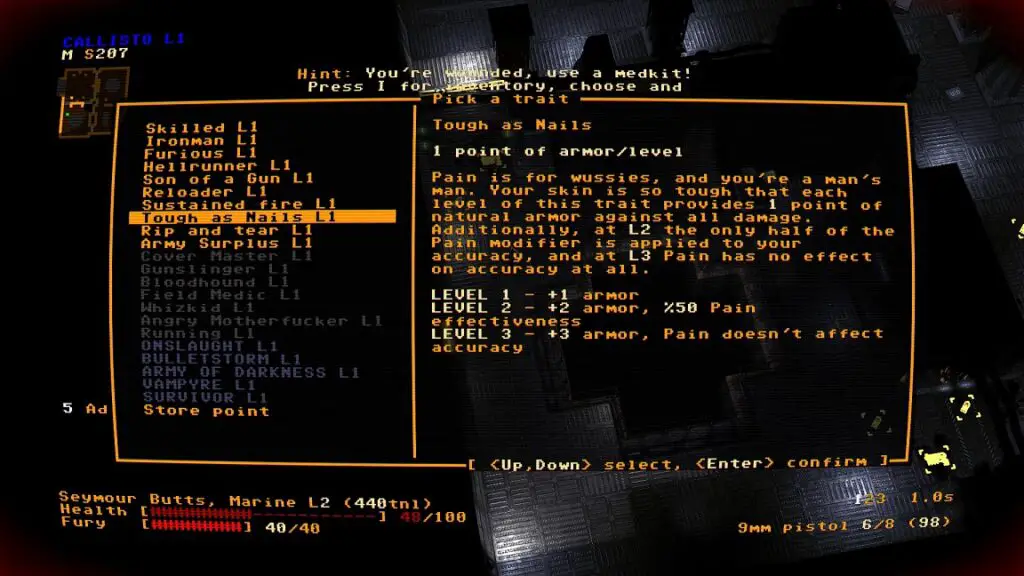 For what it says on the cover, Jupiter Hell does fine: recreating the Doom atmosphere of a run-and-gun shooter in a roguelike turn-based action game. Kill the enemies, gather the items, reach the elevator. Movement is possible in the cardinal directions, with simulated diagonals, requiring two turns. Weapons are easy to find, salvaged from dead enemies. They range from regular pistols to rifles and grenade launchers, as well as some melee variants.
While one can find some unique items here and there, the enemies mostly drop the same loot: ammo and weapons. Other useful things, like multitools, lie in special boxes, scattered throughout the levels. Terminals also play a role, quite like in the eternally underrated Doom 3. Though here, they don't just provide story bits. Instead, the player can use these, via said multitools, to deactivate security drones or show parts of the map.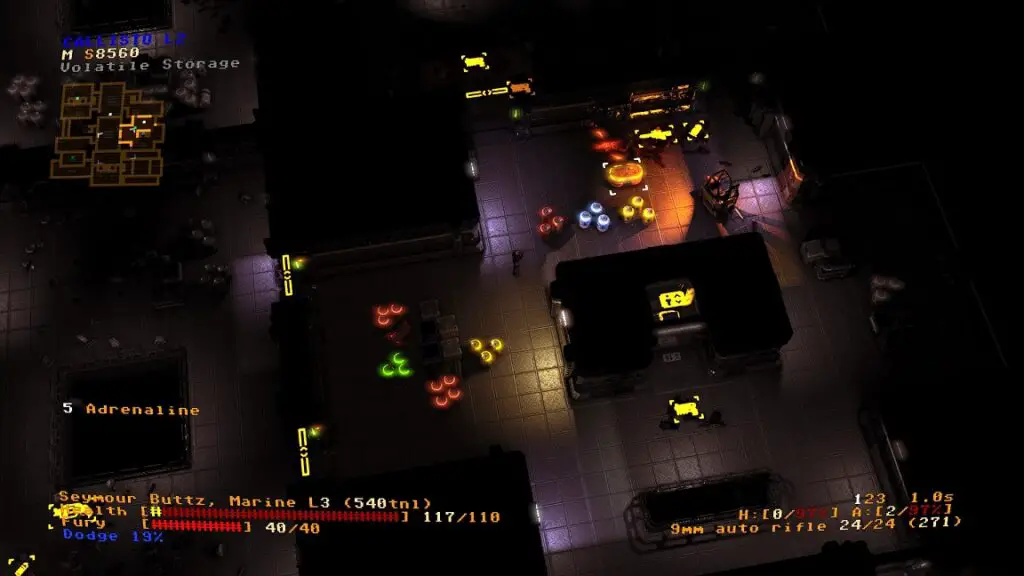 The interface can be entirely hit-and-miss. Personally, I love its incredible 80s faux CRT feel, but unfortunately, it's not very intuitive. Sometimes, just figuring out some weapon's damage may take a while. Sure, one could say it hearkens back to that authentic Rogue experience, but it'll probably just turn off those looking for that action the game still provides.
GIVE ME SOME TURN BASED BABY
Jupiter Hell has been in development for several years at this point. It's somewhat surprising since the game did not really feel like that to me. Sure, the amount of content is fine. Still, for a product that spent so much time in Early Access, one would expect something beyond its three classes and the same gameplay repeated ad nauseam with just different maps. While there are many variables, allowing for some replayability, the core of Jupiter Hell is always the same: kill demons, survive.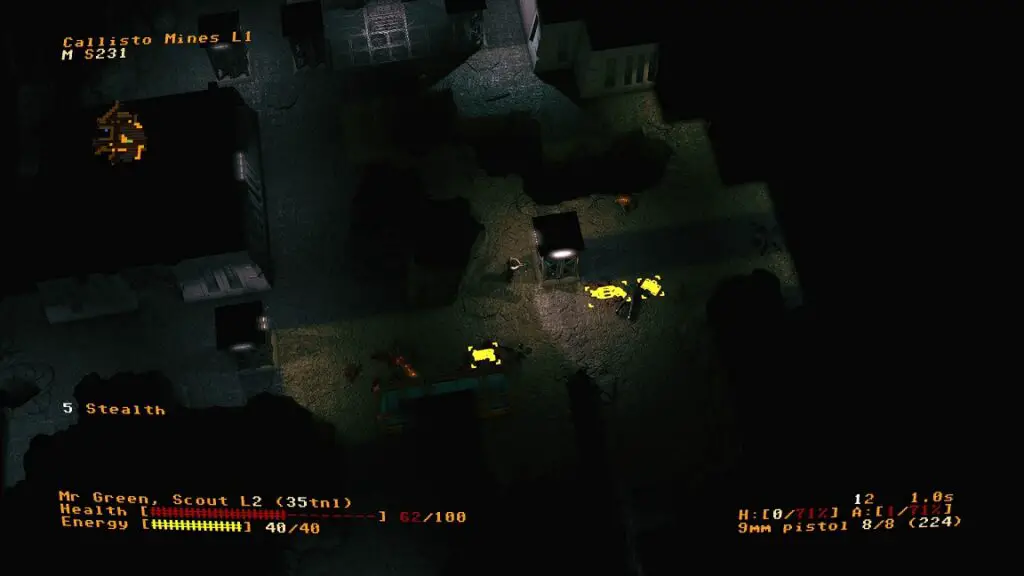 The RPG elements come into play mostly when levelling up. That's when the player's asked to decide whether to make a character who'll rely more on some weapon or a higher armor class. While there is some variety, the choices are still quite limited.
Enemies constantly move around the level and are alerted by sound, soon coming to hunt down the player wherever they are. The cover system works fine, but using doors for this is quite cumbersome. They work completely automatically. Although the player can destroy them by shooting, this will just summon more enemies. As such, they can't be employed in any strategic way.
COME GET SOME, GO LEAVE SOME
Here is the rub. The game wants to feel and play like Doom, while still being entirely developed from the ground up as an ASCII roguelike. This unfortunately leads to some problems in balancing the two different souls: the rip-and-tear with the strategic planning. It doesn't feel as carefree as classics such as Take No Prisoners, but at the same time it cannot be played like an X-Com. The combat mostly involves walking around, waiting for the enemies to show up, running back to cover, and gunning them down. There doesn't seem to be any more working strategies, other than that.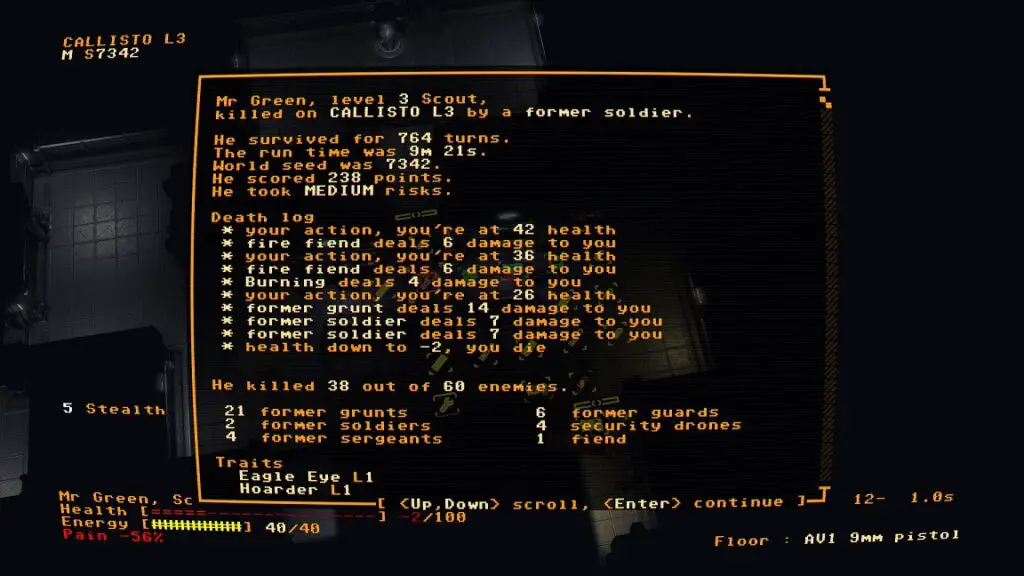 The times I have died, with quite a powerful character, were either because I walked into a group of 4-5 enemies without a decent cover, or a long corridor with no way of backtracking. After a few hours of playing, Jupiter Hell gets completely repetitive. Unless one is really a fan of ID Software or of foul-mouthed protagonists taken directly from the 90s. Speaking of that, at the start, the player must decide how much profanity will our character say. The weird thing is that even during long sessions, he seems to barely say anything.
Graphically, the game looks alright. Though with such a zoomed-out view, it's almost impossible to make out the finer details. Thus, it all ends up looking a bit bland with its repetitive depiction of enemies and bases. I'd comment more on textures and enemies' design, but zooming in any closer than the default results in losing sight of most enemies. There's also no way to change it in real-time. The soundtrack is all chugging hard rock and metal, perfect for the Doom atmosphere. Though, again, it also seems to somehow end up contributing to the overall feeling that Jupiter Hell is a bit generic and bland.