Sid Meier's Alpha Centauri is a turn-based 4X strategy. You colonize an alien planet orbiting around Alpha Centauri, the closest star system to our Sun. This game was released in 1999 as sort of a sequel or a spin-off or spiritual successor to the famous Sid Meier's Civilization series. Officially, a connection was never confirmed, but everyone who played Civilization knows that for a "scientific victory" you have to build a spaceship and fly it to Alpha Centauri. You don't need to be a genius to connect the dots.
Of course, upon achieving scientific victory in Civilization you can have the world in all sorts of different situations. However, in Sid Meier's Alpha Centauri (or SMAC) backstory unambiguously says that upon Unity's (that's what the spaceship is called) departure Earth was in very poor condition. Pollution, wars, and exhaustion of resources. And during the journey, things had hardly improved.
What is even worse, short before arrival Unity's captain was assassinated, and the crew split into factions. The ship itself has broken into many pieces that fell on the planet. Thus most resources and technologies were scattered at random locations.
Yet, leaders of the seven most powerful factions managed to get their hands on colonization pods. And now, after landing on the planet, they'll have to survive. Armed with nothing more but basic technologies, a bare minimum of personnel, and unshaken belief in their ideals.
A New Kind Of Civilization
The core gameplay of SMAC is the same as in Civilization. You have colony bases instead of cities, energy instead of gold (in fact, it's even produced by commerce), Secret Projects replace World Wonders, and alien lifeforms play the role of barbarians. Even most technologies and improvements are completely analogous to ones from the Civ series.
However, the devs attached quite a few ideas and improvements to the Civilization core. The most notable of them is the full customization of units. Essentially, you have a "workshop" that allows you to construct anything with equipment or weapon, shields, chassis, and two special abilities of your choice. Provided you have the technology for each component, including the reactor, which determines the unit's health.
Yes, units in Alpha Centauri have "hit points," just like in later Civ games. And also, like in later games, units receive experience and raise their morale (level). Attack/defense characteristics and morale determine the average damage ratio. This means that if you're extremely unlucky, your powerful unit can suffer significant damage but not outright die at the dice roll against some puny scout.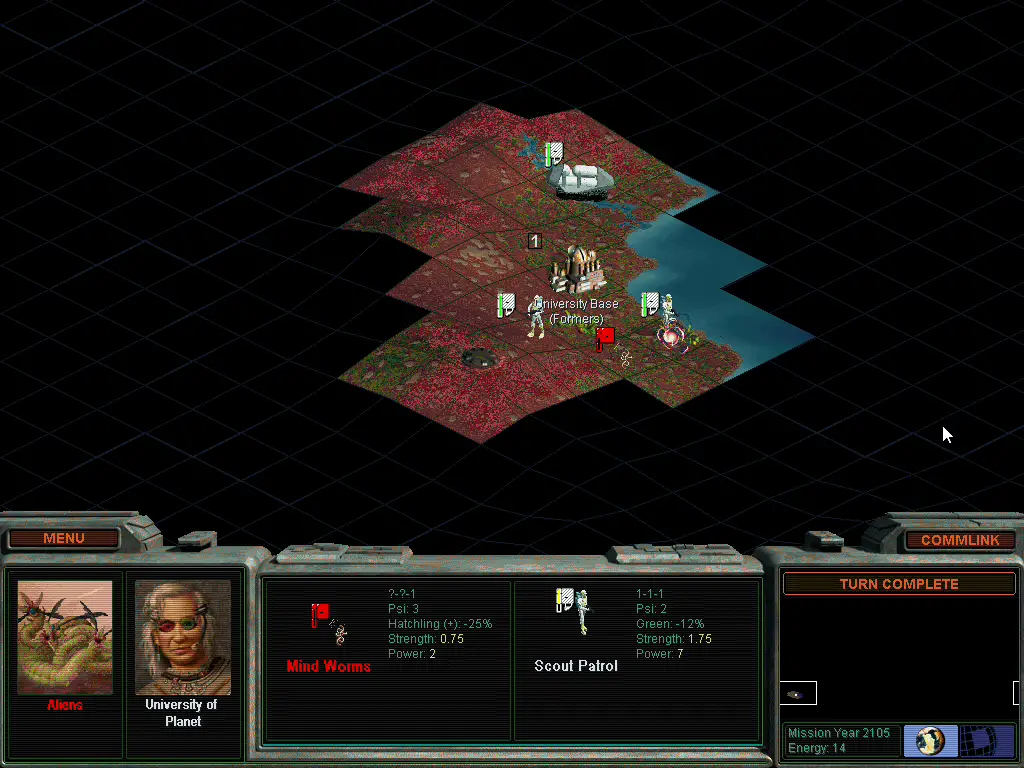 The native life, as well as mysterious monoliths, actually play an important role in the story. Through certain research, you can reveal how ancient aliens used the whole planet to facilitate their plans to reach a new level of existence. And one of the "victories" is to become part of the alien experiment.
Series of Interesting decisions
In general, SMAC always offers several solutions for any given problem. For example, when your citizen riot, you can do all the things you could in Civ – divert energy to improve life quality, build facilities for recreation, use military units as police, and make some citizens doctors to keep others in check. But also, you can resort to "Nerve stapling" which will deal with riot for free but lower your reputation for committing such an atrocity. And there are projects/wonders that deal with the issue too.
The government system is more flexible. You can choose separately your political system (democracy, police state, fundamentalism, frontier), economic system (free market, planned, green, simple), and social values (survival, wealth, knowledge, power). All social changes require certain research, and in the late game, you can even develop new types of social engineering (cybernetic, eudaimonic, and thought control) that have their own pros and cons.
A Former unit is a precursor to workers in later Civs, able to build various improvements on terrain to increase production or provide combat bonuses. But SMAC also added options for actual terraforming – like raising or lowering terrain. Tile altitude affects energy production and combat modifiers, and if you want, you can even raise the seafloor to create additional dry land or vice versa.
Interaction with the planet, in general, became more complex and important. Using weapons of mass destruction doesn't just pollute the area, it creates actual craters. Pollution itself, if unattended long enough, leads to the entire sea level rising. And both also lead to the planet's native life becoming more aggressive. However, if you try to care for the planet, it will respond in kind. You'll even be able to have "natives" as your units.
Back in 1999
Obviously, the graphics in SMAC is quite dated. And in addition, many actions aren't accompanied by flashy effects. Even exotic "alien lifeforms" are represented only by a few generic types. Mostly by mind worms that look like just a bunch of messy pixels. And there isn't much animation for the units in general.
These kinds of visuals actually even create gameplay problems. One time during the enemy turn, some units appeared near my base. Then there was an explosion, and a message that said, "equipment is destroyed". And when it was my turn, I had a hard time figuring out what had happened. Maybe if the "action log" wasn't limited to a single turn… But there is no such thing among numerous interface options.
But probably the biggest obstacle for a new player would be the controls. Numerous menus, issuing movement commands by dragging a mouse from the unit to the designated target instead of a click.
On the plus side, however, is that due to being a "product of its time" SMAC doesn't shy away from hard and complex topics, such as moral relativity, individual vs collective needs, the definition of humanity and even tackling the meaning of life itself. Yes, I understand that what I said sounds strange with all the talk about how "games evolved" to feature more complex topics and characters. But the problem is that modern "deeply philosophical" media usually depicts such topics in a very one-sided fashion. Corporate greed – is bad, a community where everyone is equal – good, pushing for change – is good, clinging to traditions – bad.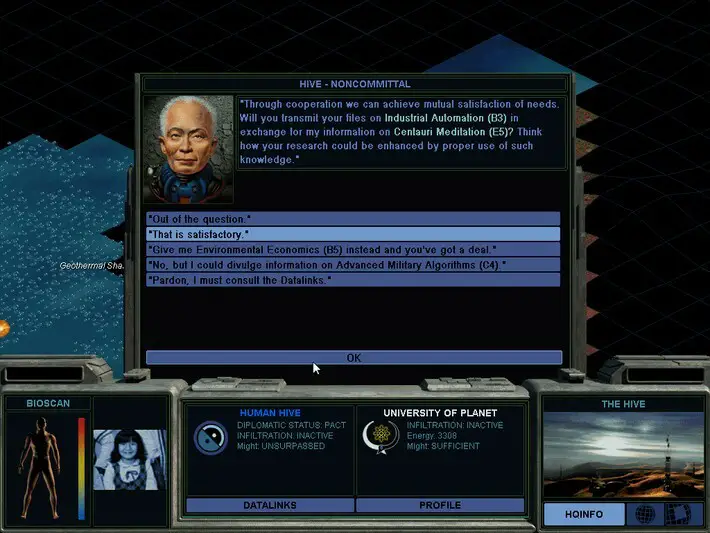 That's not the case for SMAC factions. As each of them has pros and cons, even their ideology may not be what you call appealing.
Meet the Factions
At the start of the review, I said that each faction is "armed" with its beliefs and ideals. And that wasn't just a metaphor. Each faction has a distinct set of morals and values, and their gameplay characteristics and abilities are tied to those. Morgan Industries, for example, is a profit-oriented corporation, that excels in energy production, especially through trade. But people there have an inherent taste for luxury, so the population wouldn't grow as much as others, and their army has a greater maintenance cost.
Spartans, on the other hand, are all military. Their units even start at a higher rank. And they don't need to spend extra resources while building the first unit of a newly invented type (for other factions "prototypes" cost 50% more). However, their industrial production, in general, isn't as efficient as others.
Gaia's Stepdaughters live in harmony with a planet and thus have a better chance to get native lifeforms on their side. Yet, their way of life makes their military weaker. They even can't have a free market economy because the government must oversee everyone, not doing ecological damage.
Actually, for most factions, there is at least one type of economy, politics, or values that is incompatible with their beliefs. And speaking of Believers – that's one of the factions that is highly religious. As expected, they have penalties in science development, but they are also fiercer fighters, and their infiltration teams fare better.
The University of Planet is the opposite. Huge research bonus but eggheads are less happy with their life and worse at infiltrating. And so on. Distinctions are significant enough to choose a different strategy and even strive for a different type of ending.
In addition to gameplay differences, each faction has its own backstory with a charismatic leader, whose quotes will even better highlight their principles and motives. And even the most unsavory ideologies, such as Hive are shown to have valid points in their philosophies, while even "enlightened" factions have flaws.
Past the Test of Time
There is indeed a reason why people still remember Sid Meier's Alpha Centaury and still enjoy playing it. Despite the interface and controls that players have to spend much time studying, the core gameplay, vast customization options, as well as a large amount of lore and immersive atmosphere of mastering survival on another planet, make playing this game truly engaging and, even today still a largely unique experience.
The closest game to SMAC as of now is Civilization: Beyond Earth. And despite a more comfortable interface and way, way better visuals, it lacks SMAC's depth and complexity. Interactions with the planet in a new Firaxis game no longer make native life a character in its story. And even the faction leaders in Beyond Earth lack charisma and memorable traits.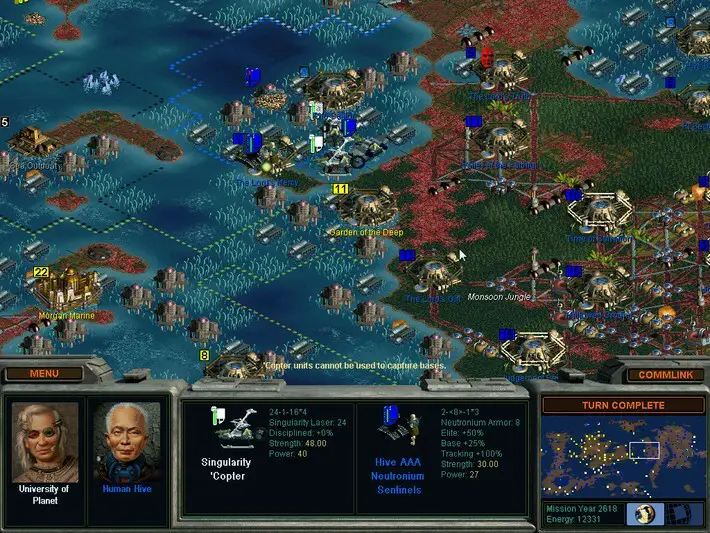 Also funny, how while I'm writing this review, Avatar: The Way of Water is released in theaters and is criticized for its cliché and generic story. While the 20-year-old game offers not one but seven (or more if you count factions from Alien Crossfire expansion) deep and complex perspectives on alien planet colonization and humanity's way of life. Just food for thought.