Ciao a tutti. Welcome to a new episode of Keep An Eye On It. The one and only poor English-written column dedicated to upcoming turn-based RPGs & Strategy games. Usually, here I also take the opportunity to tell you some news about the blog and the youtube channel.
As for turnbasedlovers.com we are constantly looking for videogamers and writing enthusiasts to try games and talk about them through the pages of our blog. If you are interested you can contact me personally via email [email protected], or on Twitter … it is a paid opportunity of course!! 🙂 As for the youtube channel, we are back on track with new videos, streams, and the renewed Members program for those who have the possibility and pleasure in supporting the turnbasedlovers project.
But let's get to the games of the week, as usual, 10 really interesting and very original RPGs & Strategy Games. All of them are Indie and among these, some, are really remarkable Free To Play. Let's begin
Dead Grid
Let's start this episode with Dead Grid by Atom Void. A group of mercenaries wandering around a post-apocalyptic world full of zombies and other menaces. Cards combat mechanics, with tons of upgrades and consumables for our survival.
Key Features
Immersive Card Combat – Every card in play is a 3D view of the combat environment.
Mercenary Squad – Recruit and gear up your squad of mercenaries, each voice-acted with their own unique personality.
Unlock Skills – Level up and unlock abilities to discover powerful combos. Every skill has its own progression, and unlimited respecs means unlimited experimentation!
Randomized Loot – Collect and upgrade hundreds of randomly dropped weapons and items, then pick the right gear for your style and strategy.
Unlimited Progression – Discover new contacts who offer a wide variety of challenging missions. Missions can be repeated at greater difficulty for more rewards and squad experience.
On Steam with no release date yet.
Ancient Gods
A deckbuilding and a gacha game fused together, this is Ancient Gods by Hexpion. We must gather gold to unlock new gods from different cultures, and mixed them with our cards. A solid card battle mechanics with events to face.
Key Features
Mild strategic turn-based card battle
40 characters, more than 100 cards to collect
Random events
Campaign mode with many rewards
Endless mode with the unlimited challenge
Ancient Gods is expected for October 2021 on Steam and you can also play the free demo.
Three Kingdom: The Journey
The famous Chinese historical period that is the background to the equally famous series of strategic video games sees in this Three Kingdom: The Journey by Senmu Studio, an all-roguelite card game spin-off. All our choices count, and we must take a lot of them. New allies, new enemies, and different events and items to unlock at each run.
Key Features
100+ Cards.
20+ Equipments.
60+ Enemies.
20+ Evenets.
9 different type of territories.
3 Level of Journey.
On Steam with no release date yet.
Spirit of Europe – Origins
Something different and… educational. Spirit of Europe – Origins by Predict Edumedia will bring us to ancient Greece and then get up to the 12th century European Renaissance. Not only in the physical world but also in the realm of spirits. We must take possession of historical figures and complete quests and fight demons in classic turn-based JRPG combats.
Key Features
Educational content;
Two realms: the spirit realm and the material one;
Possession system, allowing you to take control of any NPC;
Economy and building system used to upgrade and recruit units;
Disciples II inspired, tactical turn-based combat;
A deeply philosophical, fictional story-line involving gods, virtues, vices, concepts and thoughts, manifested as spirits;
Over 8 hours of gameplay;
58 combat units with over 50 unique abilities;
Hundreds of characters and spirits to interact with, from ancient Greece to the 12th century European Renaissance.
Spirit of Europe – Origins is a free-to-play game expected during September on Steam.
Rising Spire
What I'm really excited about Rising Spire by LFB Studios is the absence of a Quest Log, we are free to go around and take on quests we want. The game takes inspiration from Final Fantasy by presenting classic turn-based combat mechanics and Persona for the interaction with the other characters. Spending time with them will unlock new locations, items, and events.
Key Features
Trudge through dangers as you explore new lands: From forests to swamps and deserts, brave the dangers of each region, chat up the locals, take a walk through the wilderness and seek its knowledge
Master powerful weapons in turn based combat: Find new weapons or earn them along the way – use them to slay your enemies in a classic combat system inspired by the JRPGs of the '90s
Create strong bonds with new characters as you learn their stories: Spending time with those around you, listening to them and helping them out will not simply deepen your relationship, but it may also grant you access to new locations, useful items or even a much needed ally in battle.
The RPG without a quest log: Adventure is about exploration and defining your own path, not checklists! Trade in your old musky quest log for an immersive journal focused story progression system.
A prologue version is already available on Steam.
Untamed Isles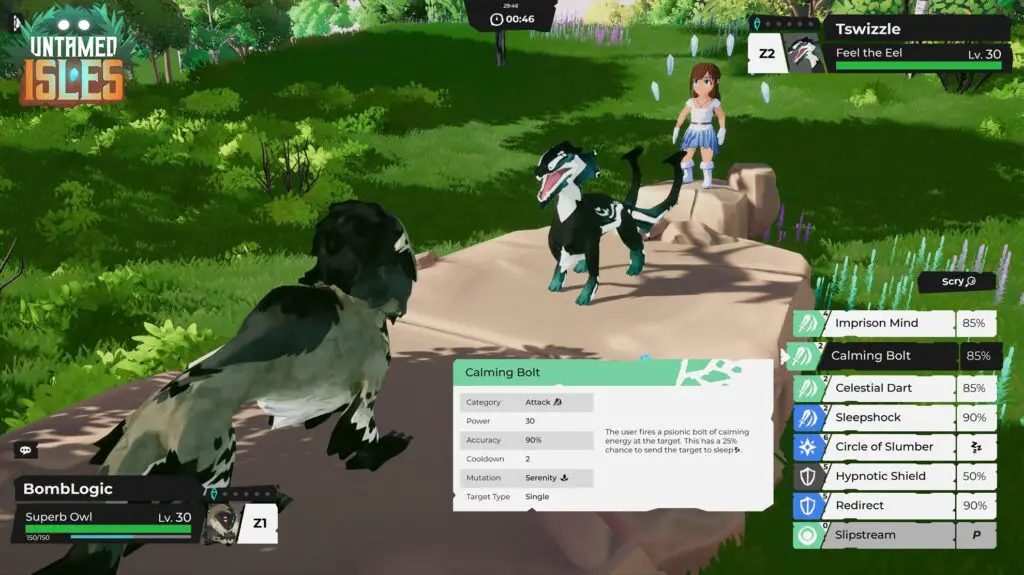 We have assisted to a lot of gacha games lately, and Untamed Isles by Phat Loot Studios is exactly this but placed in a big online open world where you can fight, trade, and complete quests by interacting with other players around the world.
Key Features
Weekly and seasonal PvP events, 1v1, 2v2, and 3v3 events and ladders
Dungeon and raids
Guilds
Fishing
Bug hunting
Rune farming
Berry and fruit farming
Proximity voice chat
Achievement and titles system
Staking arena
Cryptocurrency Integration
Daily/weekly booster pack quests
The Kickstarter campaign is underway while the game is expected for December 2021 on PC.
Hex of the Lich
Hex of the Lich by Clobster Games is a stylish pixelous hex turn-based tactics game. We must customize our modular attacks and try to resolve each map till with meet the Lich, carnivorous plants, eldritch horrors, and stylish blobs await us in the middle.
Key Features
Pseudo-random runs
Modular, customizable attacks
Attack crafting built for synergy
5+ playable classes
Challenging, replayable gameplay
With an already free-to-play demo, Hex of the Lich is expected for early 2022 on Steam.
Hero's Hour
Hero's Hour by Benjamin "ThingOnItsOwn" Hauer is a one-of-a-kind turn-based strategy game inspired by Heroes of Might and Magic. While exploring the world, recruit units and develop your town, the game is turn-based but when you engage in battles, Hero's Hour features a real-time battle system. Lots of factions and hero classes to choose from.
Key Features
10 factions with special mechanics, strengths and weaknesses
20 hero classes, with a special skill each
36 common hero skills
134units (without counting upgrades)
70 unique unit abilities
145 artifacts
75 spells & abilities
Dozens of impactful map buildings
Local "hotseat" multiplayer
Co-op with other players or even with the AI
Expected during 2021 on Steam.
Tribal
Only a teaser trailer is available for now for Tribal by Weecodelab B.V but looking at the Steam page images, I'm excited enough. The game features simultaneous planning of actions battle system, to help speed up the multiplayer mode. Tribal features Slavic mythology and a story inspired by Game of thrones.
Key Features
The game's lore is inspired by George R.R. Martin's "Game of Thrones" series. Events take place in a rather unusual Slavic-like environment, enriched with Slavic mythology, folk tales, traditions and real historical events.
Tactical gameplay, where players plan actions of all their characters simultaneously, while the world is taking turns during the combat. No need to wait for all your friends and enemies, while they're taking their turns.
Co-op mode available. Play together with friends.
Instance based open world with event-driven gameplay, where your choices do matter.
Unique art style in isometric perspective, aimed to re-create and improve the style of isometric games from the 90s.
It will be a Free to play game but we must wait because there's no release date. On Steam
Sandwalkers
A new game from Legend of Keepers developers. We are talking about Sandwalkers by Goblinz Studios. We leave the dark and gloomy dungeons of Legend of Keepers to lead a caravan in the desert, to fulfill an important mission, to plant trees, form shelters, and resurrect the Mother Tree Umama. Tame hostile creatures, rescue refugees, seek allies, and progress by passing on your knowledge to a new caravan.
Key Features
Guide a caravan of adventurers through ever-changing landscapes.
Fight and survive in the face of acid rain, sandstorms and heat waves.
Tame hostile creatures, rescue refugees, seek allies for mutual aid, or follow the blood path and loot everything you can.
Seek rich arable soil to plant a new tree city for your people.
Progress by passing on your knowledge to a new caravan.
Repair the broken climate, and put an end to centuries of wandering.
Sandwalkers is a PC game with no release date yet. On Steam
This episode ends here, let me know what you think about the 10 Upcoming Indie Turn-Based RPGs & Strategy Games showed here, I'm really curious to know what you think about them.