The start of the last week saw the end of the TurnBasedFest. A great festival dedicated exclusively to turn-based games with announcements, demos, and deals. If you missed the event, I prepared an article and a video with the Top 20 of the most promising upcoming games featured during the event. Saying this, let's see everything that happened in the turn-based RPG and Strategy Games world last week.
Top news and announcements of the last week
One of the week's most interesting news was the announcement of a brand-new Tactical RPG called Redemption Reapers. A turn-based tactical RPG set in a dark fantasy world featuring a mature story and fully voiced cutscenes. Directed by Masayuki Horikawa, who previously worked on Fire Emblem Series, the game puts players in control of The Ashen Hawk Brigade, which is the last resistance against the Mort, deadly night armies. Redemption Reapers is due out on February 2023 on PC via Steam, Nintendo Switch and PS4. Check the news.
Another cool announcement was Full Gear by indie solo dev Dieuwt. A traditional roguelike game where players use their Cogwheel, rotating every turn, to activate Tokens (like regeneration, guaranteed Crits, or attacking with fire)! Making Drones that can fire using their very own Tokens! over 200 items, including guns, bells, gadgets, food, and necklaces. Here the overview of Full Gear.
The Last Spell by indie dev Ishtar Games is ready to go out of early access soon. Publisher The Arcade Crew announced that the dark strategy RPG will receive the 1.0 version in Q1 2023 simultaneously on PC, Switch and Playstation. For the occasion, a new trailer showing new images and mechanics was published, and you can find it here.
The upcoming turn-based 4x-Strategy Game SpellForce: Conquest of Eo puts the first of its three archetypes in the spotlight last week, introducing the Necromancer. SpellForce: Conquest of Eo is a new turn-based chapter in the SpellForce series, and will be available for PC in 2023. It offers high replay value with epic, procedurally generated single-player campaigns, different mage archetypes, and randomly picked opponents.
Larian studios just launched Patch 9, introducing Paladin Class, a reworked reactions system, and the possibility of progressing to level 5. Baldur's Gate 3 is a PC game expected to be out of early access on August 2023. Check all the details about this massive update.
The developer Yaza Games and publisher Daedalic Entertainment just announced the release date for the Early Access version of Inkulinati set for January 31st, 2023 on Pc via Steam, GOG and Microsoft Store and also on Xbox One, Xbox Series X|S via Xbox Game Preview and Game Pass while a Nintendo Switch version will come out with the launch of the full version. A demo is available until the 21st of December 2022. Learn more about Inkulinati.
Developer WildArt and published Dear Villagers just announced Born of Bread. A colorful RPG made of fun characters and an enthralling storyline. Turn-Based battles with minigames, 2.5D graphics, and lots of side missions. Born of Bread is due out on PC via Steam in Summer 2023. Born of Bread overview.
Developer Starseeker Studio and publisher Archive Games are proud to announce their deckbuilding Roguelite Theseus Protocol. A game that offers a fractured non-linear storyline unveiled run after run and a strategy combat system where players must act accordingly to the enemies' telegraphed attacks. Theseus Protocol is expected to be released in Early Access on Pc via Steam on January 17th 2023 and eager players can access an open beta playtest on December 20th. Learn more about Theseus Protocol.
Italian developer Ambitious Games announced its tactical strategy wargame Wardudes. Inspired by PS1 classics like Worms and Hogs of War, it offers local multiplayer battles for up to 8 players inside low-poly destructible 3d maps. Wardudes is ready to use all its gunpowder when it launches in early access on PC via Steam the 23rd of December, 2022. Overview, screens and trailer.
Top Turn-Based RPG and Strategy Games releases of the week
Step into the wizarding world of Master of Magic – Out Today
The time has come to put on the wizard robe and go out to conquer the world in Master of Magic. Developed by MuHa Games and published by Slitherine, Master of Magic is a reimagining of the glorious strategy game from 90s. New spells, monsters and game mechanics await players on PC.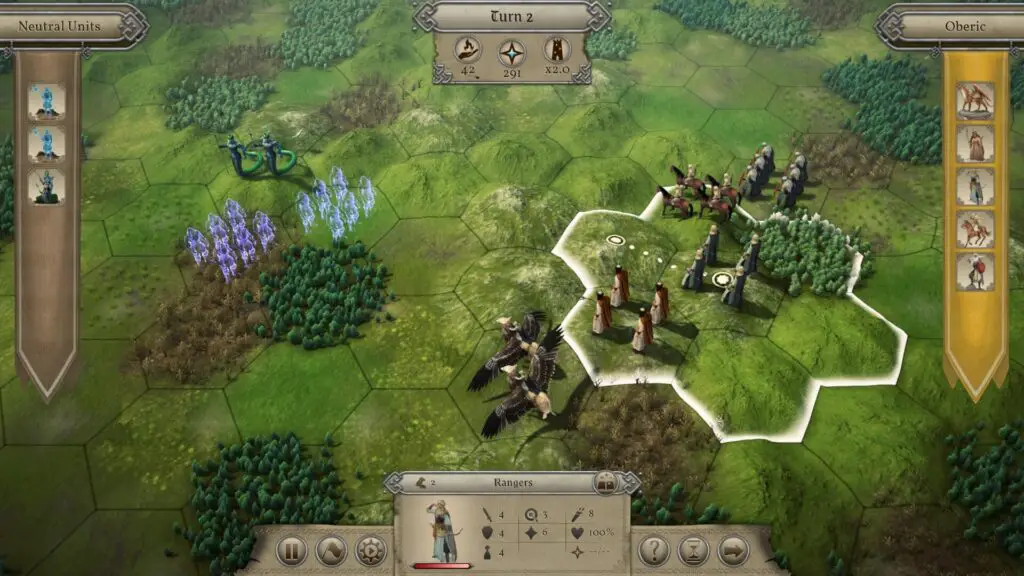 Warhammer 40,000: Battlesector and Gladius new DLCs
The new Sisters of Battle DLCs for both Warhammer 40,000 Gladius and Warhammer 40,000 Battlesector are available. Both are going to add in a new playable faction: the Sisters of Battle, the first women-only faction in Warhammer 40,000.
Tactical RPG Broken Lines Deploys on Xbox and PlayStation Today
Broken Lines, the narrative-driven tactical RPG set in the darkest hours of WWII from developer PortaPlay and publisher Blowfish Studios, escapes enemy territory and seeks salvation on PlayStation 4|5, Xbox Series X|S, and Xbox One today.
Tactical Roguelite Prime of Flames Now available
Prime of Flames is a tactical roguelite RPG developed by indie dev RAYKA STUDIO. Players guide a tribe formed by various warrior clans across maps filled with events, items, unlockables, and more. After four months of early access, the game is finally available in its full version on Steam. Overview via Steam below, screens, and my gameplay video.
Norse Mythology-Inspired Tactical Roguelite Ruadh: Warbands out of Early Access
Form your party of champions from 5 different clans and fight your way across increasingly difficult hex-based battles in Ruadh: Warbands. 8 classes, 5 clans, and 150 upgrades for players' warbands in the full version now available on Pc via Steam.
Pc Version of Co-Op Dungeon Crawler Demeo is out of Early Access
Gather your party of friends and go deep down the dungeons of Demeo. With the Reign of Madness Update, the game finally came out of Early Access too. Lots of new content has been added to the game, like a new environment, a new hero (the barbarian), new enemies, quality of life improvements, and more. You can find Demeo on Steam as PC edition or Vr Edition.