"This is the end"…
…sang the Doors a long time ago, a touching farewell to the childhood in one of their best songs.
For us this is simply a farewell to a year not so generous.
Yes, it's true, we have had many good games this year like Phoenix Point, Age of Wonders Planetfall etc. but if you go and see our list of expected games for 2019 you will find that most of them are not released yet.
But wait, let me think… this is not necessarily a bad news, because it means that the next year will be a great one for every turn-based game lovers!
Here you can find a precious and comprehensive list of what awaits us during 2020, but even without consulting it I already know that next year I will finally be able to play with Encased, Wildermyth or Stoneshard, just to name a few…
Now, having said that, let's see what awaits us just around the corner.
January will be a month full of indie releases, someone is quite famous (like Warhammer Underworlds: Online) but almost the entire of them are rather unknown.
Obviously this doesn't mean that they are of no interest to us, on the contrary. Personally one of the things that I love the most is trying unknown videogames with the hope to find the new little gem of the year!
And now, without any further delay, let's see what is going to be released!
NECRO WARS – 3rd January
The Elves have broken the pact and attacked without reason or warning. You must gather your army and push the enemy back before they pillage and burn your kingdom. You must use the terrain, fog and enemy weaknesses to your advantage in this turn-based 3D strategy game.
Key Features:
Strategize & defeat your foe: Using the terrain, fog of war and enemy unit weaknesses to your advantage you must defeat all the enemies or capture their headquarters to win the battle.
Build your army: Capture barracks', docks and skyports to create ally units and strengthen your army.
Command your forces: As you progress you'll unlock unique commanding officers each of which have their own unique unit abilities and passive powers. Utilizing each of them and their unique talents is vital to victory.
Very soon on Steam!
REVERSIQUEST2 – 7th January
ReversiQuest2 is a single-player tactical JRPG with a battle system based on Reversi.
Those good ole days of pixel art, characters, and sounds reminiscent of
video games of the mid 90's.
No need to know the previous ReversiQuest to enjoy ReversiQuest2!
●Sharpen Your Tactics!●
Stay alert! Every move drastically turns the tide of the battle!
Never give up, even on a verge of death – a victorious reversal awaits!
The strategies are infinite! Triumph over enemies with Reversi skills,
various characters, gears, or spells…the choice is yours!
●Story and Gameplay●
A young man who grew up in a remote village in Othellia Island, Nym,
saves a girl named Imogen from a monster…but how will their fate turn out?
Advance through board game-like fields full of gimmicks in a sandbox world
drawn all in quarter view and pixel art!
You can buy it on Steam.
ORANGEBLOOD – 14th January
Orangeblood is a JRPG, with a fantastic pixel art style, set in the '90 on a historic timeline different from that which we know.
You will guide four "kawaii" soldiers which couldn't care less about little photo stickers… They'd rather play with some 7.62x39mm rifles and filthy, filthy cash!
After a short delay it seems to be finally ready for the store! On Steam.
THE ALLIANCE ALIVE "HD Remastered" – 16th January
The Alliance Alive HD Remastered marks the glorious rebirth of the acclaimed RPG brought to you by FURYU Corporation. Uniting the talents of writer Yoshitaka Murayama, designer Kyouji Koizumi, art director Masayo Asano, and composer Masashi Hamauzu, this epic adventure comes to life with innovative gameplay on a backdrop of vibrant visuals and a classic tale. Players can develop their party's skills through combat-based character progression, immerse themselves in the game's lush world via dynamic vehicle-centric exploration, and form alliances with various guilds and factions. Venture further into the world to discover new vehicles to traverse in, magic to wield, places to visit, and more to experience!
On Steam!
Spellsword Cards: DungeonTop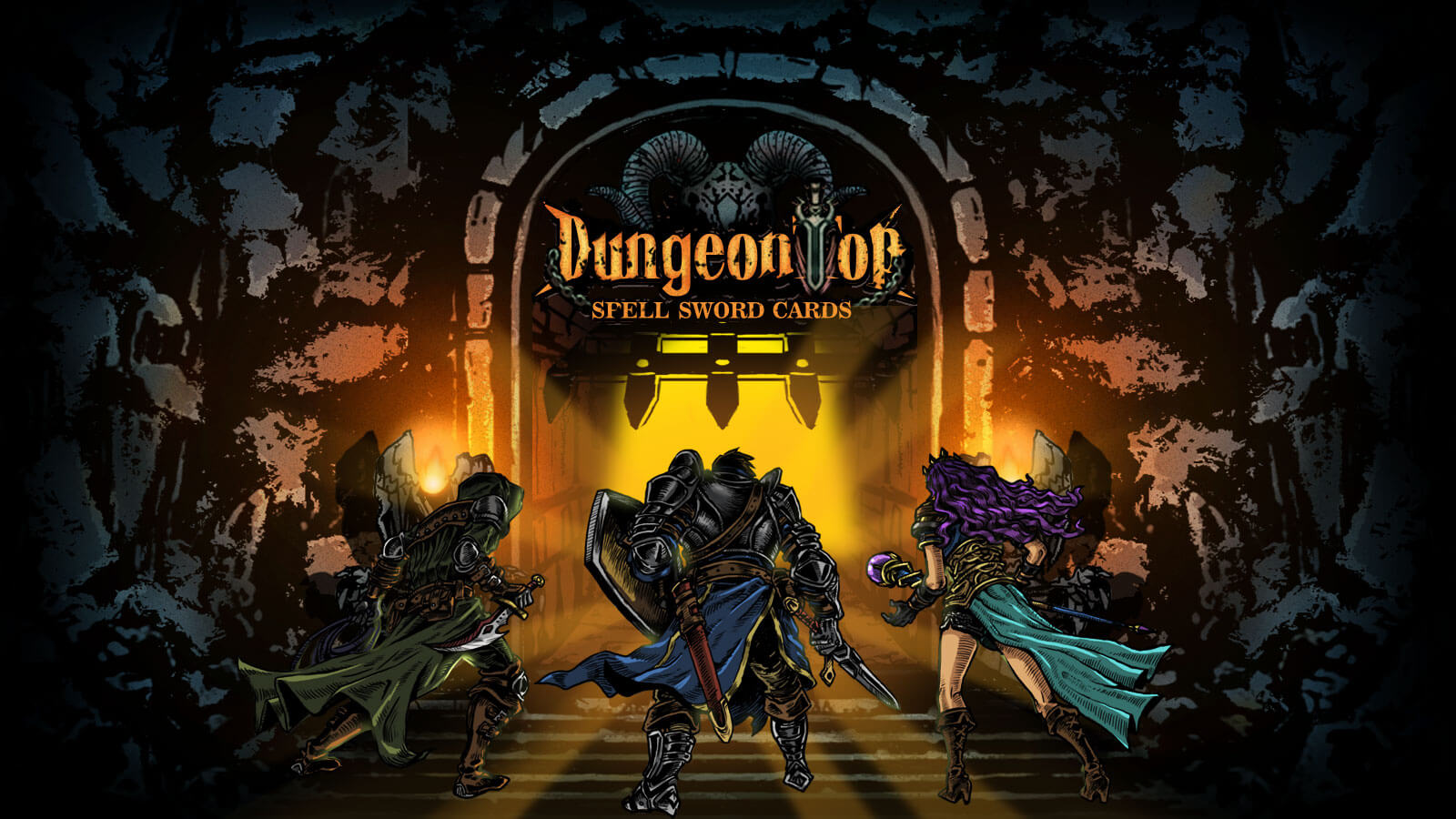 A promising indie roguelike turn-based RPG sapiently mixed with card mechanics and delightful graphic arts. Spellswords Cards: DungeonTop is a roguelike deck-building where we will have to choose a hero and explore dungeons in search of fame and treasures. A simple and robust formula with several original elements. I played the first 40 minutes of the game (at the bottom of the article the gameplay video) and now I give you a quick overview.
A LONG WAY DOWN (E.A.) – 16th January
A deck-building roguelite RPG set in a dark and tormented world. Assemble your party and use your cards to survive, fight and build your way through a dark maze of monsters orchestrated by an evil mastermind. Your choices will lead you to judgement.
The game draws inspiration from hits like Darkest Dungeon, Slay the Spire and Hand of Fate.
A Long way down is a mash-up between an RPG and a deck-building game. Embody Sam and try escaping this maze where a sneaky and evil mastermind reigns. Let your memories and your choices guide you… but don't fall into darkness.
Main Features:
Craft a deck: the cards you choose will determine how you explore the dungeon and how you defend yourself from the horrors it contains.
Fight your way through the unforgiving monster maze: great challenges await you as you go deeper into the dungeon. Use your cards and cunning, adapt your playstyle and overcome all enemies.
Gather your party: you'll meet many fellow adventurers down in the dark – will you gain allies or make enemies?
On Early Access on Steam the 16th January!
NEON DISTRICT: Season One – 27th January
F2P Cyberpunk RPG like never before. Battle through procedural and story-driven missions to collect characters, gear, juice and parts. Adapt quickly to increasingly difficult enemies and complex puzzles, master the rich trading-card game battle mechanics, and grok tactics to survive in the District.
Neon District: Season One features a full single-player campaign filled with crime syndicates, oracles, cogs, genetic mods, winding plots, and a morally-questionable cast of characters. Play through scores of missions and complete contracts to survive, and you'll find yourself falling deeper into the dark, seedy reality underlying the powers-that-be within Unity.
On Steam for free!
WARHAMMER UNDERWORLDS: ONLINE – 28th January
Lead your fighters to Glory in the ultimate dice-and-cards strategy combat video game. Warhammer Underworlds: Online pits mighty warbands against one another in an eternal battle for glory in the realms of the Age of Sigmar.
The Ultimate Competitive Strategy Game:
High-stakes, turn-based strategy.
Digital adaptation of the hit tabletop game Warhammer Underworlds from Games Workshop.
Pit mighty warbands from the Warhammer universe against one another in an eternal battle for Glory.
Easy to grasp and quick to play.
Dice-and-cards mechanics offer boundless strategic depth.
Choose a warband, build your decks, roll the dice, and carve a path to victory.
Very soon on Steam!
PHAGEBORN – 30th January
I'm not a true fan of card battle games, but I know that I'm an exception.
PHAGEBORN  is an online card game which combines rich and engaging storytelling with deep and strategic gameplay. Build powerful decks in synergy with the Avatar of your choice, obliterate your enemies and decide the fate of the universe!
Besides PvP mode, the game offers also a deep single player story mode with a vast world to explore!
You will find it on Steam!
THROUGH THE DARKEST OF TIMES – 30th January
No pranks about this game.
"Through the Darkest of Times" is set in Berlin 1933, during the nazism. You are the leader of a small resistance group in 1933's Berlin, of ordinary people, from Jews to Catholics and Communists to Patriots who simply can't stand aside. Your goal is to deal small blows to the regime – dropping leaflets to spread awareness about what the Nazis are really up to among the people, painting messages on walls, sabotaging, gathering information and recruiting more followers. And all of that while staying undercover – if the regime's forces learn about your group, the life of each member is in grave danger.
Features:
World War II from a new angle: Resist without fighting
Experience the Darkest of Times in 4 chapters
Fight for freedom, weaken the regime and lead your resistance group
Plan activities, find collaborators and try not to get caught
Feel the weight of responsibility as you make difficult decisions and face the dire consequences
Beautifully illustrated expressionistic scenes and events
Showing history as it was: As one of the first games ever (in Germany), Through the Darkest of Times received the permission to openly show the Swastika and other symbols of the Nazis to call the enemy by it's name.
On Steam at the end of the month.
BEAST (E.A.) – 31st January
I'm not sure what is this game about.
The developers describe it as a role-playing game merged with turn-based skirmish strategy set in a reclusive plague-infested land filled with conflict and religious delusion. Inspired by the heretic schism between the Bogomil gnostic sect and the Eastern Orthodox Church.
The essence of the gameplay is a campaign with turn-based combat inspired by games such as The Banner Saga, where the player controls and can build and develop a group of characters with complementary skills. While traveling between the fights, the player can manage the Warband, relations between its members, its members' equipment, physical and mental fatigue, choose a place of its rest and prepare for the next inevitable skirmishes.
You play as a faithful soldier who after finally coming home to his family is sent on one final mission for his power-hungry sovereign through a disease-infested land. While trying to deliver the letter to the neighboring kingdom you will learn the horrible truth about your wife and daughter. You will lose companions and gain new ones. You will learn their stories and help them put things to rest. Your decisions will be reflected in the eyes of those who remain with you at the end. Even if you are no longer you. The character you set out as will not be the one you end the game with, as mortal perils await you and you will have to choose your successor once you succumb to death.
On Steam on 31st January.