Dive into the dark world of the Aethos and test your deck-building skills! Dawncaster is a roguelike RPG cardventure made for mobile.
In-Game Background story / Lore
Discover the mystery of the missing 'Dawncaster', a hero of legend who has been lost in the corrupted realm of Umbris. Slay monsters and explore the darkest depths of a desperate world through handcrafted illustrations, dialogue and shape its future through your choices.
Gameplay
Play as a cunning rogue, a brutal warrior, or a mysterious Seeker wielding arcane magic. Or create your own class and play as who- or whatever you want to be! Start playing today, create a unique deck with access to over 300 cards and see how far you can venture into the corrupted lands.
Key features
STRATEGICALLY CHALLENGING
Every step of your heroic journey offers new tactical choices to improve your deck and strategy. Collect cards that match your playstyle, avoid disastrous events and build your strategy before the forces of evil overwhelm you.
UNIQUE TAKE ON CARD GAMES
Dawncaster offers unique mechanics to even the most veteran card game players. Though most of the gameplay should feel familiar, the ability to combine class mechanics into deck building, weapons, enchantments, and its unique energy system are exciting additions to the card game genre!
ACCESS TO ALL CARDS & CONTENT
Dawncaster is offered as a complete deck builder cardgame. You get access to all cards, classes, and content with your purchase. No need to buy packs, tokens, or waste time on timers or ads. Future content will be offered through expansions at the same, single price per adventure kind of deal.
ROGUELITE GAMEPLAY
With randomized encounters, unique classes, and choices to explore, playtime could easily reach the tens of hours for those that enjoy a challenge! Additional difficulty options are available for those that seek to push the limits of their strategic insight (and/or luck).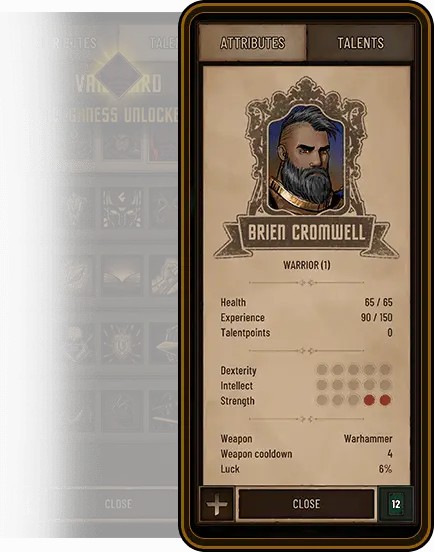 About the Developer
An ambitious game studio dedicated to creating unique roleplaying games. They love to tell epic stories through deeply engaging and strategically challenging experiences.
More info at http://www.wanderlost.games
Release date and platforms
Dawncaster is a mobile game available on Android and iOS devices.