Take the role of a manafinder in this Japanese-style turn-based RPG set in the beautiful but unforgiving world of Aevi. Fight your way against ferocious beasts and other threats in the quest for manastones as you define the fate of the exiled.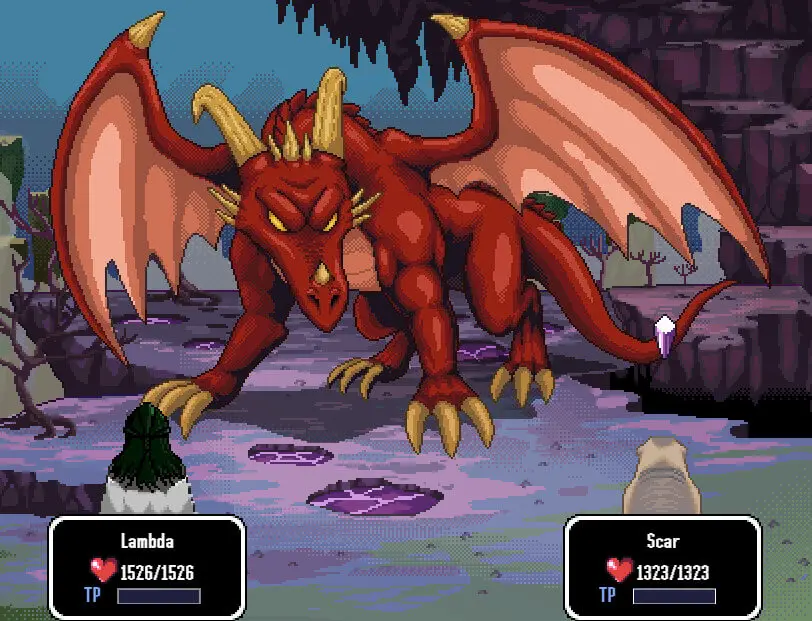 In-Game Background story
In a world vastly untapped by mankind, powerful beasts roam the land. There is one single kingdom where civilization thrives: The Holy Kingdom of Manahill. Here King Vikar has ruled for hundreds of years and continues doing so. He has zero-tolerance for any type of crime or opposition and is quick to cast out those he deems unworthy of living in Manahill.
A small community of survivors, the exiles, have managed to build a settlement beyond Manahill. They depend on the power of manastones to keep it safe. Manafinders like Lambda risk their lives seeking said stones in the wild. Against external threats and internal conflicts, the mission starts becoming increasingly complicated. Can Lambda achieve a miracle?
Gameplay
Manafinder is a Japanese-style turn-based RPG. You only control Lambda, but during most of the game, you are accompanied by Scar, your loyal AI-controlled dog.
Something unique to Manafinder is that you choose your weapon each time you attack, and each weapon is effective against different types of beasts. Many of these weapons are optional, and they all feature unique animations and special attacks. Additionally, you may imbue yourself with elemental ores to also use elemental affinities to your advantage!
While choosing a weapon may sound like it would break the pace of combat, there's a few considerations that were made:
1. You only control one party member.
2. The default weapon, the lance, is almost equivalent to your standard "Attack" in RPGs.
Using items is also strongly encouraged for your survival!
Key features
8~12 hours of playtime!
Explore the fantastical environments of Aevi, with over 23 different biomes!
Fight over 120 different beasts, each with a unique design and combat strategy!
Use different weapons and elemental ores during combat to exploit enemy weaknesses!
Collect items and weapons, find manastones, harvest healing plants, and mine elemental ores to aid you in your quest!
Meet exiles, manafinders, nomads, the Gods, and other mysterious characters!
Choices made throughout the game will not only define the fate of the exiled but also result in one of the two completely different final chapters!
Take a break, and take on side quests with varied activities (including minigames!) that dive deeper into the lives of the exiled.
No random encounters! Enemy encounters are in-map and can be avoided for the most part if you wish to avoid combat.
About the developer
Wolfsden is a newly formed small independent video game studio based in Seattle, WA with contributors in both the USA and Mexico. Manafinder is their first game, if their creature is successful, they will be able to focus on other role-playing titles in the future.
Official website: https://manafinder.com/
Steam page: https://store.steampowered.com/app/1582410/Manafinder/
Twitter: https://twitter.com/manafinder
Youtube channel: https://www.youtube.com/channel/UCN8kbBKzFKQXvF0UOmyz7rw
Release date & Platform
Manafinder is expected for the first half of 2022, and currently only aiming PC. Mac may also be possible but committing to it yet until they're able to properly test it. The game will be launched mainly on Steam, but also open to other digital platforms, also, a demo is planned for this summer that includes the first 30-40 minutes of gameplay.