We tried the Alpha version of Wildermyth: Stories of the Yondering Lands and we found it really interesting.
Wildermyth: Stories of the Yondering Lands is a tactical turn-based RPG currently under development by the indie Texan Worldwalker Games studio. Inside we will find many interesting elements such as:
Dynamic stories
Characters that grow old
Unique paper style
Free explorable world map.
Very tactical turn-based combat.
Territory management
Background story
In Wildermyth, we will be catapulted into the lands of Yonderings to lead a group of farmers who will play the role of heroes. Each campaign will be unique, as the story will be presented to us through random events told with delicious cartoon-style illustrations. At each event, we will have different options to choose from, to make certain actions to our heroes and these choices will impact the story and characters.
Gameplay
Exploration of the world, party management, management of conquered areas, turn-based combat, this and much more will be found in Wildermyth. We start by choosing the party, which we can either randomly generate, or dedicate ourselves to the creation of each individual character. Once we have composed the party, we are introduced to the world map, the world map divided into various areas. Each of these areas can be explored, and inside we can find villages to be liberated, ancient towers etc.
Character abilities and aging
One of the most interesting elements is the progressive growth of the characters. Our young heroes will begin their journey from simple and naive peasants to become powerful and dated warriors. Yes, because in Wildermyth our characters will age until they retire. The age difference between a young warrior and an older one will be noticed for example in the times of displacement and recovery, much slower for our veterans. During their growth, the characters will acquire different classes and attributes, and will also acquire bonuses and malus that will shape their character. Even our enemies will become stronger, in fact during the course of the adventure they will add new units to their army.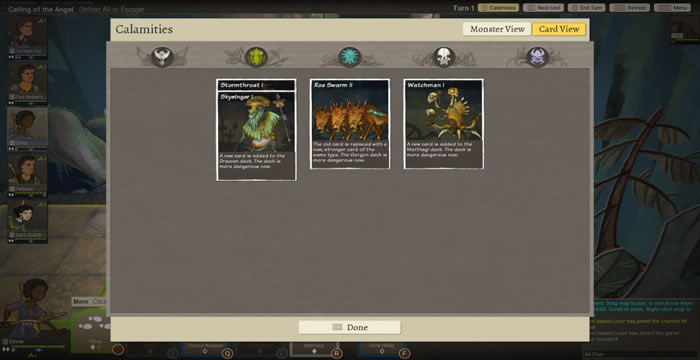 World map and the free exploration
In Wildermyth, we can move freely on a map divided into regions. In each region we will find certain resources that once conquered will become ours. With such resources we will be able, for example, to develop the armaments of our soldiers. During our exploration, we will have to solve quests and face randomly generated events that will force us to make certain decisions. These decisions will have effects on the progression of the story and on the character and relationships between the various members of the party.
Turn-based Combat
The battles are turn-based and take place on grid maps where the turn of our party alternates with the enemy. In combat, we find all the classic elements of RPG but also, very interested in the opportunity to interact with the objects that surround us, for example, thanks to our wizards we can use the flames of a fireplace against the enemy and so on. It is very important to study our moves well, as a wrong choice can lead to the permanent death of one of our hero or to the loss of a limb that will have a great impact on its characteristics.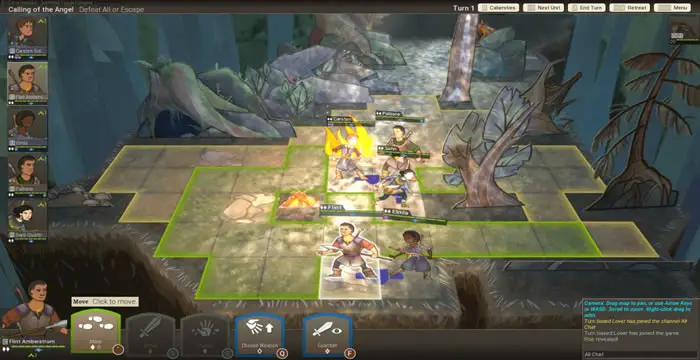 Wildermyth key features
Turn-based battles on a tile board put intuitive tactics and startling power in your hands.
Your characters learn abilities flavored by the breadth of their interactions.
Tactile art evokes a papercraft world, inviting your fingers and feelings to take part in the game.
Meet new and thoughtful characters who don't know they're heroes, and grow them into your own legends.
Ramble over a world that's always different, full of really weird things with odd names and twisty desires.
See through the eyes of each character as you explore strange tales that change to suit your protagonists.
Tell Your Own Memorable Stories
Fight and win, sacrifice and survive, charge and flee. Sometimes die. A good story needs everything.
Dynamically generated characters come with their own stories and are fully customizable.
Keep memorable characters in a pantheon of legends, and call on them again to keep writing their myths.
About developers
Worldwalker Games consists of Nate and Anne Austin, a husband & wife duo who live in Austin, Texas. Nate does the programming, Anne does the art. Between the two of them, they've got almost 20 years' experience in the game industry, and they're using it to have a little fun.
The idea for Wildermyth came from blue-sky discussions about what games they would want to combine into their New Favorite Game—which ended up being mostly "the combat of X-Com meets the depth and character arcs of Dungeons & Dragons." Since then, Wildermyth has climbed up a gentle gradient over the years of "side project in their spare time" all the way to "both two work on this full time." With the help of a talented team of creatives, their are close to getting this game ready to be booted out into the real world.
Team
Programming: Nate Austin, Patrick Belanger
Art: Anne Austin
Creative Direction: Doug Austin
Production: Tim Crosby
Lead Writer: Heather Albano
Writing: Doug Austin, Shae Rossi, Heather Albano, Jeremy Bernstein, Ursula Vernon, Victor Ojuel, Anne Austin, Jackson Wagner
Game Design: Nate Austin, Doug Austin, Tim Crosby, Jackson Wagner
QA: Jackson Wagner 
Release date
According to us, Wildermyth: Stories of the Yondering Lands is one of the most interesting turn-based RPGs to be released at early 2019 (there is not yet an exact date). The work of the Worldwalker Games is genuine and can be guessed from the alpha version of the game, already rich in quality content. To be able to receive a key for the alpha version, visit the official Wildermyth website and register for the newsletter. Below you will find the video trailer and the link to the steam page of the game. If you want to know other interesting turn-based games, here you will find many.